Students Slam Ottawa For Shutting Youth Job Centres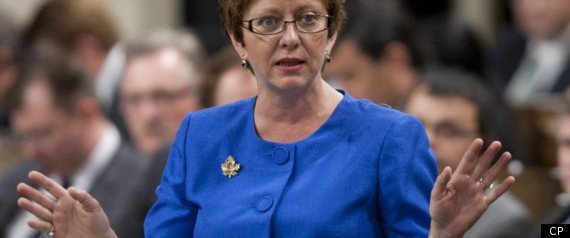 Jessica McCormick worked at the Service Canada Centre for Youth in Sydney, N.S., for three summers.
This year, a website will replace her.
"It was the best job that I could have gotten in my community over the summer," she told CBC News, adding that it was the only job she could find at the time that allowed her to fund her post-secondary education.
These employment centres have opened every spring for more than 40 years across Canada. But this year, they are being shuttered by the federal department of Human Resources and Skills Development, which is instead opting to bolster its online services — and save about $6.5 million in the process.
This move comes at a troubling time for young people trying to enter the labour force. According to Statistics Canada's latest Labour Force Survey, employment rates among people age 15 to 24 fell for the fifth consecutive month in February.
The unemployment rate for Canadian young people is about double that of the rest of the population — something Matt Wood, the executive director of the Toronto-based youth employment centre First Work, said indicates that Canada is not nurturing its young job seekers.
"We've forgotten how to transfer our knowledge to younger generations," Wood said. "I think they're about to face more challenges than they've ever faced."
No need for seasonal locations
Alyson Queen, the director of communications for Diane Finley, the minister of human resources and skills development, said youth across the country have indicated they want more access to government services online.
"In response, we are expanding www.youth.gc.ca with new resources to help youth find employment," she said in an email statement, adding, "Our government's top priority is job creation and economic growth, and that includes ensuring Canadians have access to the tools and services they need to find employment."
In this vein, the government is instead directing young people to regular Service Canada locations, where they will still be able to receive assistance in person.
Queen said the number of people visiting youth employment centres over the last few years has decreased but added that the ministry has mostly only anecdotal evidence as proof of that.
"By enhancing the online features on www.youth.gc.ca and offering services at Service Canada offices, there is no longer the need for these seasonal, temporary locations to be established," she said.
Young people a special case
For her part, McCormick disagrees with the ministry's assessment and says there was considerable traffic at the offices she worked in each summer.
"Especially in rural communities, there aren't a lot of employment opportunities to begin with," she said. "People really rely on these centres."
Queen said that, in 2006, 5,700 students visited the youth centre in Montreal, compared to just 650 in 2011 — a trend she says can be seen in many across the country, in which fewer students were using them.
But McCormick said youth service officers also did outreach in the community – setting up booths at events, festivals and high schools.
"Students may not have necessarily been coming through the door, but they were meeting with youth services officers, whether it was at a local high school or a fair," she said.
As for directing students to centres used by the general population, McCormick said these centres are already doing more with less, and don't have the resources or the time to help inexperienced young people in particular.
"We're already seeing cutbacks at Service Canada centres across the country," she said.
"It was my experience as a youth services officer that we actually helped out with their front line services – whether it was people applying for employment insurance or a social insurance number."
Specific challenges
Jean Crowder, the human resources critic for the federal New Democrats, told CBC News that herding young people into these already crowded Service Canada centres signals that youth unemployment isn't a priority.
"I've spoken to some offices that sometimes have a three-hour wait," she said. "It's simply that they don't have the resources to serve the people that are coming through the door."
Crowder also took issue with the way the ministry presented the closure of the offices.
"The way the minister announced it was geared to not pay attention to the fact that the centres weren't going to be open," she said.
That sentiment was echoed by Roxanne Dubois, the national chair of the Canadian Federation of Students, who told CBC News the announcement was set up only to highlight online resources for students.
"Then deep into the lingo, you find a phrase saying that they're discontinuing the service centres," Dubois said.
She said this move doesn't acknowledge the fact that young people face specific challenges — like the high unemployment rate.
"You can't replace advice from real people with blog posts or updates on a government website," Dubois said.
"A social media strategy should never be the only one that you use," she said. "There remains a real world out here in which young people need help."
Loading Slideshow
5 Signs Canada's Workers Are In For A Rough 2012

Photo: CP/Andrew Vaughan

Good Jobs Few And Far Between

When it comes to evaluating Canadian job growth, the employment numbers are just part of what worries Benjamin Tal, deputy chief economist at CIBC World Markets. "It's not only the quantity, but also the quality of employment that's falling in Canada," says Tal. "A lot of the jobs that are being created are low-quality, especially part-time jobs and low-paying jobs." Though -- unlike the U.S. -- Canada has regained all the jobs lost in the recession, he says that an absence of good-paying jobs is the "main reason" why wages have stagnated. Adjusted for inflation, personal after-tax income is now rising at the slowest rate since 1995. Meanwhile, the skills mismatch in many jurisdictions has left employers short on skilled labour despite still-high unemployment levels in other regions. "If you lose a job, you don't have the skill set to go an find a job elsewhere that companies want and need," says Tal. (Alamy photo)

Globalization

When Caterpillar decided to stop assembling locomotives in its Electro-Motive facility in London, Ont., it was a poignant reminder of how globalization is giving deep-pocketed, transnational corporations the ultimate trump card in bargaining with workers: a cheaper alternative. According to Mike Moffatt, a labour expert at the University of Western Ontario's Ivey School of Business, because of automation and an increase in imports from lower wage jurisdictions like China and Mexico, Canadian workers are competing for fewer manufacturing jobs. "That's given firms real power to negotiate down wages," says Moffatt, who points to the <a href="http://www.reuters.com/article/2012/02/06/riotintoalcan-alma-idUSL2E8D699U20120206" target="_hplink">Rio Tinto lockout in Quebec</a> as another illustration of the might afforded to companies with global reach. Since locking out workers at its aluminum smelter in Saguenay-Lac-Saint-Jean on December 31, the Anglo-Australian mining giant has used non-union workers to operate the facility at one-third capacity. With no plans to return to the bargaining table, the company recently announced it is restarting two suspended lines, and is expecting to return to full capacity in May. As Tal maintains, "In this environment, the bargaining power of labour is diminishing."

Austerity Agenda

Just as the power has shifted toward private-sector employers, Michael Lynk, a labour law expert at the University of Western Ontario, says there is a sense that governments are becoming emboldened amid the post-recession climate of austerity that has swept from Toronto's City Hall to Parliament Hill. "There's increasingly an attitude of take-it-or-or leave-it by [private sector] employers, but we may begin to see that with public sector bargaining as well, where they basically say, 'You have to meet our bargaining objectives this round, and we're going to be prepared to endure a short or lengthy lockout to prove our point," he says. Though global economic instability recently prompted federal Finance Minister Jim Flaherty to pull back on his earlier commitment to deep cost-cutting in the upcoming budget, government departments are expecting spending to be slashed by between five and 10 per cent, a goal that will be met at least in part at the expense of public service jobs and benefits. The Canadian Centre for Policy Alternatives recently estimated that the <a href="http://www.behindthenumbers.ca/2012/02/02/federal-cuts-could-push-unemployment-to-8/" target="_hplink">federal government's budget cuts could push unemployment up half a percentage point, to 8 per cent</a>. (CP photo)

Pension Problems

From <a href="http://dalgazette.com/featured/faculty-strike-rumours-explained/" target="_hplink">Dalhousie University</a> to <a href="http://www.thestar.com/article/1120516--labour-strife-ahead-in-air-canada-pilot-talks" target="_hplink">Air Canada</a>, employers no longer able -- or willing -- to fund costly pension plans are mounting attempts to roll back retirement benefits, stoking labour unrest and a growing sense of financial insecurity among workers. As Dalhouse University labour economist Lars Osberg explains, the financial crisis took a huge bite out of the value of corporate pension portfolios and the interest rate required to generate the stream of returns to make these programs sustainable. All of which explains why experts anticipate a deepening of the trend away from inflation-protected, gold-plated defined-benefit pension plans, shifting responsibility for retirement savings from employers to workers.

Decline Of Unions

The power in numbers that enabled Big Labour to negotiate better wages and benefits in the aftermath of the Second World War is a distant memory today, as the <a href="http://www.huffingtonpost.ca/2011/12/12/canada-income-inequality-decline-unions-middle-class-jobs_n_1139136.html" target="_hplink">erosion of unions continues to whittle away the strength of collective bargaining</a>. This is particularly true in the private sector, where unionization sits at 16 per cent of employees, less than a quarter of public sector unionization. "I think you will see more disputes with unions having to compromise more than in the past," says Tal. "I really don't see that they have the upper hand at this point." Given the yawning gap between private and public sector unionization, Lynk warns that pressure on public sector unions could mount as it has in the U.S. in recent months. "The argument they've been floating is, 'Why should public sector workers have jobs for life, good pensions, and decent wages? They're eating up your taxes,'" he says. "I wouldn't be surprised if we're not [starting] to see the beginnings of that kind of argument here in Canada."