Getting Rid Of The Ex's Stuff: A Breakup Guide To Spring Cleaning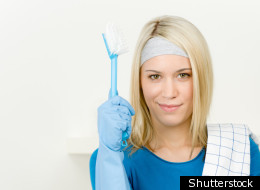 Breakups are messy -- especially when your ex leaves belongings behind.
If his sweaters, books, DVDs, gifts and love letters have cluttered your closet for weeks after the split, sending you into a downward spiral whenever you see them, perhaps some spring cleaning will help you recover, says Dr. Cheryl Fraser, psychologist and passion coach.
"It's always important to get rid of your ex's stuff because if you've got it hanging around, you're still psychologically clinging onto the past," she says. "By getting rid of it, you create space for now, either for the relationship you're currently in, or to get into another relationship without hanging onto what used to be."
That's easier said that done, as sometimes we're tempted to cling to a former flame's stuff, notes Debra Macleod, marriage and divorce mediator, and relationship expert.
"Sometimes people will hang onto things as an excuse to bring that person back," she says.
Some exes don't make things easier, as they often leave belongings behind "either as an excuse to come back, or it's some form of control," Macleod warns.
But at some point, it's essential to say good riddance to bad rubbish -- both the stuff and the dysfunctional relationship. You can give the stuff back, sell it, donate it, trash it, shred it, burn it, turn it into something new, or hell, even make a voodoo doll out of it, like Macleod's sister.
"When she broke up with her ex, she ended up making a voodoo doll out of his shirts, so we would routinely stab that and that was a lot of fun. Be really creative, think outside the box," she says, mentioning that you should consult property laws beforehand.
Vindictive? Mean-spirited? Dramatic? Maybe, but if it helps with moving on, and doesn't actually hurt anyone, do what you must. So grab some boxes or trash bags (maybe even some pins and needles?) and purge your ex from your home with these spring cleaning tips.
How long before you clean his clothes out of your closet? Two weeks? A month? A year? You can't exactly circle the date on a calendar. It all depends on how you feel, Dr. Cheryl advises. "If you're still sobbing your guts out, you're probably not quite ready for it, but if you're at the point where you're only sobbing half the time, then you should probably get on with it, clear some space and stop hanging onto the past, as painful as letting go can be," she says.

Exes -- and their stuff -- parting ways can turn into a difficult experience both emotionally and legally, especially when considering mutual possessions. "If you bought the $5,000 leather couch together, then it would be fraudulent and illegal to keep it without making sure he's OK with it," Dr. Cheryl warns. Macleod urges you to consider the laws around your relationship status (common law, married, divorced), living situation, in addition to the property laws in your province.

Does returning your ex's stuff after a nasty split mean you'll have to -- gulp -- see them again? Not necessarily. "If (the breakup) was contentious, ugly and cruel and you don't want him there, you'll have to do it on your own and leave a pile of it for him to pick up at a certain time," Dr. Cheryl says. To avoid opening up old wounds, Macleod suggests couples follow these tips: "Itemize what they have, anything of value, anything that could be considered of sentimental value... and take photographs of it," she says. Provide the ex with instructions on when and where they can pick up their possessions, making sure to give them at least one month's notice.

Think twice, burn once, Macleod says, especially when it comes to sentimental items like photos that you can't replace. Her colleague's separation serves as a cautionary tale: "They decided they were going to end the marriage, so they were divvying things up, and he was seeing another person," Macleod says. The colleague found out and destroyed personal items that belonged to her spouse's dead mother. Then they reconciled. "She said, 'Now I don't have pictures to show my kids, they don't see their grandma.' There was nothing of her left," Macleod says.

There's no golden rule when it comes to jewelry. Is an engagement ring a gift if the wedding never happens? A conditional present? Does it matter who broke up with whom or why? Different courts judge cases based on different criteria, so double-check before selling, altering or destroying the ring. And heirloom jewelry is a whole different story. "If one's going to have dignity and class, you should probably give back jewelry he gave you that belonged to his grandmother," Dr. Cheryl advises.

After a breakup, every tagged photo and comment on Facebook feels like a knife in the gut. So are you ready to unfriend this person? Macleod chimes in: "It depends on how you left it. But if you're looking at truly spring cleaning and being cathartic, then I think you have to... It's such a part of our lives and our social interactions that it's an everyday reminder," she says.

You've gotten rid of your ex's junk, so why don't you feel better? "Now it's an empty spot," Macleod says. "It's almost like that thing is still there, or it's almost worse because now it's a reminder that there's nothing there." Do something positive with your clean slate and replace his old junk with something that represents a new phase in your life.