RIM Q4 Results: Analysts Keeping Expectations On Low Side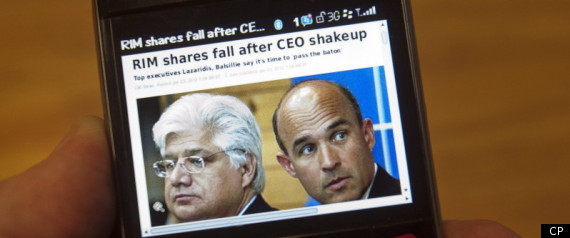 Jim Balsillie, the brash, hockey-loving executive who helped build Research in Motion into a global force with the BlackBerry smartphones, is retiring from the struggling technology company as its new CEO attempts to rebuild RIM.
The announcement, symbolic of the changes afoot at RIM, came along with a financial report that fell short of analysts' already low expectations on Thursday. The company announced a loss, rather than the reduced profit that many had expected, and fewer BlackBerrys were sold than anticipated.
While Balsillie's retirement from RIM's board of directors at age 52 will have little real impact on the company — he and company founder Mike Lazaridis had were replaced as co-chief executive and co-chairman in January — his departure is another indication that Canada's premier technology company is in trouble.
Thorsten Heins, who has the job of steering the company as its new chief executive and president, told analysts Thursday that RIM's management and board would consider a sale if an offer came forward but added, "it's not the main direction we are pursuing right now."
Heins didn't deny what many outside observers have been saying for months — that RIM needs a new approach in a world where Apple's iPhone, iPad and devices using Google's Android operating system are winning market share, especially among consumers.
"I did my own reality check on where the entire company really is," Heins said. "It's now very clear to me that substantial change is what RIM needs."
He said Research In Motion now will put more attention on its core business users: "We plan to refocus on the enterprise business and capitalize on our leading position in this segment."
Balsillie had become one of Canada's best-known businessmen both because of his role at the company, but also because of his failed attempts to use his personal fortune from his part ownership of RIM to bring another National Hockey League team to southern Ontario.
He often frustrated analysts who cover RIM, who privately griped about Balsillie "overpromising and underdelivering" and just talking too much. Some of Balsillie's favourite expressions on conference calls were: "Just you wait and see. Just wait until you see our roadmap. It's very exciting."
Balsillie issued a brief comment in RIM's announcement.
"As I complete my retirement from RIM, I'm grateful for this remarkable experience and for the opportunity to have worked with outstanding professionals who helped turn a Canadian idea into a global success."
Heins said RIM won't release its BlackBerry 10 smartphones — the next-generation of BlackBerry smartphones with a new operating system based on the system in PlayBook tablet computer — until later this year. That leaves the company with few new products to sell.
William Blair & Co. analyst Anil Doradla said RIM will be better off without Balsillie on the company's board.
"We don't want his invisible hand out there," Doradla said from Chicago.
RIM is now going to focus more on its business customers after not being totally successful in the consumer market, he said.
They're saying, 'Let's focus on our core strength. Let's focus on enterprise. Once we get that stability on that front, then we will start looking at the consumer side,'" Doradla said.
It shows that RIM is willing to have partnerships and "not fight battles it can't win" and the company will support iPhones and Android devices in the workplace, he added.
Activist shareholder Vic Alboini and chief executive of Jaguar Financial, who had been pushing for Balsillie to leave the company, said the departure of the former co-CEO was expected.
He also said the decision to pursue a strategic review has been a long time coming and could help push up the company's value.
"This is the key to creating shareholder value," Alboini said in an email.
"Jaguar believes selecting and implementing smart strategic opportunities could result in an overall minimum share value of $30," Alboini said.
That's more than twice the current value of RIM's stock.
Research In Motion announced from its headquarters in Waterloo, Ont., that it had a loss in the final quarter of its 2012 financial year, rather than the profit that had been expected, as a result of writing down some of its assets.
Sales of the BlackBerry were also below many analysts expectations and the company, which usually provides guidance about where it expects revenue and profit will be in the near future, said it's not continuing that practice.
Heins also said the BlackBerry maker can't excel in every field, noting the consumer market.
"We believe that BlackBerry cannot succeed if we try to be everybody's darling and all things to all people. We will seek strong partnerships to deliver those consumer features and content that are not central to the BlackBerry value proposition, for example, media consumption applications."
RIM, known for its technical strengths, produces its own hardware, software, operating system and applications such as the BlackBerry Messenger Service, a popular instant messaging service that is exclusive to BlackBerry users.
While this has been an advantage for RIM in the past, the company has seen software developers choose to focus on applications for more popular iPhones and Androids.
The company said two of its senior executives are out. Chief technology officer for software David Yach will be retiring and RIM's chief of global operations, Jim Rowan, is leaving "to pursue other interests."
Heins also said his message was simple: "We're making the necessary changes at the company."
In its financial results, RIM reported a loss for its latest quarter of US$125 million or 24 cents per share as it took a $355-million charge to goodwill.
The loss compared with a profit of $934 million or $1.78 per diluted share a year ago. Revenue fell to $4.2 billion, down from $5.6 billion.
During the quarter, RIM shipped approximately 11.1 million BlackBerry smartphones and over 500,000 PlayBook tablets.
Excluding one-time times, RIM reported an adjusted profit of $418 million or 80 cents per share.
The average analyst estimate had been for a profit of 81 cents per share and revenue of $4.54 billion, according to estimates compiled by Thomson Reuters.
Analysts had expected the company to ship 11.5 million BlackBerrys in the quarter.
RIM'S BIGGEST SETBACKS OVER THE PAST YEAR
Loading Slideshow
Blackberry PlayBook Flops, Prices Slashed

The PlayBook tablet, which was the BlackBerry maker's answer to the iPad, went on sale in April 2011. Since then, <a href="http://www.huffingtonpost.com/2012/01/03/blackberry-playbook-price-rim_n_1181167.html" target="_hplink">RIM has lost $485 million</a> on unsold units. At the beginning of January, <a href="http://www.huffingtonpost.com/2012/01/03/blackberry-playbook-price-rim_n_1181167.html" target="_hplink">RIM slashed the price of all models</a> of its tablet to $299. The special pricing will last until February 4. PlayBooks, which come in 16, 32 and 64 gigabyte models, typically retail for $499, $599 and $699, respectively, <a href="http://news.cnet.com/8301-1001_3-57351162-92/blackberry-playbook-price-now-$299-for-all-models/" target="_hplink">according to CNET</a>. In November, RIM temporarily <a href="http://www.huffingtonpost.com/2011/11/22/blackberry-playbook-price-drop_n_1107941.html" target="_hplink">slashed the price</a> of the 16GB version of the tablet to $199 at certain retail locations.

Network Outages

In October, BlackBerry <a href="http://www.huffingtonpost.com/2011/10/13/blackberry-outage-2011-rim-says-services-returning_n_1008596.html" target="_hplink">suffered an outage that affected</a> many of its then 70-million worldwide users, leaving some of its customers in Asia, Europe, Latin American and Africa without service for as many as three days. Some users in the U.S. were affected, but not for as long a period.

Drunk Execs Disrupt International Flight

In December, two RIM executives were fired after a flight they were on was forced to be diverted because the pair's "drunken rowdiness," <a href="http://www.huffingtonpost.com/2011/12/02/two-men-face-hefty-fine-a_0_n_1125214.html" target="_hplink">the AP reports</a>.

BlackBerry 10 Platform Delayed

Research in Motion announced in December 2011 that its highly anticipated BlackBerry 10 platform won't be available until the end of 2012. <a href="http://www.huffingtonpost.com/2011/12/16/blackberry-10-phones-rim_n_1153314.html" target="_hplink">According to the AP</a>, the company claims the holdup is because the chipset needed for the phones running the platform won't be available until the middle of this year.

Stock Slides In 2011

In 2011, <a href="http://www.dailyfinance.com/quote/nasdaq/research-in-motion-limited-usa/rimm" target="_hplink">RIM's stock</a> dropped <a href="http://www.huffingtonpost.com/2012/01/23/rim-ceos-jim-balsillie-mike-lazaridis_n_1222605.html#s629929&title=Lessien" target="_hplink">a massive 75 percent</a>.

Falling U.S. Market Share

In less than a year, RIM's share of the U.S. smartphone market <a href="http://www.huffingtonpost.com/2012/01/23/rim-ceos-jim-balsillie-mike-lazaridis_n_1222605.html#s629929&title=Lessien" target="_hplink">dropped by almost 50 percent</a>, from <a href="http://www.comscore.com/Press_Events/Press_Releases/2011/3/comScore_Reports_January_2011_U.S._Mobile_Subscriber_Market_Share" target="_hplink">30.4 percent</a> in January 2011 to <a href="http://www.comscore.com/Press_Events/Press_Releases/2011/12/comScore_Reports_November_2011_U.S._Mobile_Subscriber_Market_Share" target="_hplink">16.6 percent</a> in November 2011. In 2009, <a href="http://www.huffingtonpost.com/2011/12/16/blackberry-10-phones-rim_n_1153314.html" target="_hplink">RIM controlled 44 percent</a> of the US smartphone market. (Pictured above is the HTC Desire HD Android, which runs on Google's much more popular Android platform.)

Investors Urge Company Sell Itself

A nearly 75 percent drop in stock price in 2011 did not please investors. At the end of 2011, Jaguar Financial Corp, <a href="http://www.huffingtonpost.ca/2012/01/03/balsillie-lazaridis-rim-research-in-motion-jaguar-financial_n_1180885.html" target="_hplink">one of the largest investors</a> in RIM, called "for substantial corporate governance change and for a sale of RIM, whether as a whole or as separate parts." Vic Alboini, the chief executive of Jaguar Financial, <a href="http://www.bbc.co.uk/news/business-16393180" target="_hplink">told the BBC earlier this month</a> that RIM has "lost it." "The party is over, we believe, in terms of trying to design that cool, tech savvy smartphone," he said. "Microsoft has over $50 billion in cash, RIM has $1.5 billion. There is no way they'll be able to compete."

Exploding BlackBerry

The family of 11-year-old Kian McCreath of Coventry, U.K., gave RIM some of its worst publicity in 2012, telling the media the boy was burned and left with permanent scarring when his BlackBerry Curve 9320 exploded. Although cell phones that are left to charge too long are known to explode, for RIM the news represented a horrible publicity disaster that came just weeks ahead of the launch of its BlackBerry 10.