Canada's Earth Hour Song Takes Place Among Inspiring Anthems (VIDEO)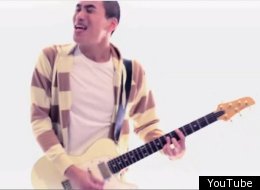 Andrew Huang is no stranger when it comes to performing in front of a crowd, nor is he to someone to shy away from taking the crowd's feedback to heart. That's because the singer and songwriter crafts his songs using "crowd sourcing," and that made Huang a natural choice to write the official anthem for this year's Earth Hour.
The song is Canada's first crowd-sourced song, and for two weeks, recommendations for lyrics have been flooding Huang's inbox in hopes that he would include them in his song, Earth Hour Anthem. Partnering with the World Wildlife Fund Canada, the songwriting process was one part social interaction and one part creating a message for a greener planet.
Facing 900 user-submitted lyrics, Huang got to work and read each submission as they came in. Within a week, he'd had crafted a song using a mix of user-submitted lyrics and a few of his own. But the hardest part for the Toronto native wasn't choosing the lyrics, but rather, setting the tone for his new tune.
"It was tough to find the right balance for the song. I wanted it to be catchy but also to capture the serious topic of climate change," said Huang.
The song may have been created with input from hundreds of people, but its direction is purely from Huang.
"I didn't go into the piece with any guidance other than knowing it couldn't be 'We Are the World'," he says. "I wanted the song to be upbeat and not pull at the heartstrings."
Fans can see the final product on YouTube and on March 31st for Earth Hour, as Huang will perform the anthem live with a choir to back him up.
While Huang's Earth Hour Anthem may be the first Canadian crowd-sourced song, it's not the first song to inspire global change. Here's a playlist of inspirational tunes over the ages:
Inspirational Songs Throughout The Ages
K'naan fans and soccer lovers will recognize this song as the anthem for the 2010 World Cup, but that version didn't have the vocal backing of Canadian artists, like this one does. The collaboration came together to raise donations for the Haitian earthquake recovery efforts and featured voices of artists like Justin Beiber and Drake.

If you want to see why Bono is such an influential musician, take a look at this video. Bono would preface this song at every concert with "this is not a rebel song," but rather a non-biased way condemning Ireland's history of bloodshed.

Before the Black Eyed Peas shifted to a style of music that got fists pumping in the club, the group of four sang about love and peace. The song would also net the band a nomination for "Best Rap/Sung Collaboration" at the 46th Grammy Awards.

John Mayer may think your body is a wonderland, but the man also knows how to sing a song about hope, even when the rest of the world is stuck in a discontented slump. The song went on to win a Grammy for Best Male Pop Vocal Performance in 2006.

Originally sung by Ben E. King, "Stand By Me" has gone on to be covered by artists like Jimi Hendrix, Elton John and John Lennon. It was also one of the songs of choice for the award-winning documentary, "Playing For Change: Peace Through Music, which featured musicians playing "Stand By Me" in different cities.

Of course, "Heal The World" wasn't Michael Jackson's first endeavour in the realm of inspiring songs. "We Are The World," written by Jackson and Lionel Richie, was first recorded in 1985 by a supergroup of American artists as a fundraising measure for Africa, and specifically, Ethiopia after its 1984-85 famine. The song has since raised more than $60 million for various humanitarian efforts around the world. A 2010 version of the song was created to raise money for Haiti after its devastating earthquake.

And then there was the Canadian contribution to the African fundraising efforts, "Tears Are Not Enough." Featuring artists like Bryan Adams, Croey Hart, Ann Murray, Gordon Lightfoot and other beloved acts, the song was #1 on the charts for 1985 and raised $3.2 million for African famine relief.

Lennon may have written "Imagine" as a song envisioning a world without countries or religions but no one could have imagined the accolades his song would win even after his passing. Inspired by a poem his wife wrote, the iconic song would go on to win titles as second best single of all time in a poll done by Guinness World Records British Hit Singles Book. It would also go on to be voted as the third greatest song on Rolling Stone's 500 Greatest Songs of All Time.

If your boss at work has got you down, then perhaps you need to change jobs and work for Bruce "The Boss" Springsteen. He's certainly got the motivational skills with songs like "The Rising," which was released in response to 9/11. It's a song with inspirational lyrics and was even used as the official campaign song for Barack Obama's Presidential tour in 2008.

The song was written by Nick Lowe but made famous by British musicians Elvis Costello. It's a song that''s surprisingly upbeat when performed live, despite serious lyrics like these: And as I walked on// through troubled times// my spirit gets so downhearted sometimes// so where are the strong// and who can be trusted?// And where is the harmony?// Sweet harmony.

With a title like "One Love", it's hard not to get swept up in the feeling of unity that Marley sings about. The song dates back to 1976 where Marley sang about closing the divide between two political parties amidst the turmoil of Jamaica trying to elect a new prime minister.