5 Favourite 'Planter-To-Plate' Restaurants: Urban Agriculture Expert Shares Picks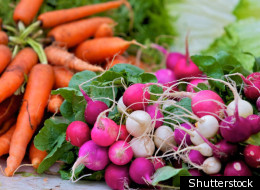 Community gardens, backyard coops, patio-grown tomatoes, rooftop beekeepers - these were the signs that sent writer Jennifer Cockrall-King, who blogs at FoodGirl.ca, around the world to France, the U.K., Cuba and the United States to find out why, exactly, people are bringing farms into cities. In Food and the City: Urban Agriculture and the New Food Revolution (Prometheus Books), Cockrall-King audits the trends, the history and the future of city farming for a comprehensive look at our changing eating culture.
Here's one more sign of the times: menus built around house-grown ingredients. From Calgary to Toronto, more Canadian chefs are plucking their own greens. These aren't farm-to-table eateries so much as they are planter-to-plate.
I asked Cockrall-King for her five favourite Canadian places to dine that have urban agriculture initiatives:
Culina Muttart - Edmonton
Edmonton's climate isn't hospital to veggies, but the Muttart Conservatory is. Inside the city's iconic glass pyramids, herbs, lettuces and other fresh ingredients grow and then taken to the restaurant to be cooked with proteins, jams, pastries and more from local producers. It has a truly local menu and great food, says Cockrall-King, as well as a "great use of existing infrastructure to create a food-growing opportunity in a city." culinafamily.com
Rouge Restaurant - Calgary
"They have been ahead of the curve with on-site produce gardens for many years," she says. Like Culina, it relies on local growers where it can't be self-reliant. Inside the 120-year-old heritage house along Bow River, patrons can dine in any of three elegant rooms, but the summer is special because it allows them to dine amongst the huge and adorned garden, from which some of the food came. rougecalgary.com
Herons West Coast Kitchen + Bar - Vancouver
At the Fairmont Waterfront Hotel "400,000 honeybees forage the 2,100-square-foot hotel's herb, fruit and produce garden terrace," she says on her blog. "Lucky bees." After enjoying the fruits and spectacular ocean view, they go back into the artfully painted hives in what Cockrall-King calls "Canada's most bee-friendly city." What's in it for humans? Delicious meals such as dungeness crab tagliatelle with asparagus, fresh confit tomato and focaccia crisp. fairmont.com/waterfront
Bogner's of Penticton - Penticton, B.C.
Past the house's mustard doors (and sometimes before you even reach them), you'll find artfully made continental dishes that are truly farm-to-table. The farm, however, belongs to chef and owner Darin Paterson. "The chef is a very serious gardener," says Cockrall-King, "so he grows a huge amount of the produce that he uses at the restaurant right on the grounds, as well as at his farm just a few minutes away." He also does a lot of his own canning, preserving and smoking of both meat and vegetables right inside the house. bogners.ca
EPIC - Toronto
At the Fairmont Royal York Hotel, the chefs get their fresh herbs, fruits, honey and some other ingredients from the rooftop garden of Canada's first hotel to have a honeybee colony. The kitchen's philosophy goes like this: the menu is "created with ingredients that are first and foremost sourced locally, then secondly throughout Canada, and lastly, when necessary, from around the world." fairmont.com/royalyork/