Rimmel Lash Accelerator Serum: Put To The Test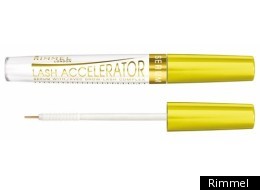 At some point, we've all purchased something whose results were, er, questionable, and didn't live up to our expectations or deliver the results we were so boldly promised. But no more! For the sake of you and your hard-earned money, The Huffington Post Canada Style team is putting the latest products to the test every week.
Testing: Rimmel Lash Accelerator Serum
Testing Period: Two weeks
Tested By: Arti Patel, Associate Editor
Price: $10
What It Is: An eyelash extending serum.
How To: Just like any mascara, apply the serum over your upper and lower eyelashes. I usually wore the serum at night or replaced it with my usual black mascara during the day.
What We Thought: My lashes are not that long in length and also tend to fall out. For the most part, I didn't notice any change in the length of my lashes, but they did feel thicker. When I applied regular mascara my lashes were fuller and after two weeks, fell out less.
The Downfalls: Because I saw no change in my lash length (not that I had high expectations), I wouldn't buy this product if you're looking for longer lashes. Even though it was easy to remove with makeup remover during the day, if you leave it overnight your lashes do tend to stick together.
Tips: The applicator is actually similar to a lipgloss brush. If you want, you can also replace it with a mascara wand.
Final Remarks: For this price, I would say this product is well worth it -- especially if you're looking for a little volume. I would also suggest using it for a few more weeks than I did -- perhaps the longer you use the product, the more it works.
Do you have something you want us to test out? Let us know on Twitter.
Broken makeup or beauty tools? Here are eight easy fixes.
Opening a brand new tube of lipstick to find it split in two is never fun. If you're looking for a quick fix, here are some tips to consider: Using a blow dryer, melt your broken parts back together and freeze your tube in a plastic baggie. You can also use a lighter to reshape your lipstick; simply put it in the refrigerator when you're done for an hour so it can harden.

Using a marker end or the back of your brush (make sure you sterilize it with rubbing alcohol), press your broken pieces back into the container. If you drop powder on the floor, you're better off throwing it out, says makeup artist Vicki Millar, adding that dirty surfaces can lead to contamination. Next, use the flat end of a mascara tube or lipstick tube to flatten your powder. Lastly, add a few drops of rubbing alcohol over the pressed powder and let it sit for a few hours.

Hairs coming off of your brushes? Millar suggests washing your brushes once a month under warm water and with antibacterial soap. "You really want to be cleaning off the ends of the brush -- never put your whole brush under water. The more wet and dense the brush is, the more likely hairs will be to pop out," she says.

Fixing broken eyeshadow is quite similar to mending your broken foundation. In this tutorial, this makeup artist uses a plastic baggie and a piece of a T-shirt to dab the broken eyeshadow back into place; rubbing alcohol is also used.

Sometimes your mascara applicator can break or even bend. To fix a bent applicator -- wearing latex gloves -- bend it, gently, back into shape. If you accidentally lose the applicator or drop it on the floor, Millar suggests grabbing some disposable wands from the drugstore. She also says you should only use mascara for about a month -- and if you ever have an eye infection, buy a new wand immediately.

If you can't open the bottle of your favourite nail polish, you probably have dried polish around the inner lid. To fix this problem, fill a bowl with warm water and place your nail polishes in it, upside down, for five minutes. Next, remove your bottles and gently twist the lid. If you do see dried paint in the inner lid, use a tweezer to remove the excess.

Just like any pencil, your eyeliner can break if you drop it. If you're tired of sharpening your broken liner, try leaving it in the fridge for two hours so it can re-harden.

In this tutorial, this makeup guru uses a tea bag to fix her split nail.