Quebec Student Tuition Protests: Laurent Proulx Sues Over Class Closures, Wins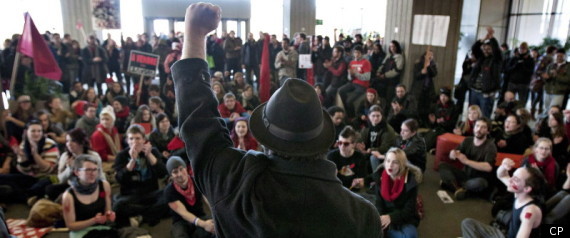 QUEBEC - After weeks of battle against the Quebec government, public rifts are increasingly emerging within the province's restless student ranks.
A season of anti-tuition protests, featuring red-clad students marching in unison, has given way to more divisive scenes as the semester winds down.
Now there are legal fights and, on Tuesday, even a bomb threat that cleared out one school.
The latest developments centre on one general question: Should striking students go back to class, or continue mass walkouts and risk having their semester extended or cancelled?
Several students have taken legal action in recent days to force an immediate reopening of their classrooms, with one such move finding success in Alma, Que., one failing in Montreal, and there was one mixed result Tuesday in Quebec City.
There has been a chaotic response this week after a court ordered the reopening of a junior college in Alma, with students now struggling over how to respond. Some students have stacked up piles of desks in protest, others have urged peers to leave their classrooms and, on Tuesday, the school had to be evacuated after someone reported a bomb threat.
One student-group spokesman blames the government for these problems. If only the government would sit down and negotiate with the protest groups, he says, such scuffles wouldn't be happening.
Because the government refused to meet with student leaders, and ignored the will expressed in peaceful protests, he said some young people are now starting to "radicalize."
"If we want to ease tensions, the government needs to sit down at a discussion table with student associations, so that this doesn't transform into a social crisis," said Leo Bureau-Blouin.
"This (situation) clearly risks creating conflicts among students — and we, on the contrary, want to avoid them."
Meanwhile Tuesday, a university student in Quebec City became the latest to file a court challenge against the protest movement; he won an injunction to have one of his classrooms reopened.
Laurent Proulx convinced a Quebec Superior court judge that the strikes, declared by various student associations after votes at public assemblies, should not be able to keep him from going to one of his classes.
The court granted him an injunction that reopened an anthropology class he's enrolled in at Laval University in Quebec City.
His University Laval class — titled "Anthropology of conflicts and violence" — had been shut down since Feb. 14.
When Proulx returned to class Tuesday afternoon, he was not obstructed physically but he was subjected to taunts from fellow students who accused him of selfishly selling out their cause. Standing in the hallway, a crowd of students chanted, "Me! Me! Me!" after he walked in. Other pro-strike students filled the classroom, and some blocked or shoved media members trying to get images.
Proulx had successfully argued in court that he needed to finish his class immediately, because he has a job lined up this summer. He also argued that a delay could harm his chances of getting into law school.
The 24-year-old, a former soldier, has drawn parallels between his current struggle and his past deployment in Afghanistan in 2007 and 2008.
"I risked my life so that women and Afghan children could go to school (without) coercion by a social cause or ideology," he said outside the courthouse this week.
"And now, I return to Canada to try educating myself with the money I saved, to become a better asset to society, and they tell me: 'We have a just social cause to defend, so you don't get access to education.' That's something I'm denouncing."
Proulx only won a partial victory in court, however.
The court granted him an injunction that applies to one anthropology course, but not to the rest of the shuttered Universite Laval classes.
Tens of thousands of students have walked out on their studies to protest the Quebec government's move to increase tuition by 75 per cent over five years.
Students say they want the government to negotiate with them, although their demands have varied. Some want the $325-a-year, five-year, hikes cancelled. Others are asking for tuition to be eliminated altogether, as has happened in some jurisdictions in Europe.
The provincial government says it's willing to discuss more generous bursary-and-loan programs — but won't back down on the tuition hikes.
Even with the increases, five years from now, the government says Quebec will still have among the lowest tuition in Canada.
And it warned students that time is running out on their semester.
Education Minister Line Beauchamp warned that it would require "organizational gymnastics" to save the semester if strikes dragged on past the upcoming Easter weekend.
She also took a shot at the democratic legitimacy of the protest leaders. Beauchamp suggested that the public assemblies where groups have voted to strike fall short of democratic standards, and that some students may have felt pressured to go along with the very vocal protest movement.
She said the government — not protest leaders — are an expression of the people's voice. If students want to be truly democratic, all strike votes should be held by secret ballot, as normal elections are, she said.
"We're ... talking about a (tuition) decision made by a democratically elected government, supported by another party in the national assembly (the Coalition For Quebec's Future)," Beauchamp told reporters.
"The (student) votes should be held secretly — and be held without intimidation."
FLASHPOINTS IN THE HISTORY OF CANADIAN LABOUR
Loading Slideshow
Labour Day: A Canadian Invention

Few Canadians realize it, but Labour Day is as Canadian as maple bacon. It all began in 1872, when the Toronto Typographical Union went on strike to demand a nine-hour workday. When <i>Globe and Mail</i> chief George Brown had the protest organizers arrested, Prime Minister John A. Macdonald passed a law legalizing labour unions. Thus, a Conservative prime minister became a hero to the working class, and Canada became among the first countries to limit the workday, doing so decades before the U.S. The typographers' marches became an annual event, eventually being adopted by the U.S., becoming the modern day Labour Day.

The Winnipeg General Strike

The end of World War I brought social instability and economic volatility to Canada. On May 15, 1919, numerous umbrella union groups went out on strike in Winnipeg, grinding the city to a halt. Protesters were attacked in the media with epithets such as "Bolshevik" and "Bohunk," but resistance from the media and government only strengthened the movement. In June, the mayor ordered the Mounties to ride into the protest, prompting violent clashes and the death of two protesters. After protest leaders were arrested, organizers called off the strike. But the federal mediator ended up ruling in favour of the protesters, establishing the Winnipeg General Strike as the most important strike in Canadian history, and a precursor to the country's modern labour movement.

The Regina Riot

During the Great Depression, the only way for a single male Canadian to get government assistance was to join "relief camps" -- make-work projects set up by the federal government out of concern idle young men were a threat to the nation. The relief camps, with their poor work conditions, became breeding grounds for communists and other radicals. The "On-To-Ottawa Trek" was organized as a protest that would move from Vancouver across the country to Ottawa, to bring workers' grievances to the prime minister. The trek halted in Regina when Prime Minister R.B. Bennett promised to talk to protest organizers. When talks broke down, the RCMP refused to allow the protesters to leave Regina and head for Ottawa, and on June 26, 1935, RCMP riot officers attacked a crowd of protesters. More than 100 people were arrested and two killed -- one protester and one officer.

Bloody Sunday

In May, 1938, unemployed men led by communist organizers occupied a post office and art gallery in downtown Vancouver, protesting over poor work conditions at government-run Depression-era "relief camps." In June, the RCMP moved in to clear out the occupiers, using tear gas inside the post office. The protesters inside smashed windows for air and armed themselves with whatever was available. Forty-two people, including five officers, were injured. When word spread of the evacuation, sympathizers marched through the city's East End, smashing store windows. Further protests against "police terror" would be held in the weeks to come.

Giant Mine Bombing

In 1992, workers at Royal Oak Mines' Giant Mine in the Northwest Territories went on strike. On September 18, a bomb exploded in a mineshaft deep underground, killing nine replacement workers. Mine worker Roger Warren was convicted of nine counts of second-degree murder. The Giant Mine closed in 2004.

The Toronto G20

The Canadian Labour Congress, representing numerous labour groups, participated in protests in Toronto during the G20 summit in June, 2010. When a handful of "Black Block" anarchists rioted through the city core, it brought an overwhelming police response that resulted in the largest mass arrests in Canadian history. More than 1,000 people were arrested, with most never charged with any crime. Numerous allegations of police brutality have been made, and the Toronto police are now the target of several multi-million dollar lawsuits. So far, two police officers have been charged with crimes relating to G20 policing, and charges against other police officers are also possible.

Occupy Canada

When Vancouver-based magazine Adbusters suggested the public "occupy Wall Street" to protest corporate malfeasance, New Yorkers took the suggestion seriously, and occupied Zuccotti Park in Manhattan. Canadians followed suit, sparking copycat occupations in all major Canadian cities in September, 2011. By December, most of the occupations had been cleared, all of them non-violently. Though the protests achieved no specific goals, they did change the political conversation in North America. What their long-term legacy will be remains to be seen.