Top 10 Ways You're Ruining Your Looks (PHOTOS)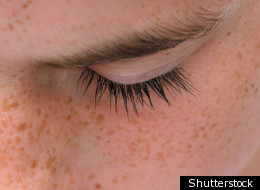 We're all about making life easier. So here, in our regular feature 10 Tips, we'll equip you with tricks that'll make any task -- from buying art to picking the right shade of lipstick -- seem simpler.
Fact or fiction: using anti-aging cream can actually ruin your looks. Fiction, right? Since anti-aging products are manufactured to enhance beauty. But according to Dr. Julia Carroll, consulting dermatologist to Vaseline, it's actually fact.
Carroll recently chatted with us about the many ways women and men are ruining their looks without even knowing it -- some habits are probably things we've all picked up because we've been told they help us look younger.
What are the top 10 ways you're killing your glow? Read on to find out.
Top 10 Ways You're Ruining Your Looks (PHOTOS)
"A common problem I see in my office is allergies related to the ingredients in products labeled 'natural' or 'organic.' In Canada, these terms are not regulated for cosmetics so they really mean very little. They may contain various plant-based products that can be irritating to the skin and have no scientific value. When it comes to skin care, it's best to keep it simple."

"We all know that sunscreens and retinol are the secrets to keeping your skin looking young, but don't forget about the new kids on the block: antioxidants. One of the most scientifically supported options, currently, is the use of topical Vitamin C. Not only does it help to slow down aging, but it also helps boosts the effectiveness of your sunscreen."

"Studies show 90 per cent of aging, known as extrinsic aging, is caused by the sun. However, 10 per cent of aging, known as intrinsic aging, comes from inside -- which means it's not entirely under your control. Over time, your epidermis will thin and your skin will decrease the amount of collagen and elastin that you make. So live well, get plenty of sleep and exercise and be comfortable in your own skin -- you've earned it!"

"In an effort to turn back the hands of time, many people use multiple commercial anti-aging products. What they may not realize is many of these products contain the same active ingredient. With too many products you can cause irritation of the epidermal layer of the skin which can cause red, dry skin. Check the ingredients in your products and, if in doubt, consult your dermatologist who can guide you to the best routine for your skin type."

"Age spots and brown discolouration on the skin can make you look five to 10 years older, so don't just focus on wrinkles. There are many ways to diminish the appearance of pigmentation. Look for creams containing hydroquinone or the natural ingredient Kojic Acid. If you want to take the next step, see your dermatologist for cryotherapy, laser or peels."

"We all want to look young, but be careful not to overdo it. The current trend is to look like a refreshed version of yourself by making subtle changes. This is accomplished with a good daily skin routine supplemented by chemical peels and laser treatment as well as Botox and dermal fillers. A combination of these procedures will give you the right look, however, too much of one can make you look like a Hollywood mistake. Be sure to do a little at a time and seek out an experienced dermatologist whom you can trust."

"Your dermatologist is a medical expert in skin, hair and nails. They know what works and what doesn't and can guide you in selecting products that are right for your skin type and skin condition. If you have concerns about your skin, they are an excellent resource. Check www.dermatology.ca for a dermatologist near you."

"Men and women in their 30s and older often come to see me about anti-aging products for their face. However, the skin does not stop at your chin! If you want to look your best and prevent the formation of fine lines and pigmentation, do not forget the rest of your body. One of my favourite tips is to apply your anti-aging products to your neck, chest and hands. Also, don't forget to moisturize your arms and legs. I recommend using a moisturizer containing glycerin as it can last for over 24 hours."

"It's been said before, but I'll say it again: using sunscreen is the single best anti-aging strategy you can employ. It helps to prevent premature aging as well as skin cancer. Who wouldn't want to do that?"

"As a dermatologist, I equate indoor tanning with smoking. It's high intensity UVA light. UVA light is well known for its ability to age the skin and also increases your risk of skin cancer. Furthermore, recent studies have shown there is an addictive quality to indoor tanning. Skip the tanning beds and get a manicure with your BFF instead. It's more social and definitely safer."