Can You Be Too Pretty? Yes Says A New Study (PHOTOS)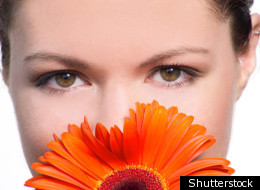 Samantha Brick was recently slammed for her DailyMail article lamenting her status as a "pretty woman." In the article she says: "There are downsides to being pretty -- the main one being that other women hate me for no other reason than my lovely looks." And while there has been some backlash to what she penned, some new studies suggest the prettier you are the harder your life may be.
A recent study highlighted in The Economist has found attractive females are, "less likely to be offered an interview if they included a mugshot," on their resume. The practice may seem weird in North America, but in Europe and Asia, it's customary to actually include a photo on job applications.
Do we all look that bad without makeup? Check out some celebs who skipped sprucing up before going out. Story continues below slideshow.
Fearne Cotton (Pic: WENN)

Holly Willoughby (Pic: Flynet)

Kylie Minogue (Pic: WENN)

Katy Perry (Pic: WENN)

Kim Kardashian (Pic: WENN)

Rihanna (Pic: WENN)

Kelly Brook (Pic: WENN)

Beyonce (Pic: WENN)

Sharon Osbourne (Pic: WENN)

Emma Watson (Pic: WENN)

Madonna (Pic: WENN)

Pamela Anderson (Pic: WENN)

Jessica Alba (Pic: WENN)

Myleene Klass (Pic: WENN)

Amelia Lily (Pic: WENN)

Marcia Cross (Pic: WENN)

Eva Mendes (Pic: WENN)

Edith Bowman (Pic: WENN)

Helena Bonham Carter (Pic: WENN)

Lesley Joseph (Pic: WENN)

Carol McGiffin (Pic: WENN)

Natalie Cassidy (Pic: WENN)

Vanessa White of The Saturdays (Pic: WENN)

Alexa Chung (Pic: WENN)

Felicity Huffman (Pic: WENN)

Gwyneth Paltrow (Pic: WENN)

Mischa Barton (Pic: WENN)

Celine Dion (Pic: WENN)

Kirsten Dunst (Pic: WENN)

Kate Hudson (Pic: WENN)

America Ferrera (Pic: WENN)

Jessica Biel (Pic: WENN)

Katie Holmes (Pic: WENN)

Debra Messing (Pic: WENN)

Jennifer Garner (Pic: WENN)

Liza Minnelli (Pic: WENN)

Claire Danes (Pic: WENN)

Janice Dickinson (Pic: WENN)

Whitney Port (Pic: WENN)
And it all gets more complicated when you look at the reasons why pretty women may spend more time unemployed than those who are less attractive. Lead researchers Bradley Ruffle at Ben-Gurion University and Ze'ev Shtudiner at Ariel University Centre found human resource staffers tend to do a lot of the hiring within a company -- and in this study, 93 per cent of those employees were women.
Similarly, a study by psychologist Maria Agthe, which was featured in 'Psychology Today', showed attractive graduate scholarship applicants -- be they men or women -- received less moola if their applications were being rated by someone of the same sex.
So maybe our obsession with beauty and looking good is getting worse? We're all spending more and more time -- and money -- on getting pretty. In fact, an article on SirensMag.com found women are literally going broke enhancing themselves. Dubbed 'Why Vanity Keeps Women Poor,' the article states U.S. women spend "some $12,000 to $15,000 every year... on products and salon services every year."
What's your take on all of this? Is beauty in the eye of the beholder? Is this just an issue of people being jealous? Should we really feel bad for the prettier among us? And is this obsession with being the prettiest reaching epic proportions?
Let us know what you think in the comments below or at @HuffPostCaStyle.