Breastfeeding in public remains a controversial topic worthy of demonstrations, laws and public outcries -- but what about breastfeeding in advertising?
South Korean marketing and communications agency Cheil Worldwide released an ad for Oreo cookies entitled "Basic Instinct," depicting a baby at his mother's breast with the tagline, 'Milk's favorite cookie.' Though many in advertising circles believe this to be a 'spec' ad, rather than one approved by Oreo's parent company Nabisco, the backlash it is producing speaks to the taboos that still exist for breastfeeding women.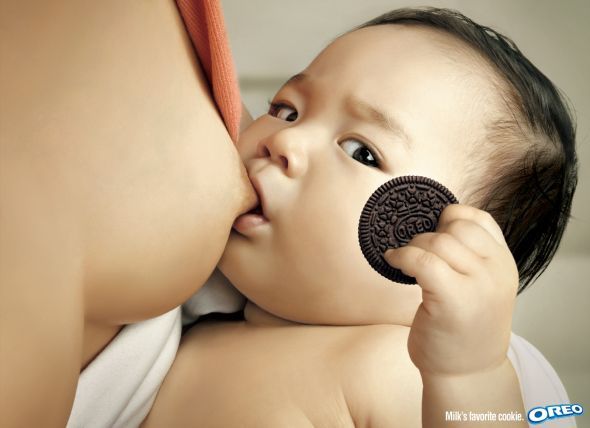 This tweet is indicative of the reactions of many commenters below the original posting of the image on Ads of the World:
@fashionideaz

Marko Azzioni
Behold This Absolutely Bonkers Oreo Ad From South Korea http://bit.ly/JbmZ4C #glamour #FashionNews #FashionIndustry
Others noted it would never be released in North America, due to censorship standards applied to various forms of media.
The lines being drawn on the appropriateness of breastfeeding and its affiliated nudity are often difficult to define. Facebook was recently forced to clarify its position on images of breastfeeding after removing one mother's personal photos, saying they were "sexually explicit." As the company explained in a public statement:
"The vast majority of breastfeeding photos [on Facebook] are compliant with our Statement of Rights and Responsibilities and Facebook takes no action on such content. However, photos which contain a fully exposed breast, do violate our terms and may be removed if they are reported to us. These policies are based on the same standards that apply to television and print media. It is important to note that photos upon which we act are almost exclusively brought to our attention by other users who complain about them being shared on Facebook."
Whether or not the Oreo ad is for real, some breastfeeding advocates appear pleased about this step in the direction of showing breastfeeding as part of our everyday lives.
@Nat_Rea

Natalie Rea
#breastfeeding imgs should be so widespread it doesn't cause a ruckus! RT @blakeeligh ad featuring #bf baby goes viral:
SEE: Dionna Ford on 9 ways Google can help to normalize breastfeeding:
9 Ways Google Can Help Normalize Breastfeeding
With approximately 88 billion searches per month on Google.com, a Google Doodle during World Breastfeeding Week (August 1-7, 2012) could literally be viewed by millions of people. Breastfeeding needs to be seen in order to become normalized. It needs to be such a common sight that it barely registers for people. Obviously Google can't do this alone, but it can help us out by featuring a beautiful breastfeeding baby on its search engine.

Many states specifically protect the rights of breastfeeding pairs. For example, the Connecticut law states that no person may restrict or limit the right of a mother to breastfeed her child. (Conn. Gen. Stat. Ann. ß53-34b.) Other states, like Arkansas, simply exempt breastfeeding from public indecency statutes. (A.C.A. ß 5-14-112.) And there are three states that do not protect breastfeeding pairs at all - West Virginia, Nebraska, and Idaho. Google can figure out what state we reside in when we are searching Google.com. Let's ask Google to include a note on the top or side of every search result that lists the searcher's breastfeeding state law. If there is no law, or if the law simply exempts nursing pairs from public indecency laws, Google could add a note that says "lobby your legislators to create a state law protecting nursing pairs," with a link to a site that will connect the searcher to his/her representatives. With 34,000 searches per second on Google.com, we could inform a lot of people about the rights of nursing pairs.

There are so many wonderful organizations and communities dedicated to supporting and normalizing breastfeeding: NursingFreedom.org, La Leche League, Kellymom, Best for Babes, Human Milk for Human Babies, Natural Parents Network, Code Name: Mama's "Joys of Breastfeeding Past Infancy" series, The Leaky B@@B, and more. One of the main reasons women stop (or never start) breastfeeding is due to a lack of support. We can reach out to breastfeeding mothers who might otherwise feel isolated by advertising on Google and YouTube -- the 2nd and 3rd most visited websites (just behind Facebook). Google can help us increase the visibility of supportive breastfeeding networks by promoting them on Google-owned sites.

From making babies healthier to decreasing a mother's risk of disease, there is a reason that breastmilk is the biological norm. There are at least 101 reasons to breastfeed, and many wonderful uses for breastmilk even outside of nourishing a baby. Instead of the usual sponsored ads in your Gmail inbox, Google could feature one of the many reasons to breastfeed, with a link to one of the supportive breastfeeding organizations and communities.

Google Calendar users can choose to have federal holidays listed in their normal view. How cool would it be to have World Breastfeeding Week highlighted in the holidays? It might prompt some users to help support the events planned in their area or online.

Google continues to update its street view images, so why not incorporate images of breastfeeding pairs? I'm sure Google could find willing participants in many cities, like Jennifer of True Confessions of a Real Mommy, shown here nursing at Huntington Beach, California.

"The primary purpose of the 'WHO-CODE' is to protect mothers and babies from the highly effective, aggressive and predatory marketing of substitutes for breastfeeding (i.e. infant formula, bottles, artificial nipples)." Google can help us promote breastfeeding and deter formula marketing by refusing to accept advertising contracts from companies that do not comply with the WHO Code.

Google Maps is the most popular "travel website," ranked over Mapquest and Expedia. Maybe that is because visiting Google Maps can be fun. Who doesn't love the little Pegman on Google Maps?! Pegman has dressed up as Santa, a panda, an astronaut, and more. Why not replace Pegman with Pegwoman for awhile? She'll proudly nurse in public all over the two dimensional globe.

Rather than plugging the next hit movie, feature breastfeeding videos on YouTube's front page during World Breastfeeding Week. Let some of YouTube's 800 million monthly viewers see the biological norm in nourishing our little ones.

The large G in Google is the International Breastfeeding Symbol.