NASA Time Lapse: Stunning Video 'Walking On Air' Shows Aurora, City Lights As Seen From ISS (VIDEO)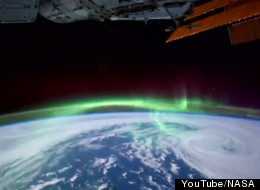 You've probably seen NASA's breathtaking time-lapse videos before, but now the space agency has added some creative touches.
Set to "Walking in the Air" by Howard Blake, the video pieces together and speeds up some of NASA's most gorgeous time-lapse photography from the International Space Station as shot by the Expedition 30 crew.
Watch as the ISS passes over the Aurora Borealis above Hudson Bay, lightning storms in Africa, a comet's glowing tail and city lights shining from a dark Earth.