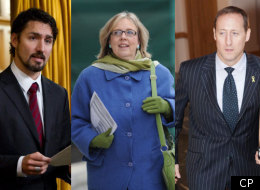 Politicians spend plenty of time in front of the camera, so it's no surprise that some of them are sartorially smart -- and easy on the eyes.
Now, one of Ottawa's top publications has listed the MPs who are the best and worst dressed. The Hill Times worked with Angus Reid Public Opinion to compile their annual Politically Savvy Survey.
The influential outlet asked 122 movers and shakers in the capital -- 58 of them working in politics -- to answer questions on everything from who is the sexiest MP to which politico has the worst sense of humour.
Check out the slideshow below to see who on Parliament Hill has some sartorial smarts -- as well as some who don't.
Best, Worst And Hippest Dressed MPs In Ottawa
2. Justin Trudeau -- 5 per cent THE CANADIAN PRESS/Jake Wright

1. Charlie Angus -- 7 per cent (a tie!) THE CANADIAN PRESS/Adrian Wyld

1. Stephen Harper -- 7 per cent (a tie!) Getty Images

2. Lisa Raitt -- 7 per cent (a tie!) THE CANADIAN PRESS/Sean Kilpatrick

2. Elizabeth May -- 7 per cent (a tie!) THE CANADIAN PRESS/Sean Kilpatrick

1. Libby Davis -- 12 per cent Adrian Wyld/TCPI/The Canadian Press

3. Peter MacKay -- 9 per cent THE CANADIAN PRESS/Jake Wright

2. Justin Trudeau -- 10 per cent THE CANADIAN PRESS/Tibor Kolley

1. Maxime Bernier -- 16 per cent THE CANADIAN PRESS/Adrian Wyld

3. Eve Adams -- 8 per cent THE CANADIAN PRESS/Sean Kilpatrick

2. Michelle Rempel -- 9 per cent THE CANADIAN PRESS/Sean Kilpatrick

1. Rona Ambrose -- 16 per cent THE CANADIAN PRESS/Pawel Dwulit