Super Cool Bra: Would You Wear This Frozen 'Fish Tank' Bra?
Looking for a new way to keep cool this summer? Why not reach for the "Super Cool Bra" by Japanese underwear company Triumph Japan.
At an event yesterday, models showed off the brand's new bra, which features cups filled with a gel that can be frozen (don't worry, gals, the cups remain soft and supple even after they've been stored in a freezer). A traditional Japanese wind chime dangles between the cups -- which is supposed to give wearers added refreshment. The bra even appears to house two small fish tanks (though we're not sure if they're real or fake).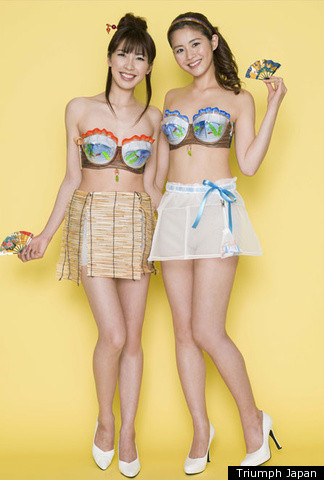 According to one report by the Hindu Times, the company conceived of this product in response to the need to save energy during the summer months.
And while we completely understand -- and agree with -- the need to conserve, we have to wonder if there's an easier way to keep cool as the temperature rises. And we're not so sure how this bra would look under a T-shirt. Would you wear it?
Here are some "more practical" fashion must-haves for summer.
A To Z Fashion Must-Haves For Summer
Apres Practice Anorak, Available at Lululemon, $158.

BROWNS ID & JC, Available at Brown Shoes, $198.

Lisa Stewart "Modern Myth" 14k Gold-Plated Pink Cuff-Bracelet, Available at Endless.com, $119.

Tigerlily Kite Tail Lace And Chain Geometric Earrings by This Ilk, Available on Etsy.com, $32.

Covet Open Shoulder Tee, Available at Covet, $56.

KORS Michael Kors Winnie Flip-Flops, Available at Michael Kors, $44.

Tulip Dress, Available at Joe Fresh, $69.

High-Low Skirt With Belt, Available at Forever 21, $20.

Circling Initial & Stone Ring, Available at Urban Outfitters, $10.

Tri-Blend Pocket Jumpsuit, Available at American Apparel, $54.

Flutter Sky Kimono Jacket, Available at French Connection, $168.

Neon Yellow Dress, Available at LuLu.com, $46.

Glitter Zip Clutch, Available at Ann Taylor, $48.

Jessie Dress by Tahari, Available at The Bay, $107.

Anchor Gigi Hair Tie, Available at TwistBand, $10.

Corsetta Belt, Available at Anthropologie, $48.

Clear Crystal Quartz Necklace 14K Gold Filled chain Jewelry Icicle Point Arrow Spike, Available at Etsy.com, $20.

Timex 80, Available at ASOS.com, $93.

Stacey Brass Snake Cuff, Available at Chloe, $595.

Denim Shorts, Available at H&M, $30.

Lily Birdcage Umbrella, Available at Fulton, $29.

SPAZIANO High Heels, Available at ALDO, $40.

Rosie Woven Bucket Bag, Available at Marc Jacobs, $430.

It was recently reported retail giant Bloomingdale's could be making its way to Canada -- along with Target, J.Crew and Marshalls.

50's Cross Front Sweetheart Bathing Suit, Available at ASOS, $37.

Medium Fabric and Leather Shoulder Bag, Available at Missoni, $690.