Figure-Flattering Poses: 7 Celebrities Who Know How To Strike A Pose (PHOTOS)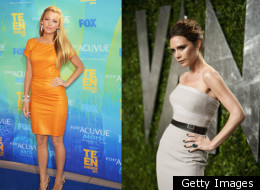 Celebrities spend their lives posing for photos. The result? They know how to accentuate their best features on camera. Some celebrities even stick to the same tried-and-true poses time and time again, once they find something that works for them. Now you can learn how to pose for pictures just like the sexiest A-list stars. Follow our guide to the best celebrity poses and you'll be a posing pro in no time.
The Most Figure-Flattering Celeb Poses
Blake Lively's signature stance emphasizes her killer legs. The blonde beauty poses with her weight shifted to one side, showing off how muscular her legs are. Actress Blake Lively arrives at the 2011 Teen Choice Awards.

Whether she's wearing a glamorous dress or something more casual, Kim Kardashian knows how to highlight her best features. By posing with one hand on her hip and her other arm close to her side, Kardashian draws attention to her tiny waist and amazing curves. TV Personality Kim Kardashian arrives at the 20th Annual Elton John AIDS Foundation's Oscar Viewing Party held at West Hollywood Park on February 26, 2012 in West Hollywood, California.

Megan Fox exudes sexiness by looking over her shoulder and giving the camera a seductive stare. She adds a bit of playfulness to her pose by casually touching her hair. Actress Megan Fox poses in press room with the Choice Hotties award during the 2010 Teen Choice Awards.

Taylor Swift looks glamorous and mature beyond her years as she faces the side and looks straight into the camera. The country cutie's perfect posture and super-straight legs accentuate her height (she's 5'11!), and she gets to show off her gorgeous outfits. Musician Taylor Swift arrives at the 2011 Billboard Music Awards at the MGM Grand Garden Arena May 22, 2011 in Las Vegas, Nevada.

The R&B diva's signature pose -- both hands on hips -- screams "Look at me!" This pose not only draws attention to Ashanti's small waist, but it also shows off her well-defined arms. Singer Ashanti attends the Falguni & Shane Peacock Fall 2012 fashion show during Mercedes-Benz Fashion Week at The Studio at Lincoln Center on February 12, 2012 in New York City.

Victoria Beckham looks like a runway model as she leans slightly back and places her hands on her hips. This pose shows off her thin frame, makes her appear taller than she is, and draws attention to her entire outfit. Victoria Beckham arrives to the Vanity Fair Oscar Party on the sidelines of the 84th Annual Academy Awards at the Sunset Tower.

Like Blake Lively, Elizabeth Hurley is another celeb who knows how to work her best asset -- her legs! The British star confidently stands with one leg out in front and bent, spotlighting her long, lean legs. Shane Warne and Elizabeth Hurley arrive at the official opening of 'Club 23' at the Crown Entertainment Complex.