Thomas Mulcair's Dutch Disease Comments Debated By HuffPost's Althia Raj And CBC's At Issue Panel (VIDEO)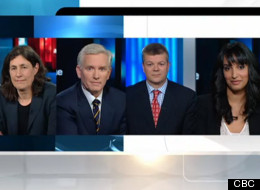 The Huffington Post Canada's Ottawa Bureau Chief Althia Raj joined CBC's At Issue panel on "The National" Thursday night to debate Thomas Mulcair's controversial Dutch disease comments and the politics of the oilsands.
Raj joined Chantal Hebert, Bruce Anderson and the National Post's John Ivison (Andrew Coyne was away) for the debate.
Anderson and Ivison argued that Mulcair's assertion that the oilsands are keeping the dollar high at the expense of manufacturing exports was a misstep that will likely hurt him with voters. Hebert and Raj, meanwhile, maintained that Mulcair's play could help him in southern Ontario, where the manufacturing industry has been hammered during the economic downturn. Major gains in Ontario are a necessity if the NDP hopes to win the next election.
The panel also debated the Tories' recent focus on foreign funding for environmental charities that attack resource development. All agreed the talking point is largely a distraction from the government's moves to overhaul the environmental assessment process and focus on more intensive resource development.
Rex Murphy also took time Thursday night to criticize Mulcair for his oilsands comments.
STORY CONTINUES BELOW VIDEO

Murphy slammed Mulcair for playing the economic downturn in the East off the resource boom in the West.
"We do not want to go there, and the Opposition leader might do well to hold off on these type of comments until he's actually visited the oilsands," Murphy said. "This game of playing one part of the country against another ... is of no value to anyone."
You can learn more about the development of Canada's oil industry in the slideshow below.
10 Facts About Canada's Oil Industry
The oil and gas industries accounted for around $65 billion of economic activity in Canada annually in recent years, or slightly less than 5 per cent of GDP. Source: Canada Energy Research Institute

Canada exported some 12,000 cubic metres of oil per day in 1980. By 2010, that number had grown to 112,000 cubic metres daily. Source: Canadian Association of Petroleum Producers

Canada refined 300,000 cubic metres daily in 1980; in 2010, that number was slightly down, to 291,000, even though exports of oil had grown tenfold in that time. Source: Canadian Association of Petroleum Producers

Despite talk by the federal government that it wants to open Asian markets to Canadian oil, the vast majority of exports still go to the United States -- 97 per cent as of 2009. Source: Natural Resources Canada

Canada's proven reserves of 175 billion barrels of oil -- the vast majority of it trapped in the oil sands -- is the second-largest oil stash in the world, after Saudi Arabia's 267 billion. Source: Oil & Gas Journal

One-third of Canada's oil sands bitumen stays in the country, and is refined into gasoline, heating oil and diesel. Source: Natural Resources Canada

Despite its reputation as the undisputed centre of Canada's oil industry, Alberta accounts for only two-thirds of energy production. British Columbia and Saskatchewan are the second and third-largest producers. Source: Natural Resources Canada

Alberta' government will reap $1.2 trillion in royalties from the oil sands over the next 35 years, according to the Canadian Energy Research Institute.

Thanks to improvements in energy efficiency, and a weakening of the country's manufacturing base, oil consumption in Canada has had virtually no net change in 30 years. Consumption went from 287,000 cubic metres daily in 1980 to 260,000 cubic metres daily in 2010. Source: Source: Canadian Association of Petroleum Producers

The National Energy Board says oil and gas employs 257,000 people in Canada, not including gas station employees. And the Canadian Association of Petroleum Producers says the oil sands alone will grow from 75,000 jobs to 905,000 jobs by 2035 -- assuming, of course, the price of oil holds up.