Kourtney Kardashian Style: Pregnant Star Dons 'Interesting' Frock On Mother's Day (PHOTOS)
Kourtney Kardashian is one sartorially smart pregnant woman.
She's rocked leather pants and a bright bikini. So suffice it to say, she's definitely someone who isn't letting cankles hinder her enjoyment of fashion.
But a look she wore on the weekend has us wondering what she was thinking.
While enjoying Mother's Day festivities with her family, Kourtney wore a bold black and white maxi dress (the 'Diana Gown' by RAOUL) paired with oversized sunglasses and a sexy bun (similar to the one we saw Kate Middleton wearing at a gala last week).
And while we've loved everything she's donned up until this point, we're not quite sure about this look.
What do you think of it? Is it fashionably fabulous or a major faux pas?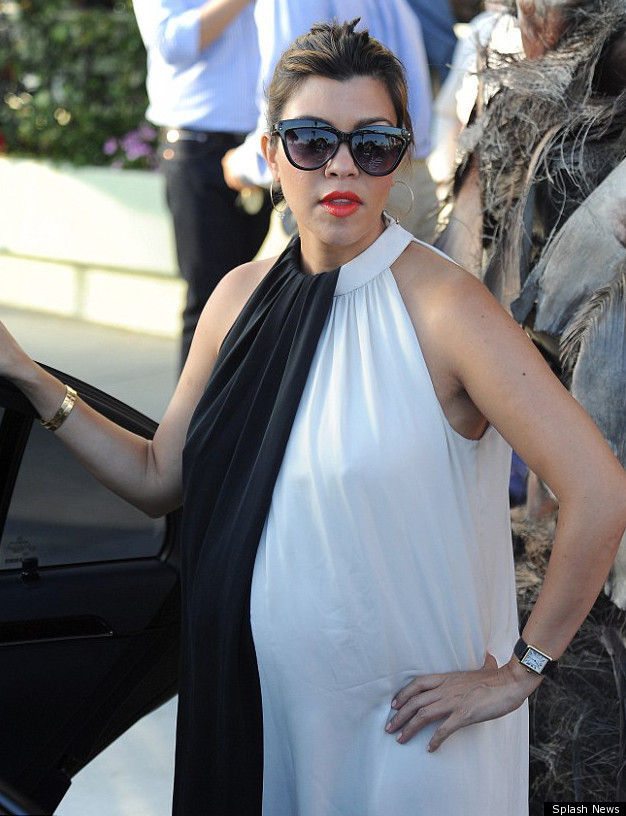 Take a look at Kourtney's life in outfits -- with captions written by the star herself.
"I must have been 2 years old. Here with my cousin Cici. Such a girly girl, princess dress."

"I think I was 7 years old here. My mom always dressed me, Kim and Khloe alike, but each of our outfits had their own twist. Love the Christmas lights dangling on Khloe...they add so much to her outfit."

"Probably my sexiest outfit to date. This is me in 7th grade being silly with friends."

"My sisters and I lived for dressing up in my mom's clothes and costumes. A little fun with the sisters striking a pose."

"I was taking fashion design where we learned to sew our own clothes and then modeled them in a fashion show at the end of the year. Here I am in a top and pants I made. I was very proud and made clothes for myself and my friends all the time!"

"Graduating from high school! I went to an all-girls high school and we all had to wear the same white gown for graduation day. I still have it!"

"Dolce & Gabbana for my 20th birthday! I love that the dress matches the balloons. This was in Dallas where I was enrolled in college at SMU. My sisters and mom surprised me by flying into town and throwing me a surprise party!"

"The bangs! Home for Christmas Eve at 21. My whole family wore ball gown skirts in different colors...how festive."

"Vintage Jean Paul Gaultier for my 30th birthday in Mexico with Scott! Some feather earrings, too -- and major tans."

"Wearing Vicki Tiel for our family Christmas card. Love the all red."
Want more? Be sure to check out HuffPost Canada Style on Twitter, Facebook and Pinterest.