REAL WEDDING: Mike & Jenn's Rustic, DIY Nuptials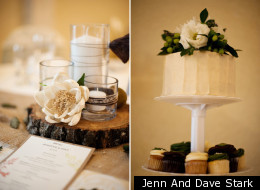 As soon as Mike and Jenn saw the charming grounds of The Old Springer House in Burlington, Ont., they knew it was the perfect venue for their casual, rustic wedding.
The bright autumn leaves, the reception's woodsy decor details and the earthy color palette came together to make pure rustic wedding gold.
Captured by Jenn and Dave Stark, the images reflect the care that the couple put into making sure that everything, from the wedding's flowers and DIY centerpieces to the venue, fit with their outdoorsy theme. Scroll down to read more from the bride!
REAL WEDDING: Mike & Jenn's Rustic, DIY Nuptials
Credit: Jenn And Dave Stark

Credit: Jenn And Dave Stark

Credit: Jenn And Dave Stark

Credit: Jenn And Dave Stark

Credit: Jenn And Dave Stark

Credit: Jenn And Dave Stark

Credit: Jenn And Dave Stark

Credit: Jenn And Dave Stark

Credit: Jenn And Dave Stark
From the bride... "We both wanted a simple, rustic, casual wedding. To pull that off, we knew the venue had to be perfect and ideally somewhere we could have both the ceremony and reception.
I had never heard of The Old Springer House before, but as soon as we saw pictures and had a visit, we knew it was the one. From the rustic old chapel at the back of the property with views of the escarpment, to the old building with so much charm, it was wonderful in every way.
All the changing trees surrounding the property in October gave us the perfect backdrop for that outdoor autumn feel.
We made almost everything for the wedding ourselves as we wanted it all to have a crafty, rustic personal touch. From the invitations, decor and menus up to the centerpieces was done by us with help from our loving family and friends. Even the wood discs used in the centerpieces were taken from Mike's parent's cottage and cut down!
The theme colors we kept to were green and brown, very earthy and rustic. We figured with such beautiful shades of red and orange in the backdrop, we wanted to keep the theme quite simple. I crafted the necklaces for my bridesmaids, while Mike made sure he and his groomsmen had comfortable shoes and snazzy socks that day!
We had so much fun planning our day, scouring flea markets to source vintage frames to display the guest names and finding and decorating wood screens for behind the head table.
Our guests still rave about the food that day at the Springer House, as well as our delightful cupcakes made by Cupid's Cupcakes, completely nut-free in the most amazing flavors! A dear family friend, Nancy Hogan (Flowers Are A Girl's Best Friend), did all our flowers and went above and beyond what we could have dreamed.
We had many memorable moments that day, but one that stands out in particular is my brother being there. My brother was missing his University graduation that same day in Halifax to be here with us in the wedding. During our closing speech, Mike and I asked my brother to come up to the podium and we handed him a cap and 'diploma' which had the room in tears followed by a standing ovation. Words cannot express sharing that special day with the friends and family we care about most.
Our wedding day was the most amazing day we could have ever asked for! A heartfelt thanks to our photographers Jenn and Dave Stark who captured our perfect day and after it all, we're happy to call friends."
Click here to get daily inspiration for your big day or download 2's awesome wedding apps (iPad & iPhone).