In a bid to reinvent themselves amid flagging influence and a less-than-friendly political atmosphere, unions are increasingly focusing their attention outside their ranks, advocating for workers who don't have a collective bargaining agreement -- or pay membership dues.
Part outreach and part marketing, the strategy is being lauded by experts who say that to regain relevance, unions must look beyond their traditional base, which is increasingly under siege. But for unions accustomed to organizing large groups of workers under a single roof, it's also an approach that will require considerable resources and adaptability, reflecting the fundamental nature of the transition that Big Labour is eyeing.
When it comes to the decline of labour's influence, the Canadian Auto Workers' union (CAW) and the Communications, Energy and Paperworkers Union of Canada (CEP) are two groups that have certainly felt the sting. Currently in talks to unite as a new, national union, the CAW and the CEP this week announced that under that arrangement, membership would be extended to workers without a collective agreement.
Though CEP president Dave Coles acknowledges that the strategy would no doubt lay the groundwork for traditional organizing efforts in workplaces that might otherwise be hard to reach, he describes increasing traditional membership through this approach as a "spin-off benefit."
"The concept is to make accessible the union to those who may not ever have collective bargaining rights," he told The Huffington Post. "It's about increasing our union power, which means influence both politically and economically, and you need to have a broad spectrum of society inside and on board."
While membership under this arrangement wouldn't give workers the right to collective bargaining -- or the suite of legal protections that come with it -- they would have access to the union's expertise on labour rights and possibly share in discounted health benefits programs.
The question of dues has yet to be determined, but union officials concede that the proposal isn't a money-maker, and that any fees collected from these members would be nominal.
And yet, according to CAW national secretary-treasurer Peter Kennedy, the idea has gained significant traction at the negotiating table.
"There's a lot of work left to do in our discussions, but this whole concept of some kind of ancillary membership is one that everybody seems not only intrigued by, but seems to think has real potential," he said. "It's something that's high on our list."
As Mike Moffatt, a labour expert at the University of Western Ontario's Ivey School of Business, explains, this attitude is part of a larger trend of unions recognizing "that they need to take bold moves to survive."
"They see the writing on the wall. They've seen their influence diminish significantly over the last 30 or 40 years," he said. "So, instead of trying to recreate the golden years, they're trying to find a path forward."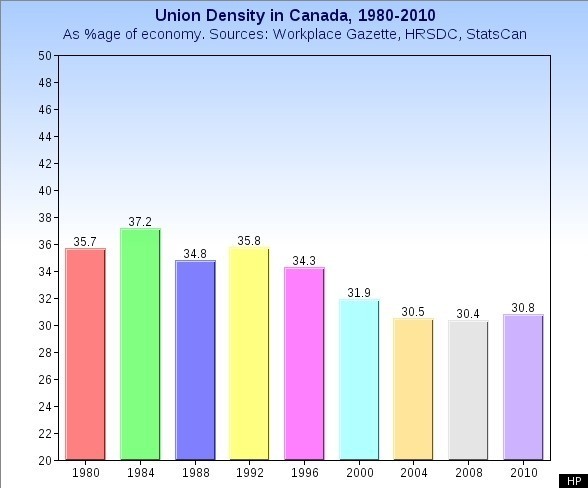 To be sure, the CAW and CEP are not alone in throwing their support behind workers that don't fit within the traditional mould of union membership.
In Toronto, the United Steelworkers has solidified an alliance with iTaxiworkers Association, which provides hundreds of taxi drivers with access to paralegal services, discounts on gas and other advocacy efforts.
Meanwhile, United Food and Commercial Workers Canada (UFCW) has long supported the Agricultural Workers Alliance (AWA), assisting seasonal -- oftentimes foreign -- workers with concerns around compensation, benefits and working conditions. And in recent months, the UFCW has been campaigning on behalf of thousands of retail workers slated to lose their jobs when Canadian Zellers locations are converted to Target stores, despite the fact that the union only represents a small minority of those workers.
As UFCW national representative Kevin Shimmin sees it, these efforts represent an attempt to return to the roots of the labour movement.
"Before we had collective bargaining rights for most workers at the turn of the last century, it was a lot of workers coming together and organizing to improve working conditions," he told HuffPost.
In the case of the AWA and the Zellers employees, as well as the Organization United for Respect at Wal-Mart, another UFCW campaign in the U.S., Shimmin says the common thread is that the "laws have failed workers."
"So it comes back to us to try and fight on their behalf, even if we don't have collective bargaining rights," he said.
In harkening back to a time when labour meant more than negotiating collective agreements, Don Wells, director of labour studies at McMaster University, says unions are broadening their scope to tap into the needs of an increasingly precarious workforce.
"If you think of unions as not simply representing only certain kinds of workers, but as organizations that are meant to represent workers as a whole, then there needs to be initiatives [like these] to make unions relevant to the class, and not just simply to declining sections of parts of that class," he said.
"I could imagine that we could see this as becoming part of new organizing, and also as unions becoming engaged in a broader range of activities," he said, noting the recent involvement of organized labour in the Occupy movement and the student protests in Quebec.
HEARTS AND MINDS
While supporting non-union members won't solve the longer-term problem of shoring up Big Labour's traditional base (whose dues are responsible for keeping unions afloat), experts say it may address another pressing issue: winning back hearts and minds.
As union density has declined, so too has public -- and government -- sympathy for unionized workers, who face cuts to relatively generous benefits and wages, even as they are ordered back to work, as in the case of Air Canada and Canadian Union of Postal Workers employees.
"There is a feeling out there that the unions have been detached from the general public -- that they're sort of out there looking after themselves, but they're not providing value to the broader community," Moffatt said.
"[Unions] realize they have a bit of a PR problem, so getting out there, helping non-unionized workers, getting legislation passed that helps all workers, is a way that the CAW and the CEP can enhance their public profile."
Though some labour leaders dismiss this view as cynical, public relations does appear to be an aspect of the rehabilitation that Big Labour is staging.
As Paul Moist, national president of the Canadian Union of Public Employees, told The Huffington Post last year, advocating on behalf of non-members on pension and other issues is in part an attempt to dispel negative stereotypes.
"If we allow ourselves to be pigeonholed as greedy public employees, or allow [other] people to define us, we're going to be in choppier waters than we are now," he said. "I think if we're able to connect with people about 'What kind of a community do you want?', and we're prepared to be responsive to what we hear from Canadians [...] we're much better positioned."
Reaching out to non-union members, however, is not without its challenges. Experts say that success will depend on the ability of organizers to respond to individual concerns, and make clear precisely what these new members can realistically expect.
"The old cliche is you under-promise and over-deliver," says Ryerson University's Maurice Mazerolle.
"The hardest question to answer is 'What's in it for me?' The deliverables have to be high enough to warrant the investment," he said. "They have to pitch it on the basic level, but also they have to pitch it at more of an abstract [level], in terms of being part of something."
But as labour markets becoming increasingly fractured, and freelance work and contract jobs increasingly replace stable, salaried careers, unions are banking on the fact that a collective voice is precisely what workers are seeking.
"There's all kinds of people that want to be part of a movement, but can't find an employer to work for that has a collective agreement," said the CEP's Coles. "There are some types of employment where we may never be able to actually get a collective agreement, but we may be able to represent workers when they are in need."

Loading Slideshow
Labour Day: A Canadian Invention

Few Canadians realize it, but Labour Day is as Canadian as maple bacon. It all began in 1872, when the Toronto Typographical Union went on strike to demand a nine-hour workday. When <i>Globe and Mail</i> chief George Brown had the protest organizers arrested, Prime Minister John A. Macdonald passed a law legalizing labour unions. Thus, a Conservative prime minister became a hero to the working class, and Canada became among the first countries to limit the workday, doing so decades before the U.S. The typographers' marches became an annual event, eventually being adopted by the U.S., becoming the modern day Labour Day.

The Winnipeg General Strike

The end of World War I brought social instability and economic volatility to Canada. On May 15, 1919, numerous umbrella union groups went out on strike in Winnipeg, grinding the city to a halt. Protesters were attacked in the media with epithets such as "Bolshevik" and "Bohunk," but resistance from the media and government only strengthened the movement. In June, the mayor ordered the Mounties to ride into the protest, prompting violent clashes and the death of two protesters. After protest leaders were arrested, organizers called off the strike. But the federal mediator ended up ruling in favour of the protesters, establishing the Winnipeg General Strike as the most important strike in Canadian history, and a precursor to the country's modern labour movement.

The Regina Riot

During the Great Depression, the only way for a single male Canadian to get government assistance was to join "relief camps" -- make-work projects set up by the federal government out of concern idle young men were a threat to the nation. The relief camps, with their poor work conditions, became breeding grounds for communists and other radicals. The "On-To-Ottawa Trek" was organized as a protest that would move from Vancouver across the country to Ottawa, to bring workers' grievances to the prime minister. The trek halted in Regina when Prime Minister R.B. Bennett promised to talk to protest organizers. When talks broke down, the RCMP refused to allow the protesters to leave Regina and head for Ottawa, and on June 26, 1935, RCMP riot officers attacked a crowd of protesters. More than 100 people were arrested and two killed -- one protester and one officer.

Bloody Sunday

In May, 1938, unemployed men led by communist organizers occupied a post office and art gallery in downtown Vancouver, protesting over poor work conditions at government-run Depression-era "relief camps." In June, the RCMP moved in to clear out the occupiers, using tear gas inside the post office. The protesters inside smashed windows for air and armed themselves with whatever was available. Forty-two people, including five officers, were injured. When word spread of the evacuation, sympathizers marched through the city's East End, smashing store windows. Further protests against "police terror" would be held in the weeks to come.

Giant Mine Bombing

In 1992, workers at Royal Oak Mines' Giant Mine in the Northwest Territories went on strike. On September 18, a bomb exploded in a mineshaft deep underground, killing nine replacement workers. Mine worker Roger Warren was convicted of nine counts of second-degree murder. The Giant Mine closed in 2004.

The Toronto G20

The Canadian Labour Congress, representing numerous labour groups, participated in protests in Toronto during the G20 summit in June, 2010. When a handful of "Black Block" anarchists rioted through the city core, it brought an overwhelming police response that resulted in the largest mass arrests in Canadian history. More than 1,000 people were arrested, with most never charged with any crime. Numerous allegations of police brutality have been made, and the Toronto police are now the target of several multi-million dollar lawsuits. So far, two police officers have been charged with crimes relating to G20 policing, and charges against other police officers are also possible.

Occupy Canada

When Vancouver-based magazine Adbusters suggested the public "occupy Wall Street" to protest corporate malfeasance, New Yorkers took the suggestion seriously, and occupied Zuccotti Park in Manhattan. Canadians followed suit, sparking copycat occupations in all major Canadian cities in September, 2011. By December, most of the occupations had been cleared, all of them non-violently. Though the protests achieved no specific goals, they did change the political conversation in North America. What their long-term legacy will be remains to be seen.