Cooper, Deaf 2-Year Old Toddler, Hears His Mom's Voice For The First Time (VIDEO)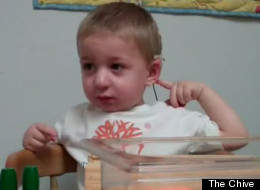 Get out your tissues. The Chive posted this adorable video of Cooper, a 2-year-old toddler hearing his mom's voice for the first time. According to HyperVocal, Cooper needed cochlear implants. The moment about 40 seconds in when he realizes that he can hear his mother's voice is pretty darn touching.
If you need a couple more videos to tug at your heartstrings, watch 8-month-old Jonathan hear his mom for the first time.


Or the absolutely moving reaction that 29-year-old Sarah Churman has to hearing her own voice for the first time.
Excuse us. We need to get another tissue.