Scam City: TV Host Conor Woodman Helps Viewers Avoid Fraud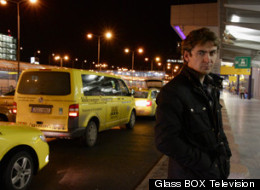 Travel expert and author Conor Woodman is visiting tourist hotspots in his new show Scam City.
His goal? To get scammed so you don't have to.
"The guidebooks will tell you exactly what to see," said Woodman. "Using hidden cameras, I'll uncover the scams that are a nightmare for every tourist."
Travel+Escape (GlassBOX Television) has bolstered its summer line-up with the premiere of a new original series Scam City with new shows every Sunday at 10pm ET/7pm PT. The 10-part series is co-produced by Handel Productions and Zig Zag Productions in association with National Geographic Channels International.
Scam City follows host Woodman – author, seasoned traveller and economist – as he visits Prague, Rio de Janeiro, New Delhi and Las Vegas. He's a man on a mission - Woodman wants to get himself into as much hot water as possible so that he can expose the scammers and thieves preying on tourists in the hopes that viewers can learn the tricks of their trades.
And it doesn't take Woodman long to find hot water in the Czech Republic. He heads to Prague, a city he says scammers love. Within moments he's arguing with an unscrupulous taxi driver who has clearly run up the price and charged him four times as much for a trip to Wenceslas Square.
As the evening progresses, a woman with a cigarette dangling out of her mouth offers sex to Woodman's guide. But as she makes her offer, you can clearly see her trying to pick his pockets.
"I always see people walk around with money in their back pocket," said Woodman, who explained that pickpockets love to look for easy prey. "In fact, it's a well known fact that pickpockets will often hang out near signs warning tourists about pickpockets. Why? Because the first thing people tend to do when they see a sign warning them about pickpockets is to touch their wallet to reassure themselves that it's there. And there you go, you've just done half the pickpocket's work for him by pointing out exactly where your wallet is."
Later on after researching what happens to tourists who chase the promise of sex, he finds himself in the back of a brothel surrounded by a thug ready to break him in half.
All in all, riveting television.
He says that while some of the scams are quite resourceful, many could easily be avoided with a small amount of common sense. And he also warned travellers to avoid criminal activity.
"Obviously, if you become a victim of a crime while engaging in criminal activity you can't really complain to the police," said Woodman. "Which is basically what (the scammers) are counting on."
The creative team includes Executive Producers from Handel Productions, Alan Handel and Andre Barro, and Executive Producers, Danny Fenton, Peter Day, and Brent Baker from Zig Zag Productions.
"We're excited to offer our viewers an alternative perspective to travel – one that entertains and informs," said Marcia Martin, SVP, Creative Content, GlassBOX Television. "Scam City, will show us what can go wrong and what to look for when you travel to your favourite cities. It's a trip not to miss."
Scam City Television Show
Travel expert and author Conor Woodman hosts Scam City.

Conor Woodman's guide tries to fend off a prostitute who offers sex while trying to pick his pocket.

These drug dealers are actually selling fake narcotics. Engaging in criminal activity while travelling is never a good idea.

Oldest trick in the book: Glossy ads lure tourists into a brothel with the promise of sex. But make the mistake of going into one of the rooms and the only fun you will be having is with a knuckle-dragger like this man who will shake you down and rough you up. Woodman finds himself in a bad situation when this thug refuses to let him leave without paying $300.

Another old trick: One person bumps into the victim to distract him, while the other picks his pocket.

Woodman: "I always see people walk around with money in their back pocket," said Woodman, who explained that pickpockets love to look for easy prey.

Conor Woodman is in Rio, one of the sexiest cities in the world and never more so than at Carnival time. Millions of tourists descend on the city for the biggest party on the planet. And with so many tourists out reveling on the streets it's party time for Rio's scammers too.