Justin Bieber Stratford Performance: Canadian Pop Star Busks In His Hometown (VIDEO)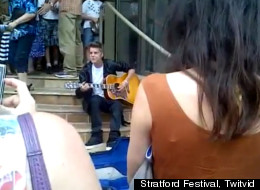 Superstar Justin Bieber unexpectedly took to the steps of the Avon Theatre in Stratford, Ont. Saturday to sing 'Baby' -- not unlike his early days busking on those same steps.
Only this time, a mob of fans turned up. Of course, there is video of the event
"He even looks at me at the end, but only for a second," YouTube's hipmama123 wrote.
The impromptu performance came ahead of his much-anticipated appearance at the Much Music Video Awards, in addition to the release of Believe, his third full-length album.