Happy Canada Day: Your Reasons Why You #LoveCanada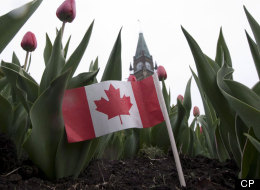 Earlier this month we gave our reasons for loving Canada. Some of our reasons were serious (we're a pretty great country to be a new mom, for example) and others were a bit more tongue-in-cheek (our love for products shilled by Galen Weston). Thousands of you shared our post and many more contributed your own reasons for loving this country.
One entry came in the form of a song, our bloggers chimed in, we even got a submission from Laureen Harper, wife of Prime Minister Stephen Harper.
We've collected our favourite comments and tweets below. Thanks and have a Happy Canada Day!
#LoveCanada: Your Reasons
Canada provides so much opportunity for a healthy active lifestyle while exploring its breathtaking scenery and vast open spaces. As Honorary Campaign Chair of the Trans Canada Trail and avid hiker, I feel lucky to be able to explore such a pristine and serene natural environment. In the same breath, I love Canada's vibrant cities and welcoming rural communities. Being from Calgary, of course I love the Calgary Stampede and this year marks the 100th anniversary of the spectacular and uniquely western annual event. I invite all Canadians to come celebrate everything that western Canada has to offer. - Laureen Harper, wife of Prime Minister Stephen Harper (Photo AP File)

Through our work with Free The Children, we've worked in over 50 countries. And, with hundreds of thousands of engaged student leaders across Canada, we know the passion of young people and mentors here at home. Believe us when we say: we Canadians won the lottery when it comes to nationality. Through our journeys, we've come to learn that Canada is so much more than hockey and Timbits. What makes this country the greatest place to live in the world is our compassion, friendliness and willingness to roll-up our sleeves to help. With all the gifts our country has, from poutine to politeness, we're uniquely positioned to make the world a little better, too. - Craig and Marc Kielburger, Founders, Free The Children.

Tell us why you think Canada is great. Is it a photo of your favourite camping spot, a Canadian you really admire, our weird obsession with hockey and cold weather? We're looking for your responses on Twitter with the #LoveCanada tag, Facebook, in the comments and via e-mail. We'll be collecting the best responses and featuring them on our site in the coming weeks. (Photo CP)
MORE #LOVECANADA:
Why I Love Canada: "Our Popular Last Names Are Smith, Singh and Ng"
Why I Love Canada: We Are Leaders in Health
Why I Love Canada: We Smile Through All Kinds of Weather
Why I Love Canada: The Charter of Rights and Freedom
Why I Love Canada: An Immigrant's Perspective
Why I Love Canada: Here I Can Question My Own Faith
Our reasons for loving Canada:

25 Reasons Why Canada Rocks
There are some snacks that define a nation, but not many that taste good to only those who live there. What do we love? The fact they leave our fingers dyed red after we've had a whole bag. Ketchup has never tasted so salty, non-tomatoey and outright good. Our U.S. friends may go nutty over Doritos, but we love our ketchup chips.

Many Canadians will point to the fact that Superman has a strong connection to the Great White North, but we'd like to reintroduce you to the real thing. 'Survivorman', while it was on in the late 2000s, showcased Les Stroud, a gritty Canadian who shot his own show in snow, sleet, heat and rain with nothing but random household objects and a trusty knife. We like to think that in a country that's increasingly urban, the outback is still our domain. Les, he's the best of us.

It was the scream heard around the world, and has been imitated - although never duplicated - several times since. William Shatner, who in his own right is a great Canadian, uttered the famous scream 'Khaaaaannnnnnnnnnnn!' in a scene during 1982's 'Star Trek II: The Wrath of Khan'. Was it the close up on Shatner's face or the fact he shook while he screamed that made it so powerful? Thirty years later, filmmakers and actors are still trying to outdo Shatner. But some things just can't be beat.

In warm weather, it will cool you down. If you're hungover, it's the magic antidote. The Caesar, Canada's favourite breakfast, lunch and evening cocktail adds a spicy twist to the Bloody Mary. Canadians are so particular about how it tastes -- with Clamato, not tomato juice -- that many don't even bother ordering it in the U.S. out of fear of disappointment. Served with celery, a lime and, if you're lucky, a fat dill pickle, it's the perfect cocktail. Who knew clam juice could add that kind of magic to a drink? (Photo Shutterstock)

Overall, Americans can save 24 per cent if they buy their drugs from online Canadian pharmacies versus filling their prescriptions at home, according to a study published in the Annals of Internal Medicine. The study sought to find out why so many U.S. citizens have been taking advantage of the deep discounts north of the border, and the results showed dramatic savings across the board. "Forty-one of the 44 brand-name medications examined were less expensive in Canada." Canucks are proud of their health-care system and easier access -- in this case financially -- to pharmaceuticals. (Photo Alamy)

The debate on whether we should cut ties to the monarchy was all but quashed last year after the outpouring of pomp and pageantry -- in Canada -- around the royal wedding. Canadians embraced the nuptials as if Prince William was their own and turned out in droves to see the newlyweds during their cross-country tour last July. From trying to get Pippa's butt to putting in their two cents on whether Prince Charles deserves the throne, Canadians love their Queen and all of the gossip that goes with her. (Photo Rex Features)

When it comes to food, Canadians concede there's far more selection in the U.S. but we're fiercely proud of the candy bars that can only be found here. Coffee Crisp is a great example. Consisting of a crunchy wafer, milk chocolate coating and slightest hint of coffee flavouring, the chocolate bar is true to its marketing slogan of making 'a nice light snack' and is adored by all moms and seniors. Rumour has it they've been spotted in a few U.S. border town convenience stores. We want proof!

Undoubtedly one of North America's natural wonders, the power and beauty of Niagara Falls never ceases to amaze, whether it's your first trip or 100th. Luckily for Canucks, the best place to view the falls is on the 'Canadian side'. That's right, busloads of tourists from around the world flood the observation areas near the falls in Ontario every day to snap the perfect picture for their Facebook profile. Do Americans bother to cross the border for the better view? You betcha. Just look out for the person using 'eh' at awkward times. (Photo Shutterstock)

About 56 per cent of Canadians have a passport while just 37 per cent of Americans do. While the majority of Canadians haven't been to countries like Azerbaijan, they do take pride in seeing the world and it's difficult to not run into a Canadian while travelling abroad. A story by TechCrunch claims more Americans have a Facebook page than a passport. Perhaps they prefer to view the travel photos of their friends online than to actually see sights for themselves... (Photo CP)

Canada limits corporate influence on our electoral process via spending limits on political donations and third-party advertising. The 2010 decision by the U.S. Supreme Court to strike down similar campaign finance laws in that country -- on grounds they violate the free-speech right of corporations -- poses a serious threat to democracy and the integrity of future elections in America. (AFP/Getty Images)

The soul of hockey isn't at the Hockey Hall Of Fame. Or the Air Canada Centre (sorry Leafs fans). It's in places like Windy Arm, Yukon where you can skate on ice clearer than your bedroom mirror in a setting that's straight out of Tolkien's Middle Earth.

There are few brands in Canada as reliable as President's Choice. Mr. Christie thinks he makes good cookies but nothing tops the Decadent, the brand's answer to Chips Ahoy. Kraft Dinner, in its familiar blue box, pales in comparison to PC's White Cheddar Mac & Cheese. It also doesn't hurt that nerdily-handsome Galen Weston (hearthrob of Canadian suburban housewives everywhere) is the pitchman for this iconic line of Canadian products. Why yes, Mr. Weston, I'd like some more Memories of Morocco Sweet And Spicy Sauce...

Ours might be smaller and fewer in number but Canadian cities consistently rank above American cities on livability. In the most recent Mercer survey of livable cities, Canadian cities took 4th, 14th, and 15th place, while the highest-ranked American city was 33rd. (Photo Getty Images)

According to Forbes, Canada is the best country in the world to do business and it's not because of the climate. Chalk it up to a lower corporate tax rate, excellent infrastructure and a well-educated populace. The U.S. and Europe's recent economic woes don't help them either. (Photo CP)

Canada has greater social mobility. If you are born into the poorest 10 per cent, your odds of making it to the richest 10 per cent are considerably better in Canada than in the U.S. In other words, it's easier to realize the American Dream in Canada than it is in the U.S. (Shutterstock)

(Photo Getty Images)

When it comes to national anthems, we've always had a bit of an inferiority complex (the maple leaf is not a banner spangled in stars). But according to new research, our simple and quaint pro-Canuck ballad "O, Canada" is among the world's finest. We even trump the Americans and Brits. So what if you can't remember all the words? This is an anthem worth singing. (Photo Getty Images)

Having a baby is hard work. And many women around the world aren't given the amount of time off they deserve post-delivery. But here in Canada, the true north strong and free, a lady can take up to a full year of paid maternity leave (17 weeks at 55 per cent of their salary and an additional 35 weeks after that). This contrasts vastly with The United States, Papua New Guinea, Swaziland, Liberia and Lesotho who provide no type of financial support for new mothers. (Alamy)

It completes your morning bowl of cereal, can quench thirst and is the perfect companion to chocolate chip cookies. Milk, dear readers, is an all around amazing drink. And grabbing a glass of the white stuff in Canada is unlike anything you'll be able to experience in many other countries. That's because there's a complete lack of unnatural hormones in our dairy products (so concerns about negative side effects simply doesn't exist), and we serve the beverage in a plastic bag, which, frankly, is far more convenient and environmentally friendly than cardboard containers (the baggies can be reused as makeshift lunch bags!). (Photos Shutterstock)

Take a deep breath in... and slowly exhale it out. Do you smell that? You may not, but that's the scent of clean air flowing through your lungs. According to new research, Canada rates tops in air quality (meaning you can say "ta ta" to stinky smog and gross pollution. [Ed. Note unless you live in smog-heavy Toronto]). In fact, while the U.S. averages 18 micrograms of particulate matter per cubic metre of air, Canada averages only 13 micrograms. That also decreases our risk of developing bad air-induced health conditions like allergies. Now once again and all together now: inhale... (Photo Alamy)

This "fake" Heritage Minute says it all: on July 20, 2005, Canada's government passed the Civil Marriage Act giving same-sex couples the same rights and privileges as heterosexual pairings. The LGBT community can not only marry, they can also adopt children. We also host one of the largest Gay Pride festivals in the world in Toronto every June/July.

French fries. Cheese curds. Gravy. All mixed together in one bowl. There's really nothing more to say than this dish is gluttonously awesome. And we're proud to say it's 100 per cent Canadian. (Photo CP)

A decades-long U.S. trade embargo on evil 'Communist' Cuba means that that island's beaches and resorts have long been free of American tourists. Canadians, needing an escape from long winters have been flocking to the island for decades now. Since the collapse of the Soviet Union, Canada has also been a crucial trading partner of the island country. (Photo Getty Images)

Many people think Canada is a country of citizens who don plaid, beaver tails and fur all year round. (We also, obviously, live in igloos.) So thank goodness for Joseph Mimran, the fashion powerhouse who is behind one of Canada's biggest and most popular clothing exports: Joe Fresh. His bright, colourful and decidedly on-trend collections are showing the world what Canada has to offer sartorially (which is not limited to some hipsterish version of a lumberjack). (Getty Images)

Once a 44.5 kg weakling, The Great White North punches way above its weight class in the music world. A few decades ago, only a rare few Canadian musicians managed to establish international careers. But the rise of government funding for music and CanCon radio regulations supporting domestic tunes developed our homegrown scene until it was strong enough to lead a post-millennial Canadian Invasion. Nowadays we claim the world's biggest artists in almost any imaginable genre - Arcade Fire, Justin Bieber, Feist, Drake, Michael Buble, Deadmau5, Metric, Shania Twain, Celine Dion, Nickelback, Diana Krall, etc. Don't tell the Republicans, but we can thank "socialism" for all that money, money, money these musicians are making. (Photos By Getty Images)

Tell us why you think Canada is great. Is it a photo of your favourite camping spot, a Canadian you really admire, our weird obsession with hockey and cold weather? We're looking for your responses on Twitter with the #LoveCanada tag, Facebook, in the comments and via e-mail. We'll be collecting the best responses and featuring them on our site in the coming weeks. (Photo Getty Images)