PARIS - Hubert de Givenchy's column dress from the 1960s — made famous by actress Audrey Hepburn in "Breakfast at Tiffany's" — was the muse behind the house's imaginative fall-winter couture 2013 presentation Thursday.
At a private show in a lavish Parisian mansion, guests viewed ten ornate and plunging creations in black and light beige.
When "Monsieur Hubert" originally designed Hepburn's 1960s dress, it was all about simplicity of form. The garment — alongside Coco Chanel's — is among history's most iconic little black dresses.
Here, 50 years after Blake Edwards' romantic comedy, the look is far more eccentric.
Designer Riccardo Tisci gave the famous designs a gypsy-infusion at this show, taking bohemian foulard print to inspired intricate reliefs of bonded leather. Several piece owed their column form not to Hepburn's highly fitted silhouette but to the sheer weight of the ornate detailing.
It was a master class in craftsmanship. Lashings of black laser cut Nappa leather ribbon accompanied myriad degrade beading and sparkling ruby-red crystals.
According to Givenchy assistant designer Alessandro Sellaretti, one small lace top "had to be the perfect pattern, so we used 30 metres (yards) worth of material."
The result: magnificent, arty pieces worthy of the Louvre museum.
There was only one problem: a model got tangled in some long, heavy fringing by simply lifting her arm.
Though they may share a surname, Katharine and Audrey Hepburn couldn't be more different. One was an all-American icon whose work spanned decades from the '30s-'90s, the other elegantly personified the '50s-'60s.
Below, two editors debate which Hepburn is the real style icon. Read their arguments and tell us -- Katharine or Audrey?
Step


1
Pre-debate poll:
Tell us your opinion before the debate starts to set the starting line
Audrey Hepburn is the bigger style icon than Katharine Hepburn.
Agree - Thanks for voting! Please proceed to read the debate below
Please vote to proceed to the debate
Step


2
Who makes the better argument?
Without a doubt, both Katharine Hepburn and Audrey Hepburn have influenced my way of dress. But it's Audrey's joie de vivre that has had the most impact on my style. Before the capri pants, ballet flats and fitted turtlenecks there was Audrey's infectious smile and heart of gold. She once said, "I was born with an enormous need for affection, and a terrible need to give it." The actress, with Oscars, Tonys and many other awards under her belt, was a devoted humanitarian and traveled the world for UNICEF, all while looking incredible poised and polished. In short, a true lady.
Although Katharine's borrowed-from-the-boys aesthetic has influenced some of my recent style icons including Renée Zellweger and Elizabeth Olsen, it's Audrey's balance of masculine and feminine has had much more of an impact in terms of style. Even Manolo Blahnik, the legendary shoe designer agrees, "The imprint of Miss [Audrey] Hepburn is absolutely, totally present. Like it or not, she will be the most important look of the twentieth century." Sure, Katharine's signature wide-leg trousers paved the way for Stella McCartney, Celine and Hermes, but it's Audrey's iconic embellished gown from "Breakfast at Tiffany's" that defined the LBD. And who could forget her all-black "Funny Face" ensemble? The mock turtleneck paired with cropped trousers and loafers showed off her playful and girly personality, while still being refined.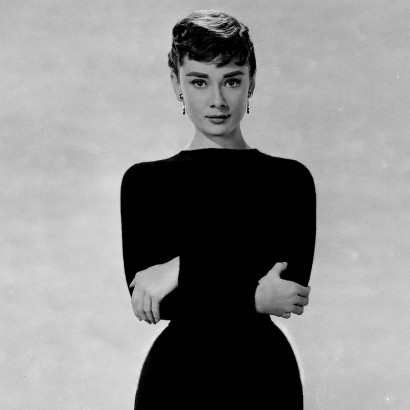 Photo: Getty
And although her wardrobe of Givenchy and Ferragamo is what dreams are made of, it's Audrey's approach to beauty that continues to inspire me. I've already written at length about her eyebrows (they're my idea of perfection) but her hair -- playful bangs that were anything but juvenile -- along with her wide, doe-like eyes shaped my idea of beauty from a young age.
Because of Audrey, I realized that natural beauty and simple dressing is far lovelier than any on-trend fad. In short, I've learned to stay true to myself and my style.
Katharine Hepburn wore pants back when it was considered morally wrong to do so. But had someone had the temerity to tell Ms. Hepburn that, they would've been reduced to a smoldering spot on the ground from her glare.
And that was the thing about Katharine's style: It was effortless, confident and unimpeachably hers. While you could credit the other Hepburn's style to a designer (Givenchy), Katharine's was all her own doing. It's trite to equate power to clever tailoring, so I'll let this photo speak for itself.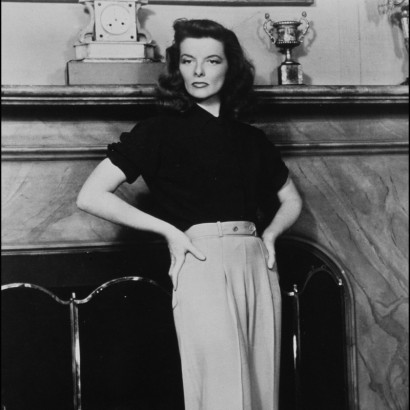 Photo by Getty Images
Here we have the classic Katherine Hepburn stance: Defiant, leggy and completely in command of the situation. She doesn't love the camera; she dares it. At the time, her lanky frame and killer cheekbones made her an "odd" beauty, which is laughable nowadays.
Katharine defined power dressing before such a term existed. In movies like "Adam's Rib" and "Woman Of The Year," she wore sharp jackets and lean skirts. Strictly business, but without sacrificing femininity. The latter is key: Katharine always found the balance between strength and softness. Her trademark white button-down and slacks ensemble (worn off-screen and in her later years) might, on the surface, seem a touch masculine. But the pant always had a defined waist, the shirt was always just tailored enough. She was the living embodiment of "American style" way before Ralph Lauren got to it.
And boy could she do glamour. I feel that over the years, as Katharine Hepburn's sharp personality eclipsed her career, history has forgotten what she looked like in a dress. She stunned in pared-down, sleek looks that wouldn't look out of place on today's red carpet. She also never had "too much" going on: Never too much make-up (she usually favored a bare face with lipstick), never loads of jewelry. Simple.
That simplicity could easily translate to you, or to me. Unlike Audrey Hepburn, who was undoubtedly elegant, you don't need to have a certain willowy frame to pull off a Katharine Hepburn look. And much more, you wouldn't look as if you were wearing a costume (the very unfortunate effect of "Breakfast At Tiffany's," which I think only 3% of people have actually seen). To achieve a hint of Katharine Hepburn, you need little more than pants, a button down and confidence. And if that isn't style, I don't know what is.
Step
3
POST DEBATE POLL
Did one of the arguments change your mind?
Audrey Hepburn is the bigger style icon than Katharine Hepburn.
VIEW DEBATE ROUND 1 RESULTS
Agree - Thanks for voting again! Here are the results:
moreless AgreeDisagreeUndecided
Sarah St. LiferBrie DyasNeither argumenthas changed the most minds