Travel Gear For Summer 2012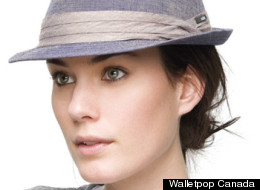 Huffington Post Canada Travel has teamed up with Walletpop Canada to bring you some of the more interesting items you can get to make your summer even better. Or at least more interesting.
With summer holidays here, it's time to round up some of our favourite travel gear. Because London is in the spotlight, with the Queen's Diamond Jubilee and the Olympics taking place there this summer, we had to include a few Englishy items - both useful and classic treasures no traveller should be without. Check out our favourite refillable water bottle and sandals built to take on tough terrain while aligning the feet and providing comfort - perfect!
Have a look and see if any of these items fit the bill.
Best Travel Gear for Summer 2012
Nobis is a Canadian clothing company that flies under the radar here at home, but it's a cult fave in the UK and among musicians and other creative types. The clothes are stylish but timeless, with an attention to detail that gets noticed. We love their Justice trench coat, (in beige and navy blue), for its updated look and cool factor. A well-crafted classic that is in step with the times: what more could you ask for? Next up: Nobis' August fedora.

In addition to gorgeous outerwear fit for a Canadian winter (spring, summer and fall), Nobis does amazing summer hats in soft, lightweight cotton/linen fabrics mixed with handcrafted straw weaves and textures. We wanted to pair the trench with a fedora, and the August is a perfect match. As we approach winter, check out their wool toques and furry trappers - the nicest you'll find anywhere. Next up: The Kindle Touch e-reader

Amazon's newest Kindle Touch has a number of new features we really love. Available with WiFi or 4G technology, this Kindle makes turning pages easier, with a toolbar you can hide and a keyboard that pops up whenever you need it. It also features advanced search and other neat tools that make English essays a breeze. You can find out how many people are reading the same book and check out their notes too, creating a sort of virtual bookclub with friendly insights. Next up: Fulton umbrellas

There's nothing like opening a genuine Fulton umbrella, (just ask HRH Queen Elizabeth), to turn an rainy day into a fashion statement. And with record rain falls, Brits have had plenty of good reasons to pack a stylish and functional brolly, able to withstand weeks of persistent precipitation. Fulton has been brightening British streets since 1956, and invented the Birdcage umbrella (pictured) especially for the Queen Mother, who wanted a brolly that would allow her subjects to see her (and she them) while she was on a walkabout. And Fulton has a Royal warrant to HRH Queen Elizabeth, carrying on its strong links to the Crown.

This elegant umbrella is the perfect accessory for roaming London streets this summer, and one of the best souvenirs of 2012. But you don't have to be heading to London to get one: the London-themed umbrellas are available across Canada at the Bay. Next up: Vionics sandals

Vionic Sports Recovery sandals are made by Orthaheel, which has developed shoes that restore the foot's natural alignment, enabling the feet, ankles and legs to dynamically function as they were intended. If your feet tend to cave inwards or lean outwards, these sandals will help to realign the foot and support a neutral stance. Light as a feather, with a strong sole and slipper-like comfort, the Vionics offer solid support and alleviate heel pain. We can vouch for their comfort and stabilizing effect, but they also come with an endorsement from respected naturopath Dr Andrew Weil. Next up: The Bobble water bottle

The Bobble is a cool new refillable water bottle, with a difference. It has a carbon filter that cleans tap water with each sip. Designed by Karim Rashid, the sleek bottle, er bobble, is a perfect accessory for a sweltering summer. And you only have to replace the filter every 100 fill-ups, (roughly every three months). Available across Canada.

The TabletTail from Octa is an all-in-one handle and stand solution for your iPad, tablet or e-reader. It works with suction to adhere to the back of your device for easy holding, and with the addition of the whale tail can be propped up almost anywhere. It worked brilliantly in the kitchen where it supported our iPad for easy recipe reading. It's ideal for watching movies as well. The suction cup is easily unstuck, and both pieces are compact enough for travel, making it a shoo-in for best travel gear 2012.

We tried this on our wrinkly duds and it works like a charm. Pack Downy Wrinkle Releaser in the TSA-approved 3-oz sized and smooth wrinkles out in seconds. Just spray it on your clothing, remove the wrinkles by firmly tugging the garment horizontally and vertically, then smooth with your hands and go. If only they'd invent something to get rid of our own wrinkles as easily...