Jason Kenney Petition: Immigration Minister Asks For Thanks On Own Website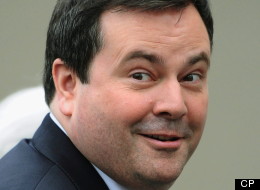 Jason Kenney wants you to thank Jason Kenney.
A petition on the immigration minister's website asks Canadians to thank Kenney for his work to "streamline benefits afforded to refugee claimants under the Interim Federal Health Program (IFHP) and bring them in line with the benefits received by tax-paying Canadians, including new Canadians."
"We don't think that smuggled migrants and bogus asylum claimants should be getting better health care benefits than Canadian seniors and taxpayers."
The petition comes after the Conservative government enacted cuts to supplemental health benefits for all refugee claimants -- excluding those sponsored by the government -- on June 30 as part of Bill C-31. The cuts are expected to save the federal government $100 million over five years.
The cuts have faced intense criticism from doctors. On Monday, the Canadian Medical Association released an opinion piece arguing the new law could pose a serious danger to the mental health of refugees. The piece focuses on the danger posed by strict detention policies in the new legislation.
The petition is not featured prominently on Kenney's site, but was spotted by The Globe and Mail reporter Tabatha Southey who sent out a link on Twitter. A flurry of tweets followed and users on the social network are now using the hashtag #ThanksJason to mock the MP from Calgary Southeast.
It's unclear how long the petition has been up on the website, but a Facebook post from Tory MP Dave Van Kesteren on April 26 shows it's not new, according to the Toronto Star.
Check out some of the best tweets on the petition in the slideshow below.