Dared To Bare: 40+ Celebs Who Have Posed Nude (PHOTOS)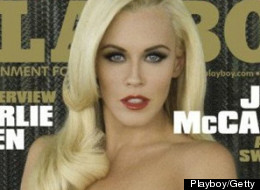 Seems like everyone is doffing their clothes these days, and we're not sure what's to blame. Is it our ever-loosening morals? Is it the summer heat? Is it our quiet but lingering curiosity about Nude Recreation Week, which kicked off Monday?
Whatever the case, there seems to be a trend amongst the 40+ set to bare all -- seemingly with nary a care. (Make that the 39+ set -- Jenny McCarthy did her sixth photo spread in Playboy some 20 years after her first, because she wanted to pose again before her 40th birthday which is later this year. McCarthy says she likes the fact Playboy "doesn't really have the anorexic look," for their models, whom she called "voluptuous.")
Still, the question remains: is seeing a woman posing in the buff empowering or indulgent? On one hand, seeing women of all ages and shapes helps to normalize and broaden our understanding of what women really look like. Kate Winslet (who still has a few years to go before 40) recently told The Sun that although she doesn't have a flawless body, she continues to appear nude onscreen when the role calls for it -- it's her bid to boost the confidence of women.
"I look like the people that walk down the street," she says. "I don't have perfect boobs, I don't have zero cellulite -- of course I don't -- and I'm curvy. If that is something that makes women feel empowered in any way, that's great."
On the other hand, there's the sexual objectification aspect, which science has shown happens to women more than men. A recent study stated "focusing on targets' appearance, rather than on their personality, could diminish the degree of human nature attributed to female targets, but not to male targets."
So perpetuating sexualized images of women, whether they are older or not, can still contribute to the tendency to view women's bodies as objects. Although, just to tip the scales a bit, this is apparently the Summer Of Lust, where men are being sexually objectified left, right and centre. (Hello, Magic Mike!)
Here are some celebs who have dared to bare after their 39th year. What do you think -- a step forward for womankind or unnecessary nudeness?
Older Celebs Who Dare To Bare
Some say as you age you get more comfortable in your own skin, and Jen seemed to feel right at home posing nude on the cover of GQ in 2009 at age 40.

We should be so lucky to have Helen Mirren's slamming body, which she flaunted in a nude photo shoot for New York Magazine at the age of 64.

Nearly 20 years after first posing for Playboy, the 39-year-old mother returned to its cover, wearing fishnet gloves and not much else. "The pictures are really gorgeous and classy," McCarthy said of the photo shoot. "It's probably a lot more sophisticated than a lot of the stuff you'd see of people with their clothes on." Whatever makes you happy, Jenny.

We salute Heidi for her nude photo shoots with Allure and beauty brand Astor. With a figure like that, why wear anything other than body paint -- or anything at all?

Sharon Stone's recent exhibition at the amfAR Inspiration Night gala was no nip slip. When the bulbs flashed on the 54-year-old's sheer top and exposed her braless figure, the "Basic Instinct" star flashed a daring smile.

Julianne Moore was 49 when she went buck naked for a Bulgari campaign (with some strategically-placed lion cubs, mind you), but she didn't look a day over amazing. The luxury brand agreed: "She exudes a timeless charisma and inescapable magnetism," it said in a statement.

The 42-year-old singer, actress, mother of two, and American Idol judge stripped down and oiled up to promote her "Glowing" fragrance. But trust us, Jen, no one's talking about the perfume.

Madonna's no virgin when it comes to baring skin (remember this NSFW photo?), but the Queen of Pop hasn't let aging stop her. She recently revealed a nipple during a concert in Turkey and didn't stop there. Just call her a no-material girl.