Save the Bumblebee with a Cute Bracelet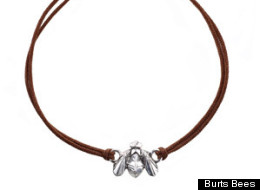 BY: Glynnis Mapp, TheKit.ca
Canadian accessories designer Jenny Bird and honey-loving beauty brand Burt's Bees have come together to create a super cute fashion collaboration that hopes to raise awareness and save the bee population in Canada.
Related: New Summer Trend, Bib Necklaces
About 43 types of Canada's bumblebees which pollinate food crops are threatened thanks to pesticide use, pollution and loss of habitat due to urban development. Not-for-profit group, The Pollinator Partnership, hopes to help save bees from extinction by planting bee-friendly gardens with pollinator-friendly plants and more. The goal for this sweet initiative is to sell at least 1200 bracelets with 100% of the proceeds going to the cause.
Related: Kim Kardashian's Belle Noel Jewellery Line
Made of 18k gold-dipped brass and sterling silver-dipped brass, the For the Bees Bracelet hopes to generate "buzz" for the initiative. Bird designed a friendship bracelet into a wearable piece of jewelry for all ages: a bracelet that incorporates Bird's design aesthetic—a cute bee shape with edgy contours. "His wings are back since he is taking a little rest from pollinating and sitting on your wrist!" says designer, Jenny Bird.
"The connection to our food chain is too important to ignore. It reminds us how beautiful—and fragile—our planet is."
Related: H&M's Next Collaborator Anna Dello Russo Shares Her Style Inspiration
Jenny Bird For The Bees bracelet, $24, www.burtsbees.ca/forthebees. Available starting July 1.
Tweet a picture of your For The Bees friendship bracelet arm party to: @_jennybird #forthebees
More from TheKit.ca:

Win Everything in our Summer Issue!
How to Create the Sock Bun

Shop the Trend: Printed Shorts
Looking for other ways to look good and do good this summer? Here are 10 fashionable products that give back.
Fashion And Beauty For A Cause
CAUSE:HIV/AIDS around the world Yes Yes Yes Lip Butter, Available at The Body Shop

CAUSE: Helping adults and children affected by HIV/AIDSViva Glam By MAC, Available at MAC, $15

CAUSE: FEED Foundation and the Tory Burch FoundationFEED Tote Bags, Available at Holt Renfew, $50

CAUSE: Free The ChildrenAcacia Leaf Leather Earrings, Available at Me To We, $20

CAUSE:Providing shoes for feet all over the world Mother's Day White Vegan Classics, Available at TOMS, $54

CAUSE: Obakki Foundation, helping humanitarian causes worldwideShop online at Obakki.com

CAUSE:Global Fund for HIV/AIDSVermeil (TOUS)RED Bracelet, Available at Tous.com, $119

CAUSE: Angel Hugs, knitting or crocheting items for babies, children and adults that have suffered a severe trauma or serious life-threatening illnesses Browse the site for products or information on how to donate goods

CAUSE: Baby2Baby, supplying Los Angeles families in need with essential baby gear and clothing14-Karat Yellow-Gold-Plated Feather Necklace, House of Harlow 1960, $75

CAUSE: FashionABLE donates all of its profits to empower women and create sustainable business in AfricaFeleku Scarf, Available at PhilanthropyFashion.com, $40
Or want to throw a charity party? Here are six suggestions for hosting a charity-oriented bash.
Remember those tea parties you had a child -- but never quite got around to hosting as an adult? Use your favourite charity as an excuse to get friends over and sipping a cuppa. Gather a variety of tea cups from a garage sale (just wash them well!) and serve things like finger sandwiches, scones with clotted cream, punch, cupcakes, and of course, tea.

If the bride-to-be has a favourite charity, ask guests to make a donation to the organization in lieu of a gift -- or let them know they can bring money to the event that will be donated in her honour. Finger foods keep the party costs down, so consider offering dishes like a cheese and vegetable platter, mini pizzas, spring rolls or chips and dip.

If you're planning to host a potluck party (and especially if your charity is based in another part of the world), ask guests to bring foods from different regions. Ideas could include empanadas, shish kabobs, escargot, tapas and samosas.

Many charities are affiliated with a colour (like breast cancer or red for AIDS awareness), so theming your party towards the hue for the charity for which you're raising money keeps the cause top of mind -- and allows for a dose of creativity. Think about drinks in the appropriate colour, either naturally or with food colouring, decor that matches, and foods that fall into that end of the colour wheel (beets, anyone?).

Cocktail parties are a mainstay of charity events, and for good reason -- it's hard to resist a gathering with fun drinks and yummy appetizers. This is the easiest party in which to ask for a 'cover' for charity because of the number of people that usually attend, so don't feel embarrassed about having someone posted at the door. Don't forget to create a signature drink for the charity being celebrated, and pass around easy-to-hold foods like bruschetta, melon and prosciutto bites and olives.

When the weather's nice, it's hard to resist a meal served al fresco. Setting up the barbecue buffet-style lessens the workload and keeps everything casual -- and placing outdoor-friendly games (lawn bowling, hula hooping) will not only keep guests entertained, but offer up a chance to win prizes. The menu can include a variety of salads (like pasta, corn, or bean), different kinds of burgers, and chicken wings for a bit of mess.