But one year later, had things calmed down in Quebec? Hardly. With students (and student sympathizers) marching on the streets, economic uncertainties unsettling household budgets and a provincial election looming, there's plenty of political heat steaming up the province this summer.
New NDP leader Tom Mulcair's young caucus has had time to begin to establish itself, and entrench its top standing. But will it hold?
Quebec is the most courted political battleground in Canada: the NDP want to challenge for government next time around, the Tories need to maintain at least some support to keep their majority, the Liberals stubbornly hope for a return to their Quebec glory days and the Bloc needs a resurgence to return the sovereigntist party from the political wilderness.
The Quebec regional breakdown in a national Nanos survey set for release Thursday makes for an interesting comparison with the results from the last federal election:
Federal Party Support in Quebec as of July 12, 2012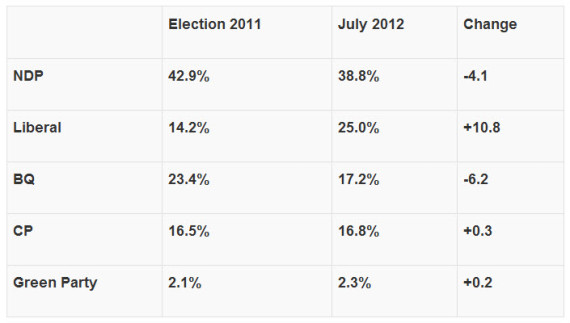 Source: Nanos random telephone survey of 1,200 Canadians, including 234 decided voters in Quebec. Margin of error for Quebec is ±6.5 percent 19 times out of 20.

The margin of error for this regional breakout is large (6.5), but the Liberal increase exceeds even that. And two other things stand out: the NDP lead is holding, by a comfortable margin and the Conservative support in Quebec appears static, stuck in the teens.

"People always ask 'when is the honeymoon going to be over for Thomas Mulcair?' It's pretty clear from the national and the provincial numbers that he's still doing very well in the province of Quebec," pollster Nik Nanos told guest host Hannah Thibedeau on CBC News Network's Power and Politics.

"As we get more distance from the election of Thomas Mulcair... some of the controversies that the Conservatives have had to deal with and [Mulcair's] Dutch disease strategy [speaking out on resource development issues]... I think they were high points in terms of the New Democrats. Maybe we're seeing a little bit of softening." Nanos suggested.

"Thomas Mulcair, the Quebec guy, probably wants to continue to deliver on Quebec. So he's probably going to keep an eye on the red team," he said.

So what's behind that Liberal increase?

"In the province of Quebec one of the things that has been talked about over the last 30-60 days is the Liberal leadership. Perhaps that could be one of the factors," Nanos says.

"But one point a trend does not make," he added. "Voters in the province of Quebec are volatile."

Recognized as one of Canada's top research experts, Nik Nanos provides numbers-driven counsel to senior executives and major organizations. He leads the analyst team at Nanos, is a Fellow of the Marketing Research and Intelligence Association and a Research Associate Professor with SUNY (Buffalo).

Also on HuffPost

Surprising Justin Trudeau Facts

Suggest a correction

Quebec has always been one of the hottest political arenas in Canada. Never was this more obvious than with the 2011 election result, when the "orange wave" of NDP support washed away most of the Bloc Québécois caucus and installed a record number of rookie MPs across the province.