Justin Bieber Support Sought By Julia Wilkinson At London Olympics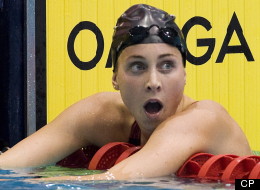 LONDON - Canadian swimmer Julia Wilkinson is looking for some celebrity support ahead of the women's 100-metre backstroke at the London Olympics.
The Stratford, Ont., native tweeted at Canadian pop star Justin Bieber on Saturday, a day before she was set to compete.
"100 back tomorrow baby! Maybe my hometown boy @justinbieber will send me a good luck RT," tweeted the 25-year-old Wilkinson, who is taking part in four events at the Games.
As of 7 p.m. ET on Saturday, Bieber had yet to respond on his official Twitter account.
Meanwhile, fellow swimmer Ryan Cochrane tweeted about being bumped out of the men's 400-metre freestyle final after defending champion Park Tae-hwan was reinstated following his protest of a disqualification in the heats.
The decision dropped the Victoria's Cochrane to the ninth spot and out of the final by one-hundredth of a second despite winning his heat.
"Obviously placing 9th by 1/100th of a second has been a challenging thing to overcome," tweeted the 23-year-old, who will also compete in the men's 1,500-metre freestyle. "Im now putting all my energy into this mile!"
Before the race, Cochrane remarked on a very special spectator at the Aquatics Centre.
"Apparently the queen watched my race at the pool this morning.... wat a nice lady!" he posted.
Other tweets from members of the Canadian Olympic team:
"Hearing the ridiculously loud cheers from our Canadian fans set the tone 4 us. Great win. Back in the race. #keepwatchingCanada #loveyoufam" — women's soccer player Melissa Tancredi on Canada's 3-0 win over South Africa.
"@ScottyDickens - congratulations on your Canadian Record today Scotty! Great way to start the week for the @CDNOlympicTeam at the pool," — chef de mission Mark Tewksbury on Scott Dickens' Canadian record in the 100-metre breaststroke preliminaries.
"Runnings a pain in the ass, but it sure gives me a nice one." — sprinter Justyn Warner.
"I've been in the UK so long Im starting to speak with an accent...no really" — boxer Mary Spencer.