Project Highlights Dangers Of Banff Wildlife Encounters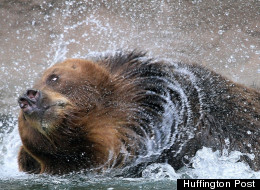 It's not uncommon to see wildlife on the side of the road in Banff National Park — it's also not uncommon to see people getting out of their vehicles to get close to the animals.
Animals that get accustomed to humans often end up getting killed.
A photographer from Canmore is fed up with the situation. She is making an online documentary to educate people about what getting close to animals means.
Banff's mountains, scenery and wildlife drew Ginevre Smith to Banff from Australia three years ago.
"I love to shoot the bears, wolves when I find them, moose are really amazing."
She spends hours cruising in her car searching for precious moments, but she's often interrupted by "bear jams," traffic snarls caused when drivers spot wildlife on the side of the road.
"I've seen a crowd of a dozen people with cameras, phones, following and chasing a young black bear down the road, eating berries, a few weeks ago. Standing a metre from elk and pointing cameras in face, flash," said Smith.
Steve Michel of Parks Canada says there are often reports of tourists feeding the wildlife.
"We have an old mantra, a fed bear is a dead bear. That is very true. Unfortunately, that aggressive behavior when they seek out human food/garbage, it's not safe to have animals like that in Banff National Park."
The animals often end up being destroyed. Smith says it makes her feel powerless.
"These people don't have common sense, treat animals this way, habituating animals beyond what should really happen," says Smith. "I wanted to do something about it."
She's is making an online documentary that will teach tourists how to behave around wildlife before they even arrive in Banff. She hopes tour companies will run it on their websites, maybe even their shuttle buses.
Michel agrees public awareness is everything. He says Parks Canada has been spreading the message for years, but says it's impossible to reach all of the more than three million visitors Banff Natinal Park has each year.
"People are very excited when they come here and certainly very excited when they get to see wild animal, which is probably the dream of their trip," says Michel.
"Sometimes common sense goes out the window when they get that opportunity to see the wildlife."
Smith hopes her documentary will help keep at least some of the tourists grounded. She plans to shoot it over the next few months and release it in the spring.
Kamchatka bear twins named Cuba and Toby, with their mother Kamcatka play in the outdoor enclosure at Brno Zoo for the first time on May 31, 2012. The Kamchatka bear is the largest subspecies of brown bear, weighing up to 1000 kg. RADEK MICA/AFP/GettyImages

Kamchatka bear Kamcatka, mother of twin bear cubs, plays in the outdoor enclosure at Brno Zoo for the first time on May 31, 2012. The Kamchatka bear is the largest subspecies of brown bear, weighing up to 1000 kg. RADEK MICA/AFP/GettyImages

Polar bear Anori lays in the sun on May 30, 2012 at the zoo in Wuppertal, western Germany. Anori was born January 4, 2012 at the zoo in Wuppertal and is a half-sister of world famous polar bear Knut, who died in 2011. FEDERICO GAMBARINI/AFP/GettyImages

A black bear is seen in the Shenandoah National Park in Virginia. KAREN BLEIER/AFP/GettyImages

Two Giant Pandas at an enclosure before they are taken back to the wild, at the Wolong National Nature Reserve in Wolong, southwest China's Sichaun province on May 3, 2012. The bears will be left to fend for themselves to learn crucial survival skills, and scientists plan to gradually reduce human interactions until they can live in the wild without any assistance, and while there have already been 10 attempts at setting pandas free over the past 30 years, and only two are thought to have been successful as the bears find it very hard to survive on their own. STR/AFP/GettyImages

A mother polar bear plays with one of her three cubs born in last November, at the Moscow Zoo, on March 22, 2012. ANDREY SMIRNOV/AFP/Getty Images

KINGUSSIE, SCOTLAND - APRIL 09: Walker (L) the polar bear meets with new male companion Arktos at the Highland Wildlife Park on April 9, 2012 in Kingussie, Scotland. Arktos arrived from Hannover Zoo in Germany on April 4 to be a companion to the Park's resident polar bear Walker. A year older than Walker and slightly larger, Arktos is four-years-old and it's hoped that the bears will establish a relationship of friendly competitiveness. (Photo by Jeff J Mitchell/Getty Images)

QUANZHOU, CHINA - FEBRUARY 24: (CHINA OUT) Bears stand by a wall at a bear farm of Guizhentang Pharmaceutical Co Ltd on February 24, 2012 in Quanzhou, Fujian Province of China. The Guizhentang Pharmaceutical Co Ltd, which makes medicine using bile extracted from live bears, opened one of its bear farms to the media on Wednesday, to quell growing criticism. (Photo by ChinaFotoPress/ChinaFotoPress via Getty Images)

A bear is seen at one of the traditional Chinese medicine company Guizhentang's controversial bear bile farms in Hui'an, southeast China's Fujian province on February 22, 2012. Bear bile has long been used in China to treat various health problems, despite skepticism over its effectiveness and outrage over the bile extraction process, which animal rights group say is excruciatingly painful for bears. STR/AFP/Getty Images

This photo taken on January 17, 2012 shows a zoo keeper attending to a new-born polar bear cub at the Ocean Aquarium of Penglai, in Yantai, in east China's Shandong province. This female cub was delivered by five-year-old polar bear 'Pengpeng' on January 1 weighing 640 grams, as the first polar bear born in the aquarium. STR/AFP/Getty Images

A spectacled bear (tremarctos ornatus), born in captivity four months ago, is seen at the zoo in Cali, Valle del Cauca department, Colombia, on January 11, 2012. LUIS ROBAYO/AFP/Getty Images

A pair of Brown bears play fight December 21, 2011 at the Bronx Zoo in New York. DON EMMERT/AFP/Getty Images

KINGUSSIE, SCOTLAND - DECEMBER 07: Walker the polar bear plays with a hard hat on his third birthday at the Highland Wildlife Park on December 7, 2011 in Kingussie, Scotland. Walker was born in Rhenen Zoo in Holland on 7th December 2008. He came to live at the Highland Wildlife Park after his aunt, Freedom, became pregnant and needed to retire to her cubbing den, his mother was also due to come on heat and be reintroduced back to the Zoo's adult male, Walker's dad. (Photo by Jeff J Mitchell/Getty Images)

EDINBURGH, SCOTLAND - DECEMBER 16: Tian Tian the female panda bear looks out from her enclosure as members of the public view her for the first time at Edinburgh Zoo on December 16, 2011 in Edinburgh, Scotland. The eight-year-old pair of giant pandas arrived on a specially chartered flight from China over a week ago and are the first to live in the UK for 17 years. Edinburgh zoo are hopeful that the pandas will give birth to cubs during their 10 year stay in Scotland. (Photo by Jeff J Mitchell/Getty Images)

Polar bears play in the water of Blijdorp Zoo in Rotterdam, Netherlands on September 30, 2011. The weather forecast for the weekend to come promises plenty of sunshine and temperatures around 25 degrees. ROBERT VOS/AFP/Getty Images

KEENESBURG, CO - OCTOBER 20: A grizzly bear waits to be fed at The Wild Animal Sanctuary on October 20, 2011 in Keenesburg, Colorado. The non-profit sanctuary is a 720-acre refuge for large carnivores that have been confiscated from illegal or abusive situations and is currently home to over 290 lions, tigers, bears, wolves and other large carnivores. It is the oldest and largest carnivore sanctuary in the United States, having been in operation since 1980. On Tuesday the owner of a Zanesville, Ohio private animal reserve set loose 56 animals, of which 49 were hunted down and killed by law enforcement and six others were tranquilized and are being treated at the Columbus Zoo. (Photo by John Moore/Getty Images)

A bear is seen in the Kuwait Zoo in the heart of the capital on September 4, 2011. YASSER AL-ZAYYAT/AFP/Getty Images

Polar bear shakes off water in his enclosure at the zoo on July 26, 2011 in Prague. MICHAL CIZEK/AFP/Getty Images)

A brown bear rests at the Safari park in Fasano, in the Apulia region, on August 4, 2011. GIUSEPPE CACACE/AFP/Getty Images

A three month old bear cub who was born at the zoo in Stavropol takes a walk on May 5, 2011. DANIL SEMYONOV/AFP/Getty Images

Newborn Polar Bear Cubs. A set of newborn polar bear twins make their public debut.

Meet Germany's latest animal superstar - Anuri the polar bear.