Prince William Saves Teenage Girl From Drowning In Royal Air Force Mission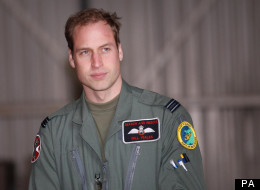 It looks like Prince William can add another title to his resume: Hero.
The BBC is reporting the Duke Of Cambridge led a mission to save a 16-year-old girl from drowning off the Anglesey coast in the U.K. According to the news organization, William captained a Royal Air Force (RAF) helicopter, which plucked the girl from open water in some 38 seconds of receiving the distress call.
William and his force at the RAF were apparently contacted, says the Daily Telegraph, after surfers catching a wave spotted two girls in trouble. The exhausted 16-year-old apparently got caught by waves after trying to help her 13-year-old sister; the younger sibling was found safely on shore.
The New York Daily News is reporting both girls were transported to hospital and are expected to be okay.
Prince William graduated as an operational RAF search and rescue pilot shortly before his marriage to Kate Middleton in 2010. He became a pilot at the end of May.
After his wedding to the Duchess of Cambridge, the couple set up home in Anglesey where his RAF squadron is based.
Take a look at William throughout the years.
(AP photo)

(AP photo)

(AP photo)

(Getty photo)

(Getty photo)

(Getty photo)

(Getty photo)

(Getty photo)

(Getty photo)

(Getty photo)

(Getty photo)

(Getty photo)

(Getty photo)

(Getty photo)

(Getty photo)

(Getty photo)

(Getty photo)

(Getty photo)

(Getty photo)

(Getty photo)

(Getty photo)

(Getty photo)

(Getty photo)

(Getty photo)

(Getty photo)

(Getty photo)

(Getty photo)

(Getty photo)