Pauline Marois Hitler Photo On Facebook Slammed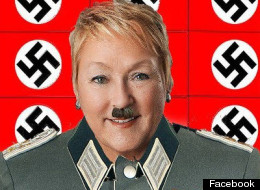 Looks like Godwin's Law is still in full effect. At least in the case of the Internet discussion on incoming Quebec premier Pauline Marois.
A photo of Marois as Hitler was posted late Tuesday night to the MontrealOfficial Facebook. As of 9:30 am Wednesday, the photo had been shared more than 200 times and racked up nearly 700 comments. The page has 133,000 followers.
The photo is accompanied by the caption: "How long will it take her to fuck up Quebec?" in English.
Many of the comments on the image strongly condemn the posting.
It is unclear who or how the photo was posted on the page, which mostly posts news stories related to Quebec. Calls and emails to the group placed by The Huffington Post Quebec have not been returned. The website for the group returns a 404 error.
During the recent election campaign in Quebec, Marois was criticized for proposing a secular charter that would have forbid public employees from wearing religious symbols on the job — like Muslim head scarves. The PQ also suggested a citizenship plan that would have required anyone running for office to pass a test proving they speak French. The party soon watered down the proposal.
The Hitler posting also comes just one week after a gunman killed one person at the PQ victory rally in Montreal. Richard Bain has been charged with first-degree murder and 15 other offences in relation to the incident.
When Bain was taken into custody he shouted "The English are waking up."