NEW YORK — The "American Idol" judges' panel is now complete with the naming of singer-rapper Nicki Minaj and country crooner Keith Urban.
The Fox network officially tapped the pair with an announcement Sunday, confirming rumors surrounding them both just hours before the first round of auditions for next season was due to begin in New York.
The announcement also settled the status of Randy Jackson. He will stay put as the sole remaining original "Idol" judge, scotching rumors he might assume a different role on the popular talent competition.
This trio will join pop star Mariah Carey at a judges' panel now expanded to four members from its previous three.
Arriving at Lincoln Center, where the auditions would take place, Urban hailed "Idol" for its "great history of producing real stars."
As an "Idol" judge, he said he plans to be "authentic" but not cruel.
"I did similar shows when I was very young in Australia," he recalled, "and I was sort of crucified by one judge. So I don't know that I'll ever be THAT guy."
Minaj said during the auditions she'll be looking for "a superstar," which, she explained, is "something that can't be defined in words."
Jackson called this pair of hires a "fresh, fresh, fresh `Idol' one-two!"
Minaj, he said, "brings a whole other cool vibe we've never had on the show, and Keith Urban? My God, he's unbelievably talented!"
When Carey was asked whether she had eagerly awaited news of who would join her as judges, she cracked that, no, she hadn't, "because all I really care about is me," but quickly added, "Only kidding."
Turning serious, she said she didn't know what kind of judge she would be.
"Am I the mean one? Am I the nice one? ... It's not about me, me, me, it's about them (the contestants) and what I can bring to them to help guide them in the right direction," said Carey.
Ryan Seacrest will remain as host when the show returns for its 12th season in January.
"Last night," he said, "we had a chance to really get together for the first time as a group. Everybody made a toast and talked about how special it was that they were here, and why they were here. So we're off to a good start."
Seacrest took note of "the serious and obvious diversity on this panel," adding, "You can see just by the panel the kind of power the show has."
The makeup of the panel has been in flux since Steven Tyler and Jennifer Lopez announced their exits in July. Carey signed on later that month.
"I am thrilled about this year's judges panel," said Mike Darnell, Fox president of Alternative Entertainment. "With an unparalleled star like Mariah, fan-favorite Randy, chart-toppers like Nicki and Keith and our incomparable host Ryan, we've put together one of the most exciting judging panels around."
"Idol" is looking for its famous new faces to supercharge a show that remains a ratings leader but has seen its viewership and pop-culture clout erode in recent seasons in an increasingly crowded talent show field. Besides Fox sibling "The X Factor," which recently added Britney Spears and Demi Lovato as judges, there's NBC's "The Voice," which boasts Christina Aguilera among its big names.
Minaj, 29, is known for her colorful hairstyles, wardrobe and antics. A native of Trinidad who grew up in New York, she has scored with hits like "Starships," "Turn Me On," and "Super Bass," her seventh single, which has sold more than 4 million copies.
She is the first female solo artist to have seven singles simultaneously on the Billboard Hot 100 chart. She released her second studio album, "Pink Friday: Roman Reloaded," in April, and since then it has sold 1 million copies worldwide.
The 44-year-old Urban has four Grammy Awards and 14 No. 1 hits, and was named Male Vocal Artist of the Year three times, as well as Entertainer of the Year, by the Country Music Association. His latest CD, "Get Closer," has produced three consecutive No. 1 singles.
The New Zealand native is married to Australia-born film star Nicole Kidman.
"American Idol" ended the 2011-12 season as the leading entertainment show and No. 2 overall, just behind NBC's top-rated "Sunday Night Football."
But the show aired its least-watched finale ever and the advertiser-favored young adult audience has been steadily shrinking. The show's cachet hasn't been helped by a run of champions who have failed to achieve the career sizzle of past competitors Jennifer Hudson, Carrie Underwood or Kelly Clarkson.
___
Associated Press writer Nicole Evatt contributed to this report.
___
Online:
http://www.americanidol.com
Related on HuffPost:
Photo from @RyanSeacrest: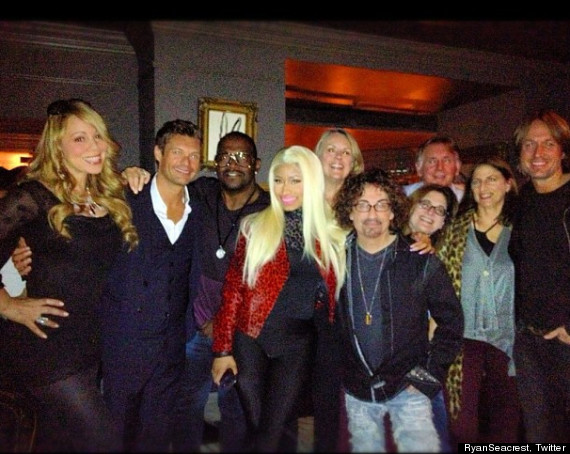 Loading Slideshow
Singin' in the Rain

In one of her craziest accessories moments yet, Nicki wore bright red wellies and a pink plastic fried chicken necklace to the iHeartRadio Music Festival in Las Vegas.

Crazy Cat Lady

Nicki wore this leopard-print getup and fuzzy cat hat to the Spring 2012 Oscar De La Renta show at Mercedes-Benz Fashion Week in New York. Me-ow!

Arts and Crafts

For the Spring 2012 Carolina Herrera show, Nicki sported this seemingly glued-together pom-pom top with a cheerleader-style skirt and lime green tights.

Pretzel Stand

Nicki showed up to the Prabal Gurung fashion show wearing a pink plastic pretzel necklace, bikini top, and tutu, topped off with a giant bow-slash-bridal-veil.

Barbie Girl

At the Cash Money Records' Lil Wayne album release party for Lil Wayne's <em>Tha Carter IV</em>, Nicki looked Barbie-esque in a long blonde wig, pink dress, and colorful bangles.

Stylish and Surgical

Nicki Minaj arrives at the 2011 MTV Video Music Awards wearing a surgical mask (among other oddities) made by one of her favorite Japanese designers, Shojono Tomo.

Under Her Umbrella

Before she wore the infamous fried-chicken necklace and rainboots combo, Nicki accessorized with <em>real</em> fried chicken and an umbrella-like skirt.

Pretty in Pastel

Nicki looks soft and pretty in a pink wig and baby-blue jumpsuit at the 2011 Billboard Music Awards.

Blue Jean Baby

Nicki shows up at an LA event totally decked out in denim.

Rainbow Bright

Looking like some sort of futuristic pink teletubby, Nicki wears this rainbow spandex number with fuschia slouchy boots to perform onstage for Lil Wayne's "I Am Still Music" tour.

Keeping it Classy

In one of her more understated moment, Nicki wears a fitted gray blazer, printed tights and sky-blue stilettos to the National Basketball Players Association (NBPA) All-Star Gala.

Bride of Frankenstein

When Nicki showed up at the Grammy's rocking bride of Frankenstein hair and a cavewoman-style animal-print getup, a rule-breaking fashion star was born.

Scary Skeleton

One of Nicki's major red carpet moments was when she showed up at the 2010 American Music Awards in this coral dress with skeleton accents and green-tipped hair.

Mad for Mod

Nicki looked sixties chic in a blunt-cut bob and white shift while visiting BET's 106 & Park.