Former U.S. President Bill Clinton Speaks In Vancouver (VIDEO)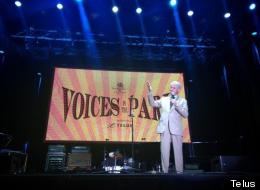 Former U.S. president Bill Clinton spoke to a crowd of about 10,000 people in Vancouver's Stanley Park on Saturday at a benefit concert for Sarah McLachlan's music school.
The star-studded Voices in the Park concert — which also included performances by Jann Arden, Bryan Adams and Stevie Nicks — raised money for School of Music, which provides training and programs for at-risk youth.
"People who perform ... they might not all become professionals, but they're all enriched by it," Clinton told the crowd.
"I think it is very unlikely that I would have ever become president had I not been at school of music from the time I was nine until the time I was 17."
McLachlan says the concert raised enough money to support School of Music for a full year.
Bill Clinton talks to Stevie Nicks backstage at Voices In the Park.

Stevie Nicks performs at Voices In The Park

Sarah McLachlan and Bryan Adams backstage

Welcome message from Sarah McLachlan

Vancouver Men's Chorus

What happens when @SarahMcLachlan 's microphone doesn't work #VITP pic.twitter.com/Hez3EFAk

Bill Clinton speaks at Voices In The Park

Students from the Sarah McLachlan School of Music perform

Thank you @SarahMcLachlan for all that you have done for all future musicians pic.twitter.com/8lSIL0DS

Sarah McLachlan setlist

The woman who inspires my crazy dance moves: Ms. Stevie Nicks #VITP pic.twitter.com/Gbi21Nq4

Jann Arden and Sarah McLachlan perform together

Sarah McLachlan performs "Angel"