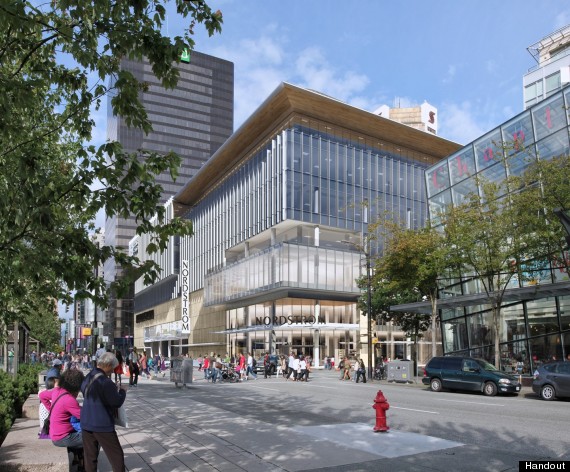 Glass and light will replace dingy tile in Pacific Centre's redevelopment of the old Sears building to accommodate U.S. retailer Nordstrom in downtown Vancouver.
The mall unveiled plans for the multi-million dollar renovation on Monday which will mix retail and office space.
The building's shell will be "re-clad in glass to provide maximum natural light," said the company. James K.M. Cheng, best known for his Vancouver condo towers, designed the project. Cheng has designed the Shangri-La and the Fairmont Pacific Rim in the city.
Nordstrom will occupy 230,000 square feet on three floors including the ground floor. The top four floors of the building will be converted to 280,000 square feet of office space with 17-foot ceilings, two atriums and a landscaped rooftop. The space could hold up to 1,400 employees.
Story continues after the slideshow

Loading Slideshow
Artist's rendering of the Nordstrom makeover as part of Pacific Centre redevelopment

Artist's rendering of the Nordstrom makeover as part of Pacific Centre redevelopment

Artist's rendering of the Nordstrom makeover as part of Pacific Centre redevelopment

Artist's rendering of the Nordstrom makeover as part of Pacific Centre redevelopment

Artist's rendering of the Nordstrom makeover as part of Pacific Centre redevelopment
"There is no other office space like this in the downtown core," said Tom Knoepfel, senior vice-president of mall owner Cadillac Fairview. "These are very large floor plates which are not currently available in the heart of the city."
Construction is slated to start in November and take 18 to 24 months to finish. Nordstrom and the office space are scheduled to open in early 2015.
Here at The Huffington Post B.C., we found a common dislike for the tiled eyesore when we looked for the region's ugliest buildings.
The original building at Granville and Georgia was built for Eaton's in 1973 when car culture ruled, reports the Globe and Mail.
Architect Michael Heeney told the newspaper the large blocky structure saps nearby Robson Square of its energy and "repels pedestrians," so a makeover will be a drastic change to the area.
Also on HuffPost:
Loading Slideshow
7. Westin Bayshore Hotel, Vancouver

Former City of Vancouver planning director Brent Toderian is blunt in his assessment of the Westin Bayshore hotel. He doesn't like how it stands out on the seawall edge near Stanley Park, nor is he much a fan of its main tower's beige exterior.

6. HSBC building, Vancouver

The HSBC Canada building is a mixed office tower and indoor public space, with a giant pendulum. This also happens to be where the HuffPost BC office is located. Architect Michael Geller: "That grand hall with the pendulum, I think people are impressed with that, but it didn't quite come together as a beautiful building."

5. The Erickson, Vancouver

Talk about a building that looks as though its been shaped by the elements. The Erickson on north False Creek looks as though an earthquake mangled its structure. Vancouver architect Michael Geller's assessment of the building is simple: "It's a bit wobbly."

4. Cascades Casino, Langley

Langley's Cascades Casino was meant to be played in, not looked at. It offers a casino with slot machines and a hotel/convention centre. But from an outside perspective, SFU design student Brandon Yan says "[It's an] ugly hotel with what looks like a pre-fab warehouse attached to it."

3. Simon Fraser University, Burnaby

Arthur Erickson took inspiration from the Acropolis in designing a structure that's more fun to walk through than to look at. Architect Michael Geller assesses it thus: "I say that people like stone, but as a general rule, I think people don't like raw concrete or unfinished concrete."

2. Vancouver Aquatic Centre

Vancouver architect Bing Thom feels the Aquatic Centre is a "big box" that just "doesn't speak to the waterfront." He says it was designed in a way that stopped daylighting seeping in and reflecting on the water.

1. Sears Building, Vancouver

The former Eaton's building was built with a box shape that a <em>Vancouver Sun</em> columnist called an "unending urinal wall" when it opened. Today, former City of Vancouver planning director Brent Toderian counts it among the city's worst.
Loading Slideshow
7. Burrard Bridge, Vancouver

Built in the 1930's, the Burrard Bridge carries motorists, cyclists and pedestrians across False Creek into the downtown from the affluent Kitsilano area. Architect Bing Thom says it's a "gateway to the downtown" that has aged very well.

6. Millennium Line Skytrain Stations

Not so much a building as an infrastructure project, every station along the line that carries commuters from Vancouver to New Westminster and Coquitlam features a unique design. SFU design Brandon Yan says they provide a "wonderful experience for transit users."

5. Robson Square, Vancouver

Two glass domes, skating rinks and a downtown UBC campus, this underground public space was a hotbed of activity during the 2010 Olympic Winter Games. Architect Bing Thom calls it a "garden in the middle of the city."

4. Vancouver Public Library

Designers in Greater Vancouver really value their libraries. Vancouver's downtown branch not only offers mounds of books, but a public space that all people can enjoy. SFU design student Brandon Yan: "It's a building that stands out from afar but offers people a wonderful haven in its glass atrium."

3. Woodward's Building, Vancouver

Former Vancouver city planner Brent Toderian admires the Woodwards building more for its many uses than its architecture. The building is a unique experiment, combining market housing with non-market units, commercial space and plaza.

2. Marine Building, Vancouver

Construction began in 1929, and Vancouver had seen nothing like it. It is decorated all over with art deco images of Canada geese, sun rays and marine life. Architect Michael Geller: "If you did a survey, most people in Vancouver would say it is one of their favourite buildings."

1. UBC Museum of Anthropology

Arthur Erickson was inspired by Northwest Coast post and beam structures when he designed this museum at UBC. Vancouver architect Michael Geller doesn't like concrete, but he makes an exception for this one: "I would say that people find that anthropology museum to be an attractive building, even if they're not exactly sure why."