Vandals Strike Historic Lougheed House Days After Death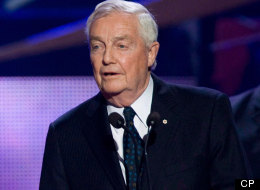 Just days after the death of former Alberta Premier Peter Lougheed, staff at the historic home built by his grandparents are appalled that vandals have sprayed graffiti on the much-loved building.
Lougheed House was targeted sometime late Saturday or early Sunday. Vandals managed to climb up to the second storey of the Beltline mansion and tag the sloping metal roof of the secondary tower, a chimney, and an east-facing sandstone wall.