Natural Toothpaste: Is It Good And Does It Work? We Put Kiss My Face To The Test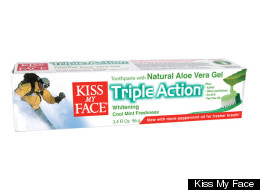 At some point, we've all purchased something whose results were, er, questionable, and didn't live up to our expectations or deliver the results we were so boldly promised. But no more! For the sake of you and your hard-earned money, The Huffington Post Canada Style team is putting the latest products to the test every week.
Testing: Kiss My Face Triple Action Toothpaste And Breath Blast Mouthwash
Testing Period: Daily for two months
Tested By: Sarah Kelsey, Editor, Style
Price: From $6 (respectively)
What It Is: All-natural toothpaste and mouthwash (that's said to taste great).
How To: Brush your teeth and use the mouthwash as you would any conventional toothpaste.
What We Thought: After reading There's Lead In Your Lipstick' by Gill Deacon, I went on a bit of a beauty binge: I gutted my cabinets and products with too many chemicals and started testing brands that claimed to be all-natural. From deodorant to body wash, I've tried it all. While I have a few go-to brands for shampoos and conditioners, I struggled to find a great toothpaste.
Enter my taste-test session with Kiss My Face's Triple Action Toothpaste and Breath Blast Mouthwash.
The brands are free of artificial sweeteners, flavouring and alcohol and naturally kill bacteria with the help of a variety of ingredients (including xylitol). They contain various other elements -- like green tea and goji berries -- to promote gum health.
So what did I think? Kiss My Face is a-okay. The toothpaste was more of a gel than a cream, and the mouthwash was a bit more syrupy (than conventional brands). I'm a texture person, so at first this freaked me out, but I was able to push through. On the plus side, the minty flavouring of each product was deliciously all-natural (as opposed to tasting, well, fake).
The Downfalls: I found, sometimes, after a particularly potent meal (garlic or onions, for example) brushing my teeth with the toothpaste alone wasn't enough to kill my bad food breath; mouthwash was mandatory. Also, if you like toothpaste that foams (as most brands do), you'll be disappointed by Kiss My Face. The line is foam-free, because there are no chemicals to create said sensation.
Tips: Combine the toothpaste with the mouthwash for top teeth-cleaning performance.
Final Remarks: Give this brand a whirl if you're looking for a way to green your mouth-care routine.
Do you have something you want us to test out? Let us know @HuffPostCaStyle.
Check out the other products we have put to the test.
What We Thought: The spray created waves that looked as fresh in the p.m. as they did in the a.m. And my locks never looked like I had applied mounds of product to create the faux curls (i.e. hard and crusty). While the scent of the product left something to be desired, it was a small price to pay for awesomely wavy strands. Read the post here.

What We Thought: The product definitely works. After rubbing the tool over my heels for about five minutes (which crack easily because of all of the running and working out I do), they felt smooth and soft. And, as an added bonus, the pain associated with my cracked heels all but disappeared. The product is simple to use. Read the post here.

What We Thought: This bar has become a staple in my get-clothes-clean repertoire. It works -- and incredibly well. With one simple scrub, I've been able to banish every stain from my light-coloured items, including from one BCBG shirt I've had (and have been trying to clean) for years. What's more, this bar is non-toxic, biodegradable and hypo-allergenic (something that's super important for a sensitive-skinned gal like me). It's quite literally one of the best laundry products I've ever used. Read the post here.

What We Thought: Did it work? Yes, the spots on my face are lighter, and I have some product left in the bottle, but the affected areas on my face aren't as light as I would like them to be (or expect them to be after regular use of a product). That being said, no other product has worked as well (of the many I've tried). And the company recommends using it for three months to see its true effects -- I've only been using it for two and a half. My mother has told me she's noticed a remarkable difference in how dark my "spots" are (meaning, they're lighter than they once were). Read the post here.

What We Thought: At first I was afraid of only washing my hair twice a week. I'm a wash every day kind of gal. And because Toronto has been 30+ degrees for the past month, I haven't stopped sweating -- this really affects what my hair looks like. Still, I tried this product -- and I liked it. While I wasn't able to cut my shampoo routine to twice a week if I was going out at night (I don't like going out with greasy-ish hair), this product was great for the work week. I could wake up after days of no shampooing and my hair would still look clean -- there were no signs I didn't wash my hair. Read the post here.

What We Thought: For someone who is the least crafty person on planet Earth, this was the easiest DIY I've ever attempted, and with good results. I'm unique in the fact that I bought second-hand jeans without checking first to see whether they would fit around my thighs and booty. So alas, I made jorts for a Cabbage Patch Kid-sized person, but they look really good otherwise. I'm really into the denim cut-off in the summer because of the ease of wearing it all the time. They are comfortable and look good with every shirt already in my closet. I bought white Levis because I thought it was something that my closet was lacking, but alas, they are too small. Read the post here

What We Thought: This de-puffing roller treatment came exactly at the right time. Summer for me, means late nights and early mornings which also means dark circles. I had high hopes for this rollerstick but unfortunately, I didn't see a change in the dark circles. However, I think these circles are engrained in my skin now. What I did really enjoy about it was how cooling it was every morning. After a long night out, it was a nice little treat every morning around my eyes. It didn't look greasy as some under-eye treatments do so that was a definite bonus. Read the post here.

What We Thought: At first I was weary about wearing fake eyelashes out in public (my daily beauty routine is super simple), but it was nice to have really thick and full lashes for a night out. They looked natural, and they looked great on my best friend who also tried a pair (she has shorter lashes than i do). I really liked the fact these lashes were self-adhesive -- I didn't have to deal with globs of glue accumulating on my lash line. I even slept in them -- they were still on and looking good in the morning! Pretty impressive. Read the story here.

What We Thought: I tested this product before bed and it gave my hair a perfect I-just-stepped-out-of-the-ocean-look. It's perfect for summer. Unfortunately, the look didn't last until morning, which means every a.m. you'll have to redo the above process if you want to maintain a seaside hairstyle. Read the post here.

What We Thought: After using the brush four to five times I did notice a few things. For starters, it actually does the job of collecting excess water from your hair. I tried it once getting out of the shower and after drying my hair with a towel -- in both cases there was less water dripping from my hair and all over my clothes. Secondly, this brush does an amazing job of untangling locks. My hair is naturally straight so it only took me one to two strokes to achieve smooth straight hair. The brush is also very light, so you don't have to worry about it getting heavy as it fills with H2O.Read the post here.

What We Thought: With the changing season, my hair tends to dry out. After using the oil about seven to eight times every other day (and washing my hair) I did notice my hair felt more hydrated and, generally, softer. My roots and ends were in better shape, too -- even after using a heated iron. The oil is very lightweight, which won't make your locks look or feel heavy. Read the story here.

What We Thought: My lashes are not that long in length and also tend to fall out. For the most part, I didn't notice any change in the length of my lashes, but they did feel thicker. When I applied regular mascara my lashes were fuller and after two weeks, fell out less.Read the post here.

What We Thought: If you're like me, your hair is destined to be oily. I often forgo conditioner or anything moisturizing for my hair. I also stay away from gels and hairspray. I wanted to use dry shampoo to save time and to avoid washing my hair everyday. For the most part, it worked -- and because it's LUSH, it smells fantastic.Read the post here.

What We Thought: It was fantastic to have the most blinged out nails at a party. It caught people's eyes and had them asking questions about "how" -- and sometimes "why" -- our nails got so bedazzled. Without nail polish underneath the stickers, the whole look seemed a little strange, though. Read the post here.

What We Thought: This was the easiest instant nail lift we've ever had. The entire process took about 10 minutes, and we didn't have to fret about trimming the press-ons in various shapes to fit our fingers (they were the perfect size!). Due to the sheer simplicity of the process, this pack is perfect for when you're running behind schedule and don't have time to actually paint your nails and wait for them to dry. Read the post here.
Want more? Be sure to check out HuffPost Canada Style on Twitter, Facebook and Pinterest.