The charges against Garland Larry Poyser of Sedgewick, Alta., and his business, Poyser Auto Service came after a four-month undercover investigation.
Officers used a search warrant at Poyser Auto Service on August 25, and seized 500 sets of white-tailed deer and mule deer antlers, 36 sets of moose antlers, six sets of elk antlers and one set of caribou antlers.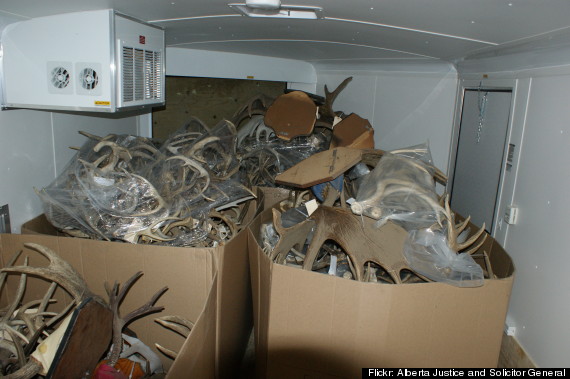 Charges against Poyser and his company include two counts of unlawfully trafficking in wildlife, one count of possessing wildlife for the purpose of trafficking, and one count of unlawful possession of wildlife.

Poyser is scheduled to appear in provincial court in Killam on Oct. 16.

The maximum penalty for illegally selling wildlife, or for possessing wildlife for the purpose of selling it, is $100,000 in fines and or two years in jail.

A charge of unlawful possession of wildlife can result in up to $50,000 in fines and or one year in jail.

"Illegal trafficking of wildlife will not be tolerated in Alberta," Justice Minister Jonathan Denis said in a news release Tuesday.

"This is a very serious crime that needs to be dealt with through serious punishments."

Also on HuffPost

Suggest a correction

EDMONTON - Wildlife officers in Alberta have seized more than 500 sets of big-game antlers and charged a man with illegal trafficking of animals.