Target Canada has started hiring for the first of its new stores set to open in the spring of 2013, but those thinking of applying for a job may want to take a look at what appear to be Target employee training materials obtained by Gawker.
According to a Target insider who leaked the documents to Gawker, the discount retail chain is running a training seminar called "Welcome to Amazing" (which Gawker describes as "hilariously childish") that will teach employees to give customers a particularly satisfying in-store experience.
Gawker describes the whole thing as Target "torturing its workers with Disneyesque corporate brainwashing."
It wasn't clear if the training script would be used at newly-opening Target locations in Canada. A Target Canada spokesperson told The Huffington Post Canada the company was looking into the Gawker report.
UPDATE: In an email to The Huffington Post, Target Canada said the documents in question were "just one introductory element" of a wide-ranging new training program.

"In terms of the training program for Canada, we are developing unique training materials ... that focus on creating a collaborative, team oriented environment, where we all work together to provide the best possible guest service in the marketplace," spokesperson Lisa Gibson said in the email. "We are excited to build the best team in retail in Canada and our team-focused atmosphere is a hallmark of who we are."
The training script, called "Welcome To Amazing," begins with an exhortation to create "amazing guest service" at Target stores.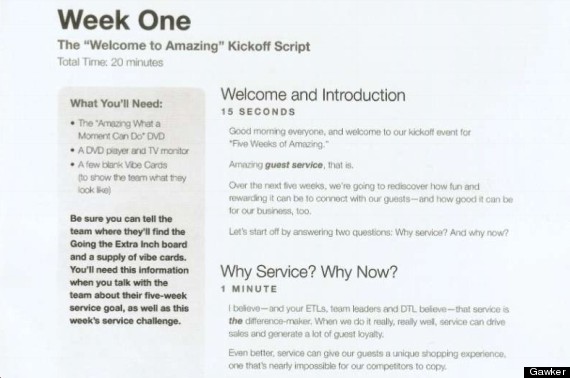 See more of these documents at the Gawker website.
"Over the next five weeks, we're going to rediscover how fun and rewarding it can be to connect with our guests — and how good it can be for our business, too," the script continues.
A recent analysis suggests Target's arrival in Canada could pose a threat to established retailers such as Canadian Tire and Walmart, but Target doesn't appear concerned with other big-box retailers; the documents suggest the company is battling online shopping.
"In a world where it's so easy for guests to shop online whenever and wherever they want, is service really enough to keep guests coming to stores?" the training script asks. "Sure it is."
The document continues: "You know what I'm talking about … great merchandise, cool displays, clean and bright stores, and that wave of happiness that hits them when they walk through our doors."
Target Canada is hiring 150 to 200 people for each of the first 24 stores it plans to open, all of them in Ontario. Positions being filled include floor staff as well as management, but if you plan to apply, best be sure you're into corporate cheerleading.
Also on HuffPost:
Loading Slideshow
The Booming Canadian Dollar

The Canadian dollar has risen from around 62 cents U.S. in 2002 to around $1.03 U.S. at present. What this means is that, from the perspective of international retailers, we're spending a lot more in stores. Colliers Canada reports that <a href="http://www.collierscanada.com/en/News/2012/Canada-Still-Magnet-for-Foreign-Retail" target="_hplink">Canadian shopping malls brought in 50 per cent more in sales, per square foot, than their U.S. counterparts</a> in 2011. While U.S. malls earned $400 U.S. in revenue per square foot, at Canadian malls it was around $600 U.S.. That's a powerful magnet for U.S. retailers looking to expand.

Our Existing Stores Are Disappearing

Remember Zellers? How about Eaton's, or <a href="http://en.wikipedia.org/wiki/F._W._Woolworth_Company" target="_hplink">Woolworth's</a> or <a href="http://en.wikipedia.org/wiki/Simpsons_(department_store)" target="_hplink">Simpsons</a>? <a href="http://en.wikipedia.org/wiki/A%26A_Records" target="_hplink">A&A Records</a>, anyone? Those are just a few of the retail names that have disappeared or are disappearing from Canada's street fronts and malls. With traditional retailers fading, U.S. retailers are seeing opportunity left and right. They are also seeing vacant space they can easily convert to their own stores, as <a href="http://www.huffingtonpost.ca/2012/08/22/target-canada-zellers-protest_n_1822223.html" target="_hplink">Target Canada is doing with Zellers locations</a> and <a href="http://www.huffingtonpost.ca/2012/09/11/nordstrom-canada_n_1874734.html" target="_hplink">Nordstrom Canada is doing with Sears stores</a>.

Our Retail Sector Is Growing Fast

Growth in Canada's retail sector was <a href="http://www.nasdaq.com/article/the-promise-of-the-canadian-retail-market-20120914-00599" target="_hplink">34 per cent faster than it was in the U.S. between 2004 and 2008</a>, according to data from the Retail Council of Canada -- and that's before the financial crisis sank the U.S. into an economic no-man's-land. The Council's data also shows that retail grew 96 per cent faster than the Canadian economy as a whole during that period.

There Are Too Many Stores In The U.S., And We Have Room For Growth

In the U.S., retail supports one-quarter of all jobs and accounts for about 18 per cent of the country's economic activity. By comparison, Canadian retail supports only about one-eighth of all jobs in the country, and retail accounts for just more than six per cent of all economic activity, <a href="http://www.nasdaq.com/article/the-promise-of-the-canadian-retail-market-20120914-00599" target="_hplink">according to a report at Nasdaq.com</a>. This would suggest that the U.S.'s retail market is saturated, while there is plenty of potential growth in Canada.

More Of Us Have Disposable Income

The U.S.'s persistently high unemployment rate in recent years has left many Americans with little cash for buying anything beyond the basics. Data from WSL/Strategic Retail shows that <a href="http://www.businesswire.com/news/home/20120914005044/en/Canada-Land-Retail-Opportunity-WSLStrategic-Retail" target="_hplink">only about 50 per cent of Americans have disposable income</a>, but the same is true for 64 per cent of Canadians.

Less Competition From Online Shopping

Canadians often complain that our options for online shopping are more limited than in the U.S., and that seems to show in our shopping habits. Research on women's shopping habits finds that <a href="http://www.businesswire.com/news/home/20120914005044/en/Canada-Land-Retail-Opportunity-WSLStrategic-Retail" target="_hplink">only about half of Canadian women shop online</a>, compared to 75 per cent of American women. That means more opportunity for brick-and-mortar stores planning to move into Canada.

We're Not As Big On Bargain-Hunting

The <a href="http://www.businesswire.com/news/home/20120914005044/en/Canada-Land-Retail-Opportunity-WSLStrategic-Retail" target="_hplink">same study of female shoppers</a> found that, while 68 per cent of American women use coupons when shopping, only 55 per cent of Canadian women do. Half of Canadian women look online for coupon opportunities, compared to 61 per cent of Americans, and 57 per cent of Canadian women pick up in-store circulars, while 71 per cent do so in the U.S. This lack of hunger for bargains translates into bigger profit margins for retailers.
Loading Slideshow
Bloomingdale's

The iconic American upscale retailer is in talks with Hudson's Bay Company to become a "store within a store" at HBC locations in Canada. The move is seen as an attempt by The Bay to fight off the possible arrival of Nordstrom's (see next slide).

Nordstrom

One of the most prominent competitors to Bloomingdale's, Nordstrom announced in September, 2012, that it plans to open locations in Cadillac Fairview-owned malls in Calgary, Ottawa and Vancouver. The stores will open in former Sears locations.

Marshalls

Discount retailer Marshalls entered the Canadian market in March, 2011, and recently announced an expansion of six new stores in Ontario. At least a dozen of its 750 stores are now located in Canada.

Lowe's

The home improvement retailer began moving into the Canadian market in 2007, with a store in Hamilton, Ontario. It has since expanded to 31 locations in Ontario and Alberta.

J. Crew

Ritzy fashion chain J. Crew opened its first Canadian location in the summer of 2011, and immediately ran into public anger about the U.S.-Canada price gap. Shoppers complained that J. Crew's Canadian prices were about 15 per cent higher than in the U.S.

Target

The arrival of Target to Canada in 2013 is easily the most hotly-anticipated retail arrival since Walmart came north of the border in 1994. The discount retailer is planning more than 100 stores across the country, having taken over a significant number of Zellers locations. But the store is currently engaged in a labour dispute, as it tries to keep former Zellers employees from unionizing in the new stores.