22 Minutes Autotunes Trudeau Speech (VIDEO)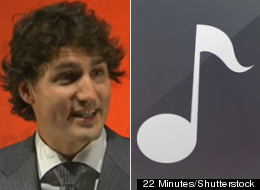 It was probably only a matter of time before someone autotuned Justin Trudeau's leadership speech — and who better to take on the task than "This Hour Has 22 Minutes."
On Tuesday night's show, Trudeau extols Canada to "get down, get down, get down" in a hilarious musical number.
William Shatner will also feature on the program, lending Trudeau some public speaking tips.
This isn't the first time Trudeau has featured in an autotune parody. After his boxing victory earlier this year, Liberal MP Rodger Cuzner recited a poem in the House of Commons on the fight which was soon put to music on YouTube. Trudeau even tweeted his approval of the video.
@justinpjtrudeau

Justin Trudeau, MP
No word yet on whether the "22 Minutes" video will get the Trudeau seal of approval too.
This Hour Has 22 Minutes airs on CBC TV Tuesday nights at 8:30 p.m. Catch more clips of the show on Facebook and Twitter.