Peter Mansbridge, Gangnam Style (VIDEO)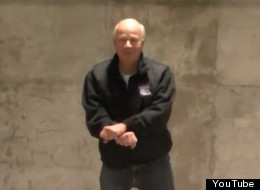 Just when you thought Gangnam Style had jumped the shark, CBC anchor Peter Mansbridge breathes some awesome new life into the endless parodies of the global Korean pop hit.
Take away his suit jacket and anchor desk and it turns out Mansbridge has been hiding some impressive dance (and lip synching) skillz. The chief correspondent for CBC News makes his unforgettable cameo at the 1:15 mark in a YouTube video featuring professional performers from the Stratford Shakespeare Festival.
@petermansbridge

Peter Mansbridge
Be kind. I know I can't dance or sing but its all good fun for a great Festival Theatre!
http://t.co/EUAEYqVH
Mansbridge's wife, Cynthia Dale, is starring in the festival's production of 42nd Street. The couple live in Stratford, Ont.
The YouTube spoof stars performers from that musical as well as Pirates of Penzance. Both shows finish their runs the end of October.
The video was released Monday by Jay T. Schramek, a company member of the Stratford festival.
Oh, if only Mansbridge would bust a move on The National.