Fugitive Nathan Jacobson, whose ties to the federal Conservatives made him the subject of recent Question Period queries from opposition benches, was arrested at his home in Toronto Thursday afternoon.
The Winnipeg-born businessman had his bail denied in Toronto court Friday and remains in Toronto's West Detention Centre awaiting another appearance Oct. 31.
U.S. Justice authorities in San Diego had told CBC they were upset that no Canadian law enforcement agencies had responded to their July 30 warrant for his arrest when Jacobson failed to attend court after pleading guilty to money laundering.
With others, Jacobson had set up an online pharmacy known as Affpower, based in Costa Rica, that sold drugs to Americans without prescriptions from 2004 to 2006. The 58-year-old was originally charged with several counts of fraud, money laundering and the distribution and dispensing of controlled substances, but he co-operated with authorities and pleaded guilty in 2008 to laundering $46 million in drug payments.
He was expected to serve a four-year sentence, but failed to show up at pre-sentencing.
An international red notice — a warrant issued for a flight risk — was certified this week by a Canadian judge for the sometime philanthropist who made millions selling GMproducts and setting up gas stations in post-Soviet Russia.
U.S. District Attorney Philip Halpern of San Diego would not comment on the arrest because the matter is before "judicial processes."
STORY CONTINUES BELOW PHOTO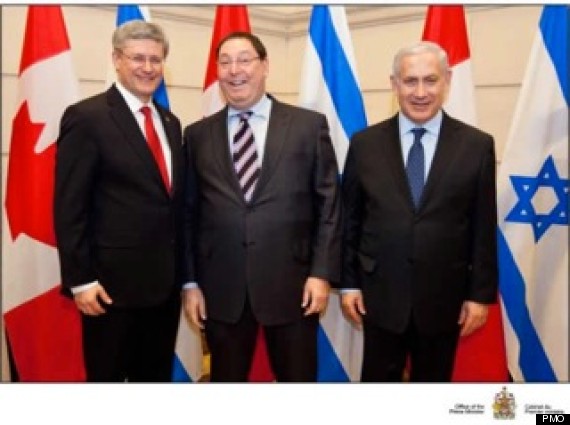 Claimed he was friends with Baird, Kenney
Calls by CBC on Friday to his three lawyers, his wife and business partner were not returned.
In recent years, Jacobson had spent much time in the corridors of power, both in Israel and Canada, and in March a smiling Jacobson was photographed between both Prime Minister Stephen Harper and Israeli leader Benjamin Netanyahu at a reception in Ottawa. Jacobson claimed to have worked on the 2008 campaign for the Tories and was also considered a friend of cabinet ministers Jason Kenney and John Baird.
But when challenged earlier this year on their relationship to Jacobson, both ministers said they were oblivious to Jacobson's legal problems.
Jacobson himself had initiated a lawsuit against Conservative MP Mark Adler last fall for what he claims was a $265,000 loan. Adler, in court documents, denies that amount changed hands, and said what was given to him was a gift from Jacobson to expand his Economic Club of Canada to the United States.
Besides donating more than $10,000 to the Conservative Party in recent years, Jacobson was prominent in his philanthropy within the Jewish community.
If you have tips on this story, contact john.nichol@cbc.ca.
Earlier on HuffPost:
Loading Slideshow
Foreign Affairs Minister John Baird breaks a piece of wood with his hand to earn an honorary taekwondo black belt.

Grand Master Tae Eun Lee, a leading member of Canada's Korean community who lives and teaches in Ottawa, presented the certificate to Baird, along with a uniform, black belt and taekwondo tie.

The black belt was awarded at a reception marking an official visit by Baird's South Korean counterpart, H.E. Kim Sung-hwan.

UP NEXT: Interesting Moves In Cabinet Shuffle

James Moore Is On The Move

James Moore was expected to land a promotion with this shuffle and he scored a doozy, moving from Heritage to Industry. The B.C. MP, who is 37, replaces Christian Paradis, who was seen as a disappointment with the role. A potential Tory leadership contender, Moore will now have a key economic portfolio on his resumé. (Paradis also lost his title as minister responsible for Quebec, handing that responsibility over to colleague Denis Lebel).

Jason Kenney's New Gig

Jason Kenney, the Minister of Immigration and Citizenship since 2008, was moved to Human Resources and Skills Development which was re-branded as Employment and Social Development. There, Kenney, who harbours leadership ambitions, will be focused on fixing Canada's skills gap. Government sources say more than 250,000 Canadians can't find work, while Canadian employers are turning to temporary foreign workers and we should expect this to be a key feature of the prime minister's new economic agenda in the fall. Kenney will ensure that the previously announced Canada Jobs Grant are successfully implemented with the provinces. Kenney might be happy that the government is relying so heavily on him and is spinning his job as an economic position, but it is believed the minister was eyeing National Defence, Public Safety or Foreign Affairs. Former diplomat Chris Alexander, who will replace Kenney at Citizenship and Immigration, scored a huge promotion in his first cabinet portfolio. Kenney's secondary role as Minister of Multiculturalism was handed over to Minister of State Tim Uppal.

Chris Alexander's Big Step Forward

Former diplomat Chris Alexander was in line for a big promotion Monday but his new post as Minister of Citizenship and Immigration — rather than to a junior ministry — was something of a surprise. With Harper focused on projecting youth and energy, it's clear the 44-year-old Ontario MP is seen as a rising star

Shelly Glover's BIG Jump

Manitoba MP Shelly Glover was rewarded with a full ministry rather than a junior role. The fluently bilingual former police officer was named minister of Canadian Heritage and Official Languages. Her promotion comes just weeks after it was confirmed she violated election-spending rules in 2011.

MacKay Doesn't Get His Way

Peter MacKay made no secret of his desire to stay in national defence, where he has served since 2007. But the Nova Scotia MP instead swapped chairs with Rob Nicholson, who was moved from Justice to Defence. A former Crown prosecutor, MacKay will now serve as Attorney General of Canada. MacKay's time in defence may best be remembered for the troubled F-35 jet purchase and controversial use of a military search-and-rescue helicopter during a 2010 fishing trip.

Rona Demoted?

Alberta MP Rona Ambrose was sent from Public Works to Health in a move that some interpret as a demotion. Ambrose was praised for her efforts at Public Works, overseeing the multi-billion shipbuilding contracts and the National Fighter Procurement Secretariat, which is reviewing the government's decision to purchase F-35 fighter jets. She will now be replaced by Diane Finley.

Peter Van Loan Stays Put

Some believed (perhaps had hoped?) that Government House Leader Peter Van Loan would be shuffled out of that role or turfed from cabinet. Instead, Harper left his aggressive House Leader right where he was. A divisive figure, Van Loan clashed with opposition MPs as well as many Conservative backbenchers who believed he had to go.

Kellie Leitch Makes A Splash

It is not at all surprising that Kellie Leitch was rewarded with a large promotion Monday. The Ontario MP has had a meteoric rise since first winning in 2011. She was named Minister of Labour and Minister of Status of Women. The 42-year-old pediatric surgeon, who is known as an ambitious workaholic, is exactly the kind of fresh face Harper wants to project as his team moves toward 2015. Her communication skills are lacking, and she has a hard time in French but she's great at rallying support with stakeholders.

Michelle Rempel's Junior Role

Alberta MP Michelle Rempel, who at just 33 is the youngest member of the Tory caucus, was predicted to land a spot in cabinet. However, her role of Minister of State for Western Economic Diversification is more junior than some had anticipated.

Pierre's Promotion

Tory MP and frequent attack dog Pierre Poilievre has cracked cabinet, as first reported over the weekend on HuffPost Canada. Poilievre, 34, will serve as Minister of State for Democratic Reform, which means he will field plenty of questions about the robocalls investigation and the Senate expense scandal.

Lisa Raitt's Fitting Shift

Labour Minister Lisa Raitt, dropped into the role of Transport Minister, is the first woman to serve in the position. As a lawyer with a background in economics, Raitt isn't a surprising pick for transport. She served as the president and CEO of the Toronto Port Authority before being elected as an MP in 2008, and is currently the vice-chair of the cabinet economic committee. Raitt has also waded through several crises, both during her time at the Port Authority and as an MP, a skill she'll have to employ while dealing with the fallout from the Lac-Megantic disaster.