FRANK, Alta. - The site of Canada's deadliest rock slide in the Crowsnest Pass of southwestern Alberta is impossible to miss.
In fact, it's about as subtle as a slap in the face.
Highway 3, which connects Alberta with southeastern B.C., weaves its way through giant grey limestone boulders like a dark ribbon. Some of the boulders are as big as school buses — others the size of small houses.
It was 109 years ago that 82 million tonnes of rock fell from the summit of Turtle Mountain into the Crowsnest River valley below. The slide lasted a mere 90 seconds but in that short time at least 90 people were killed and the southeastern corner of the coal mining town of Frank, Alta., disappeared.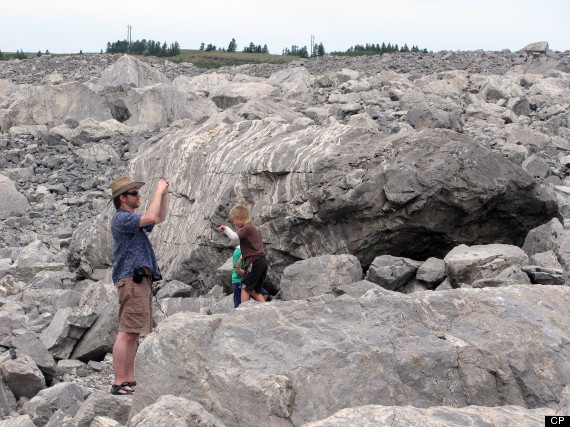 "It's such an unusual landscape. It's awe-inspiring with all of this rock. You drive through and you're not expecting it and you think, 'What happened here?'" said Monica Field, the area manager for the Frank Slide Interpretive Centre.
The rock slide buried the eastern outskirts of the town. It also obliterated a two kilometre stretch of the Canadian Pacific Railway, surface buildings of the Canadian American Coal and Coke Company, two ranches, a portion of the Frank and Grassy Mountain Railway line to the historic coal mining town of Lille, a construction camp and livery stables.
Story continues after the slideshow...
Loading Slideshow
About 100 of the tiny community's population were in the path of the slide, most of whom were buried deep within the rubble.
"In a sense it never goes away physically because the rocks look almost as fresh as they did 109 years ago," said Field.
"In terms of emotion there are still people in the Pass who lost family long ago and for us, the people who live here, it's quite a spiritual place — a little bit like a cemetery."
The Crowsnest Pass has seen its share of hardship and tragedy.
An explosion in the Bellevue Mine during a partial afternoon shift on Dec. 9, 1910 killed 30 miners. Four years later came the 1914 Hillcrest mine disaster.
Hillcrest is the worst coal mining disaster in Canadian history. A total of 189 workers died, about half of the mine's total workforce, which left 130 women widowed and about 400 children fatherless. Many of the victims were buried in a mass grave at the Hillcrest Cemetery.
"So many people still work in the mines over in B.C. and no one ever saw the Alberta-B.C. border as any kind of barrier," said Field.
There are also legends that have cropped up about the Frank Slide, said Field.
"One of the myths was Main Street was buried, including the bank. And if you could only dig it up you'd be rich because it was full of gold," she said.
In reality, the bank was relocated to the nearby town of Blairmore.
The most enduring and powerful myth is the story of Frankie Slide.
"Anyone who has heard of the Frank Slide thinks they know that the whole town was buried except for one little baby girl and they didn't know who she was so they named her Frankie Slide," Field added with a chuckle.
"That is the story that has been told and it is what people are still saying."
Despite the tragedy, there haven't been any reports of ghostly hauntings or supernatural activities.
"I have been along the railway tracks where the row of miners cottages was hit and it's a strange feeling to think you're right above the place where so many people died and they're still under there," she said.
"It's not threatening at all but you feel some sort of emotional tie to them."
———
If you go:
— Visit the Frank Slide Interpretive Centre, open year round.
— Visit the monument to the Hillcrest mine disaster and the lives lost at the Hillcrest cemetery. In 1990, Canadian folk-singer James Keelaghan recorded "Hillcrest Mine," one of his best-known songs.
Also on HuffPost:
Loading Slideshow
Vulcan

Yes, there are Trekkies everywhere. You can even find them in great numbers in comic and sci-fi convetions all over the world. But what if a whole town got in the act? That's exactly what happened in Vulcan, a small town that's embraced its inner geek in galactic proportions. And it works so well even Leonard Nimoy showed up and saw first hand the scores of Star Trek fans who make the pilgrimage to the tiny town each year, the massive Starship Enterprise that greets visitors to the hamlet and the Vulcan Tourism Trek Station, ahem, tourist centre, where you can grab Spock ears. <a href="http://www.youtube.com/watch?v=pZq7wJd2vsQ&noredirect=1" target="_hplink">WATCH Leonard Nimoy's visit to Vulcan</a> and <a href="http://www.youtube.com/watch?v=zh27yMnLQe4" target="_hplink">Vulcanites doing what they do best</a>. (Wikipedia)

Kananaskis Prisoner Of War Camp

Second World War POW camps are still to this day a solemn subject and many Albertans find it odd that there were several of the camps right in their backyards. Camps were located throughout the province, including Lethbridge, Medicine Hat and Seebe, in Kananaskis Country, as seen here. (<a href="http://www.flickr.com/photos/appaloosa/" target="_hplink">Appaloosa</a>, Flickr.com)

The Biggest Dinosaur In The World, Drumheller

Yes, Drumheller is home to the Royal Tyrell Museum. The royal designation is a well-deserved one for the world-leading and renowned archeological facility. But what if you are looking for a more primal experience? What if you want to drive along the hoodoos, which look like they were pulled from The Land Before Time and that usher visitors to the town, and just want to have a rediculously primordial experience. Drumheller can provide that too, with the world's biggest dinosaur. This particular dinosaur is not a living beast, nor was it ever, but it is huge. And, for a couple of bucks, you can climb inside and take in the panoramic view of the town and the badlands beyond. Now, that's odd. (<a href="http://www.flickr.com/photos/joetourist/" target="_hplink">Joe_tourist</a>, Flickr.com)

Frank Slide

It's a solemn site but to stand before the rock slide that crushed the old town of Frank nearly 110 years ago is to be overwhelmed by scale. There really is no other place like it in Alberta. The town, and most of its occupants, remain buried by the millions of tons of gigantic rocks that wiped it from the face of the Earth in 1903. It is Canada's deadliest rock slide and if nothing else it is solemnly unique. (<a href="http://www.flickr.com/photos/gord99/" target="_hplink">Gord McKenna</a>, Flickr)

Gopher Hole Museum, Torrington

There's odd and then there's look-at-that-gopher-dressed-like-Mozart-next-to-a-firetruck odd. That's what awaits the daring visitors to the Gopher Hole Museum in Torrington. If you've ever wondered what a gopher would look like if he had chosen to live life as a man of the cloth, as a farmer, or a Mountie, there is a stuffed gopher at the museum who can put your curiosity to rest. For being about such small critters, the Gopher Hole Museum is one big oddity. (<a href="http://www.flickr.com/photos/cogdog/" target="_hplink">Cogdog</a>, Flickr.com)

Erratic Rock, Okotoks

It's enough to make someone feel erratic. The massive rock just outside Okotoks is believed to weigh more than 15,000 tonnes, which is why it is also comnonly known as Big Rock. Sound familiar? That's where the popular brewery gets its name. What makes this rock worth visiting - even if you're not a Trad drinker - is that it's the biggest of countless of other erratic rocks that were deposited along the foothills by massive glaciers thousands of years ago but that originated in Jasper National Park. That's a pretty long way for such a big rock to go. (Wikipedia)

Badlands Guardian

Not only is this an extremely odd geomorphological formation, the way in which it was discovered is also odd. The Badlands Guardian, located near Medicine Hat, is a feature that from the air bares a striking resemblance to a human head wearing a traditional Native headdress and iPod ear buds. And if that wasn't odd enough, the feature - a natural drainage with a road leading to an oil well located where an ear would be - was found by Lynn Hickox while browsing Google Earth images in 2006. Top that for odd! (Google Earth)

Lethbridge Tower

So Toronto, the biggest city in Canada, has an iconic tower with a restaurant on top. Calgary, Alberta's biggest city, has an iconic tower with a restaurant on top. So, why not Lethbridge? The southern Alberta city also has a tower - formerly the town's water tower - and it too has a restaurant on top. Eye-sore or iconic? You tell us in the comments. (Youtube)

Head-Smashed-In Buffalo Jump

The aggressive name of this UNESCO world heritage site doesn't leave much to the imagination. The buffalo jump was used for 5,500 years by the Blackfoot people before horses were common. They drove the buffaloes off the cliff and used their carcasses to make homes, weapons and clothing. Now, the site has an interactive museum and is in the foothills of the rocky mountains.

World's First UFO Landing Pad

Do you believe in extra terrestrials? St. Paul does. They created the first UFO landing pad in order to bring in tourists and aliens. Best of both worlds? The landing pad was opened in 1967 and if you didn't think things could be weirder, the sign says, "The area under the World's First UFO Landing Pad was designated international by the Town of St. Paul as a symbol of our faith that mankind will maintain the outer universe free from national wars and strife. That future travel in space will be safe for all intergalactic beings, all visitors from earth or otherwise are welcome to this territory and to the Town of St. Paul." This is a place the family is sure to enjoy.

The Beaverlodge Beaver

The world's largest roadside beaver makes his home in Beaverlodge, Alta. It took 18 blocks of foam, 13 gallons of paint and 90 gallons of polyurethane to cover and weighs more than 1,500 pounds. You'll have to drive a long way to get a piece of this beaver, however -- this buck-toothed Canadian icon rests on the side of the highway in northwestern Alberta on the way to the Alaska Highway. Is it worth the drive to Beaverlodge? We'll let you decide.