Funniest U.S. Election Tweets: Canada Mocks The Vote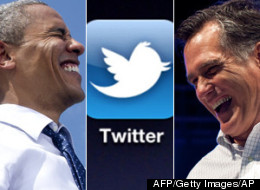 This Hour has 22 Minutes started a Twitter hashtag Tuesday that is yielding some of the funniest U.S. election tweets of the night.
While the vote is clearly serious business down south, Canadians have the luxury of laughing at some of the sillier elements of the election.
The #22usavotes hashtag is seeing hilarious contributions from cast members, journalists and regular Canadians.
You can check out some of the funniest tweets of the night in the slideshow below.
MORE COVERAGE
HuffPost's Tyler Kingkade reports:
NEW YORK -- Mitt Romney lost the youth vote by a huge margin, and with it, he lost the presidency.

Sixty percent of young voters who cast ballots chose to reelect President Barack Obama, against the 36 percent who voted for Mitt Romney. That's a six point slide in youth support for Obama from 2008, but still nearly triple the margin of victory for the youth vote that John Kerry won over George W. Bush in 2004.

An analysis by the Center for Information and Research on Civic Learning and Engagement (CIRCLE) at Tufts University found that had the youth vote been split 50-50 for the presidential race in just four states -- Florida, Pennsylvania, Ohio and Virginia -- Romney would have been elected president. In each of those four crucial swing states, exit polling shows young voters made up 16 to 19 percent of the electorate.

According to the National Journal, Republicans had counted on the youth vote to be held to just 15 or 16 percent of the electorate in order to secure a Romney victory.

But CIRCLE estimates 22 to 23 million people between the ages of 18 and 29 nationwide voted this election. Exit polls show voters ages 18 to 29 made up 19 percent of the electorate, a 1-point increase from 2008.

"It is because [Romney] lost the youth vote pretty decisively that he will not be the next president of the United States," said CIRCLE's director, Peter Levine.
Read the full story here.