Syncrude iPhone App Teaches Kids To Stop Worrying And Love The Oil Sands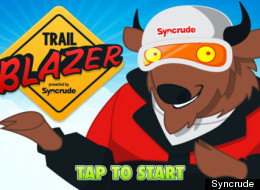 Forget angry birds, the future of smartphone games is an oil-loving buffalo.
Syncrude, one of Canada's largest producers of oil from Alberta's oilsands, has launched Trail Blazer, a Mario Brothers-type side-scrolling video game app for the iPhone in which the main character, a buffalo, bikes, snowboards and hang-glides his way past northern Alberta landmarks.
In between the action, which involves jumping up and down to catch floating coins while avoiding obstacles in the road, the little buffalo character pops up on screen to give you good news about the company.
"Syncrude is donating $6 million to community projects each year," one message declares, while another claims that Syncrude "has planted more than 5.8 million shrubs and trees," and a third boasts the company "monitors air quality 24 hours a day, 365 days a year."
"The game is a fun and challenging way for children of all ages to learn about the community in which Syncrude operates," the company said in a press release. "While taking the journey, participants learn simple facts about Syncrude's operation and reclamation efforts as well as programs that are assisting the community."
The cartoonishly drawn game is likely part of the company's effort to rehabilitate its public image after a 2010 incident in which more than 500 ducks died or had to be euthanized after landing near a Syncrude tailings pond. That followed a 2008 incident in which more than 1,600 ducks died.
Tailings ponds are pools where byproducts from oilsands extraction are collected. They contain water and sand, as well as contaminants and uncollected oil.
STORY CONTINUES BELOW SLIDESHOW
8 Facts About Tailings Ponds
Tailings are a waste byproduct from the oilsands extraction processes used in mining operations.Tailings consist of a mix of water, sand, silt, clay, contaminants and unrecovered hydrocarbons and are toxic. Source: Pembina Institute

Syncrude's Tailings Dam near Fort McMurray, Alberta is one of the largest dam in the world.

There have been at least 2,150 deaths of ducks related to tailings ponds in Alberta.

There are currently more than 170 square kilometres of tailings ponds in Alberta. Even when tailings ponds covered 50 square kilometers they were big enough to be seen from space. Source: http://oilsands.alberta.ca/tailings.html and Pembina Institute

Tailings management remains one of the most difficult environmental challenges for the oil sands mining sector. Source: http://oilsands.alberta.ca/tailings.html

Tailings are stored indefinitely in open lakes that cover an area approximately 50 per cent larger than the city of Vancouver. Source: Pembina Institute

Tailings lakes increase in volume at a rate that would fill the Toronto Skydome on a daily basis. Source: Pembina Institute

Tailings lakes seep. The exact amount of seepage is either not known or has not been made public. Source: Pembina Institute
The Alberta government recently announced it would not be pursuing charges against Syncrude over the 2010 duck deaths, after a report from the University of Alberta argued there was nothing Syncrude could have done to prevent the deaths.
Comments on the company's app at the iTunes store were mixed.
"Pretty cool to see local landmarks from Fort McMurray, Alberta," said one commenter, referring to the northern Alberta boomtown at the centre of the oilsands.
"As a game this is pretty pathetic and as propaganda it is worse," another commenter wrote. "How gullible do they think people are? At least make the game worthwhile if we are going to endure the petro-garbage."
Syncrude is the third-largest emitter of greenhouse gases in Canada. The company has been running a $1.6-billion emissions reduction project which it says will reduce air pollution from its operations by 60 per cent.