Moving To Canada Tweets: Funniest Reactions To Obama Win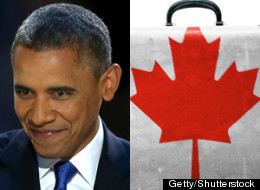 Even before the election was decided many Americans were threatening to go north, but now that Barack Obama has clinched his victory in the electoral college, many disgruntled Americans are sending hilarious tweets about their plans to move to Canada.
While Canada may seem like a socialist pit of torment to Tea Party Republicans, that isn't stopping many Romney supporters from reacting to Obama's re-election by threatening to move north. Free health care, gay marriage, big government — who cares? Nothing is worse than Obama.
To be fair, most of the tweets on the subject are actually from Americans chiding their fellow citizens on their lack of knowledge regarding Canada's politics, but are still plenty of posts from those outraged about four more years Obama. You can see some of the funniest tweets in the slideshow below.
MORE COVERAGE
HuffPost's Tyler Kingkade reports:
NEW YORK -- Mitt Romney lost the youth vote by a huge margin, and with it, he lost the presidency.

Sixty percent of young voters who cast ballots chose to reelect President Barack Obama, against the 36 percent who voted for Mitt Romney. That's a six point slide in youth support for Obama from 2008, but still nearly triple the margin of victory for the youth vote that John Kerry won over George W. Bush in 2004.

An analysis by the Center for Information and Research on Civic Learning and Engagement (CIRCLE) at Tufts University found that had the youth vote been split 50-50 for the presidential race in just four states -- Florida, Pennsylvania, Ohio and Virginia -- Romney would have been elected president. In each of those four crucial swing states, exit polling shows young voters made up 16 to 19 percent of the electorate.

According to the National Journal, Republicans had counted on the youth vote to be held to just 15 or 16 percent of the electorate in order to secure a Romney victory.

But CIRCLE estimates 22 to 23 million people between the ages of 18 and 29 nationwide voted this election. Exit polls show voters ages 18 to 29 made up 19 percent of the electorate, a 1-point increase from 2008.

"It is because [Romney] lost the youth vote pretty decisively that he will not be the next president of the United States," said CIRCLE's director, Peter Levine.
Read the full story here.