You've heard the rants about Uggs and have mulled over how Crocs got to be so popular (no, seriously, how?).
Yet, to some people, neither Uggs nor Crocs are the ugliest shoes ever.
We'd like to introduce you to the jean sandal boot. Part sandal, part gladiator-bootie, these ditties are apparently for sale online.
Some people are calling them the ugliest shoes they've ever seen. Others think they're convenient (there's a pocket for you to store loose change in). So we thought we'd turn to you, our dear readers, to decide. What say you: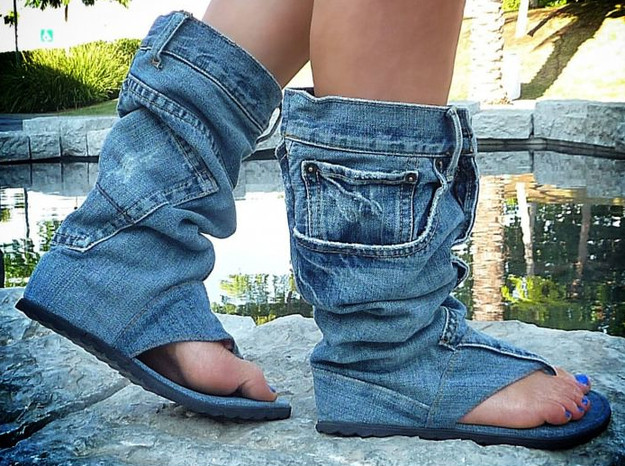 Related: 11 Trends We're Officially Sick Of
Loading Slideshow
Cambridge neon satchels

Neon is not a neutral. It's not!

Jeffrey Campbell Lita platforms

Attention personal style bloggers: you know you can wear other types of shoes, right?

My Little Pony hair

The pink and purple dip dye are probs best left to the ponies. (Getty photo)

Circle scarves

So bulky! You can do way more with a regular garden-variety scarf. Fight for your scarf's right to have ends!

Multi-finger rings

Have you ever tried to type with one of these bad boys on? It's like that feeling you get wearing a too-tight belt all day.

Nail stickers

They're hard to apply, hard to get off your nails and honestly, sometimes it just looks like you marinated your fingers in a Trapper Keeper.

Sheer dresses over bodysuits

We get it: it's the '90s revival, blah blah blah. But at some point a girl just needs something opaque. And preferably with pants. (Getty photo)

Heel-less shoes

LOL, nice try, fashion, but these shoes were not built for the subway. Next.

Topknots

It's like a "how close to your forehead can you get the rest of your hair" contest. (WireImage photo)

Buttoned up collars

No matter how hard we try, we still look like we're in grade school when we try this. (Getty photo)

Neon orange lipstick

Coral is a lot more flattering, <em>non</em>?
Related: The Wackiest Shoes For Spring 2013
Loading Slideshow
Celine

Paris Fashion Week Getty Images

Celine

Paris Fashion Week Getty Images

Celine

Paris Fashion Week Getty Images

Celine

Paris Fashion Week Getty Images

Celine

Paris Fashion Week Getty Images

Celine

Paris Fashion Week Getty Images

Celine

Paris Fashion Week Getty Images

Celine

Paris Fashion Week Getty Images

Celine

Paris Fashion Week Getty Images

Celine

Paris Fashion Week Getty Images

Celine

Paris Fashion Week Getty Images

Celine

Paris Fashion Week Getty Images

Salvatore Ferragamo

Milan Fashion Week Getty Images

Prada

Milan Fashion Week Getty Images

Versus

Milan Fashion Week Getty Images

Versace

Milan Fashion Week Catwalking

Louise Gray

London Fashion Week WireImage

Just Cavalli

Milan Fashion Week Catwalking

Diane von Furstenberg

New York Fashion Week Getty Images

Prada

Milan Fashion Week Getty Images

Custo Barcelona

New York Fashion Week Getty Images

Diesel Black Gold

New York Fashion Week Catwalking

Versace

Milan Fashion Week Catwalking

Salvatore Ferragamo

Milan Fashion Week Getty Images

Prada

Milan Fashion Week Getty Images

Marni

Milan Fashion Week Catwalking

Roccobarocco

Milan Fashion Week Catwalking

Versus

Milan Fashion Week Getty Images

Matthew Williamson

London Fashion Week WireImage

BCBG Max Azria

New York Fashion Week Catwalking

Bottega Veneta

Milan Fashion Week Catwalking

Diesel Black Gold

New York Fashion Week Catwalking

Vera Wang

New York Fashion Week Catwalking

PPQ

London Fashion Week WireImage

Byblos Milano

Milan Fashion Week Catwalking

Belstaff

New York Fashion Week Catwalking

Ohne Titel

New York Fashion Week Catwalking

Timo Weiland

New York Fashion Week Getty Images

J. Mendel

New York Fashion Week Catwalking

Y-3

New York Fashion Week Getty Images

Bottega Veneta

Milan Fashion Week Catwalking