Are These Jean Sandal Boots The Ugliest Shoes Ever?
You've heard the rants about Uggs and have mulled over how Crocs got to be so popular (no, seriously, how?).
Yet, to some people, neither Uggs nor Crocs are the ugliest shoes ever.
We'd like to introduce you to the jean sandal boot. Part sandal, part gladiator-bootie, these ditties are apparently for sale online.
Some people are calling them the ugliest shoes they've ever seen. Others think they're convenient (there's a pocket for you to store loose change in). So we thought we'd turn to you, our dear readers, to decide. What say you: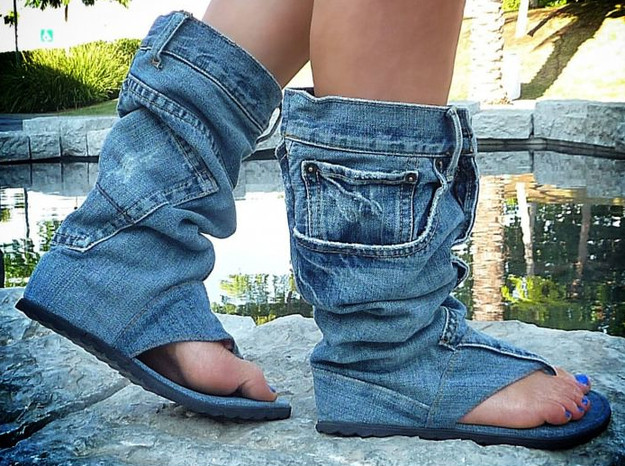 Related: 11 Trends We're Officially Sick Of
Neon is not a neutral. It's not!

Attention personal style bloggers: you know you can wear other types of shoes, right?

The pink and purple dip dye are probs best left to the ponies. (Getty photo)

So bulky! You can do way more with a regular garden-variety scarf. Fight for your scarf's right to have ends!

Have you ever tried to type with one of these bad boys on? It's like that feeling you get wearing a too-tight belt all day.

They're hard to apply, hard to get off your nails and honestly, sometimes it just looks like you marinated your fingers in a Trapper Keeper.

We get it: it's the '90s revival, blah blah blah. But at some point a girl just needs something opaque. And preferably with pants. (Getty photo)

LOL, nice try, fashion, but these shoes were not built for the subway. Next.

It's like a "how close to your forehead can you get the rest of your hair" contest. (WireImage photo)

No matter how hard we try, we still look like we're in grade school when we try this. (Getty photo)

Coral is a lot more flattering, non?
Related: The Wackiest Shoes For Spring 2013
Fashion Week Spring 2013 Footwear (PHOTOS)
Paris Fashion Week Getty Images

Paris Fashion Week Getty Images

Paris Fashion Week Getty Images

Paris Fashion Week Getty Images

Paris Fashion Week Getty Images

Paris Fashion Week Getty Images

Paris Fashion Week Getty Images

Paris Fashion Week Getty Images

Paris Fashion Week Getty Images

Paris Fashion Week Getty Images

Paris Fashion Week Getty Images

Paris Fashion Week Getty Images

Milan Fashion Week Getty Images

Milan Fashion Week Getty Images

Milan Fashion Week Getty Images

Milan Fashion Week Catwalking

London Fashion Week WireImage

Milan Fashion Week Catwalking

New York Fashion Week Getty Images

Milan Fashion Week Getty Images

New York Fashion Week Getty Images

New York Fashion Week Catwalking

Milan Fashion Week Catwalking

Milan Fashion Week Getty Images

Milan Fashion Week Getty Images

Milan Fashion Week Catwalking

Milan Fashion Week Catwalking

Milan Fashion Week Getty Images

London Fashion Week WireImage

New York Fashion Week Catwalking

Milan Fashion Week Catwalking

New York Fashion Week Catwalking

New York Fashion Week Catwalking

London Fashion Week WireImage

Milan Fashion Week Catwalking

New York Fashion Week Catwalking

New York Fashion Week Catwalking

New York Fashion Week Getty Images

New York Fashion Week Catwalking

New York Fashion Week Getty Images

Milan Fashion Week Catwalking