Channing Tatum Named People's 2012 'Sexiest Man Alive' (PHOTOS)
Everyone, take a deep breath: As predicted last week, Channing Tatum has been named People Magazine's 2012 'Sexiest Man Alive.'
We're not saying we're upset with the decision -- Tatum is one fine looking dude (and we dug his abs in 'Magic Mike'). It's just, we were kind of hoping for a Ryan Gosling win -- he was robbed of the title last year (Bradley Cooper claimed the 2011 crown).
Alas, it wasn't to be. Instead, he's among 186 supporting sexy men who will be featured in the November 16 issue of People Magazine. Other divine-to-look-at-dudes who made the list include Denzel Washington, Paul Rudd, Ben Affleck and Damien Lewis.
But it's not just in the magazine where "hot men" are featured. There's a whack load of "sexiest men" content online, including a list of dudes who love their pets (Ryan Reynolds made that round-up) and chests to be thankful for (featuring Prince Harry). There's even a list of tips guys can use to up their "sexy" factor -- with examples from our two Ryans (Gosling and Reynolds).
Check out all of the 'Sexiest Man Alive' content at People.com.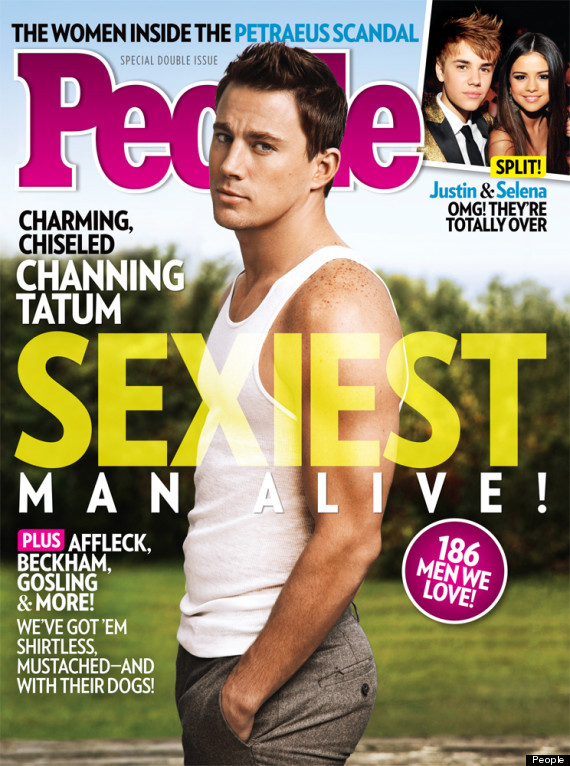 Check out our picks for "Sexiest Man Alive":
Who Should Be 2012's Sexiest Man Alive?
Hey girl. Many felt that the 31-year-old was robbed of the title last year -- the same year his critically acclaimed films "Ides of March" and "Drive" were released.

A co-worker of ours may or may not have breathily sighed about the "White Collar" star: "His eyes. They're amazing."

Like it or not, Mayer has become one of Hollywood's most notorious heartthrobs. He's dated Katy Perry, Taylor Swift, Jennifer Aniston, Minka Kelly, Jessica Simpson and Jennifer Love Hewitt all in the past decade. Whew!

He's not that shrimpy kid from "Third Rock from the Sun" anymore. He's a serious action star ("Dark Knight Returns," "Looper") with an even more serious ability to dance shirtless on the set of "Saturday Night Live."

If actor-writer-director-poet-rappers are your kind of thing.

The Olympic swimmer appears to have gotten a lot of "jeah" votes from lady fans in the bleachers.

The "Mad Men" star has been synonymous with "handsome" since the AMC show launched in 2007.

The "True Blood" vampire was voted "Sexiest Man Alive" in Sweden a whopping five times. In a row.

Mega talented, mega fashionable, and mega dating Kim Kardashian, who lives every day like it's a personal "Sexiest Woman Alive" competition.

Justin Timberlake may be married now, but the 31-year-old still has got his "Sexy Back."

Because the 33-year-old has been beautiful for decades. Really.

Sweet to parents, even sweeter to kids: 18-year-old Justin Bieber knows his way to a girl's heart.

Two words: Silver Fox.

The Maroon 5 singer's charisma oozes off the stage.

Brooding and with a reason.

Because he introduced masculinity into the James Bond franchise again. And because the Sam Mendes-directed "Skyfall" is supposed to be the best James Bond film in years.