Mood Rings: Wear Your Emotions On Your Finger With 'Not Myself Today'

Remember back in the day when everyone was rocking a mood ring? They were the hottest thing around, even though most of them only alternated between green (happy) and black (sad).
The typical human has infinitely more than these two emotions, which is why The Hudson Bay Company and Partners for Mental Health have created the $10 Not Myself Today limited-edition mood ring to bring awareness to our individual mental health needs, as well as that of others around us. Mental health issues will affect 1 in 5 Canadians this year alone.
Related: Louise Pitre Is Empowered By This Beauty Look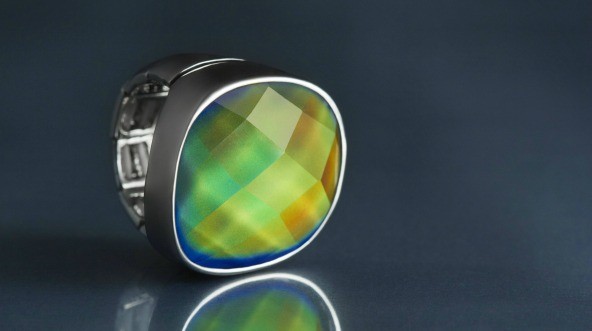 Designed as statement bling, these mood rings are available at 13 Bay locations across Canada, and at thebay.com. A portion of the proceeds will go to Partners for Mental Health to support their Not Myself Today campaign, which raises awareness about mental health issues as well as combats the negative stigma that these illnesses are prone to receive.
Check out notmyselftoday.ca for more information on Canadian mental health awareness, as well as some surprising facts about mental health.
Here are some of our other favourite ways to bring the 90s into 2012.
Angela Chase from "My So Called Life"

The original "Beverly Hills, 90210"

Kelly Kapowski from "Saved By The Bell"

"Clueless"

"Boy Meets World"

Hawaiian Shirt By Maarten Van Der Horst, $140. Available at Top Shop

Ruby Rocks Floral Babydoll Dress, $74.57. Available at ASOS

Zip Capri In Burnt Orange By Rag & Bone, $210. Available at Aritzia

1460, $154.99. Available at DrMartensCanada.ca

Georgette Front Top, $21.80. Available at Forever 21

Staring at Stars Chiffon Shirt, $59. Available at Urban Outfitters

Special Effects Electric Lane Holographic Glitter Top Coat, $12. Available at Sephora

French Connection Red Alice Band, $29.83. Available at ASOS

BG169R-6, $79. Available at Baby-G.com

Plate Jelly Sandal In Electric Pink By Michael Michael Kors, $52.80. Available at Jildorshoes.com

Sheer Luxe Over-the-Knee Sock, $14. Available at American Apparel

Layered Lines Tank Dress, $168. Available at Anthropologie

Top, $24.95. Available at H&M

WW101GB newSKY Casual Shoe, $99.99. Available at New Balance

Short Overalls By Joe's Jeans, $164. Available at Shopbop.com

Superga Classic Platform Sneaker, $80. Available At Urban Oufitters

Alright, we couldn't come up with something for Q, but please, don't do this hairstyle. Get a chuckle out of it and, repeat, never try it at home.

Red Raspberry Lip Smackers, $1.75. Available at Shoppers Drug Mart

Cotton Scrunchie, $7. Available at American Apparel

Levi's High-Rise Skinny Ankle Jean, $68. Available at Urban Outfitters

Motel Zoe Dress Union Jack Print, $46.40. Available at ASOS

Linen Waistcoat With Zips, $79.90. Available at Zara

Easy Colourblock Pocket T, $29.95. Available at The Gap

Vince Oversized Tee, $135. Available at Nordstrom

Brain Yo-Yo, $10.95. Available at Yomegastore.com

Not actually recommended, but a good throwback to end on. Green/White Zubaz Zebra Pants, $29.99. Available at Zubaz.com
More from TheKit.ca:
Get a Flawless Face—no really!
Quick and easy hairstyles